printer friendly version
Paxton grants access to 600
September 2018 Access Control & Identity Management, Asset Management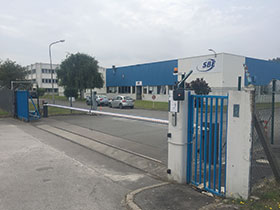 Located in Saint Léonard, France, SBE is one of the leading European organisations in electronic service, repair and aftersales support. With 600 employees, the group's factories handle more than three million devices a year from across Europe, from mobile phones to digital cameras and TVs. SBE has three European technical centres, each with a call centre and several high-tech production facilities.
SBE required a flexible access control solution that would allow it to secure external access to its buildings and workshops. The existing access control system needed to be updated. Due to the substantial number of employees accessing its premises on a daily basis, SBE wanted to ensure it had a database that would keep track of the movement of people across the five buildings across three separate sites.
SBE requested the help of installation company, Domotic Opale, which recommended Net2 access control with Net2 Entry, Paxton's video door entry system, to provide flexible visitor management and a user friendly interface.
Net2 is a simple and flexible networked access control system, designed to make the management of any site straightforward. Sébastien Choquet from Domotic Opale, said: "This is our first time installing Net2, and the installation went very smoothly. SBE needed to streamline security by setting employee access permissions to areas such as the server, workshops, stock rooms and offices. We knew the Net2 system was the right choice because, as well as access control, it offers the ability to provide them with an event log and daily report to keep track of any fraudulent entry attempts. SBE also required multi-user management, the Net2 system is now installed on four PCs for convenience."
Net2 allows employees and site visitors to be easily added or removed from the system, access permissions can be set for the specific times in which they need to gain access. The Net2 system provides the management team at SBE with alerts when unauthorised tokens are used in an attempt to gain access to the buildings, increasing the level of security during unmanned hours.
The Net2 system, alongside Net2 Entry, has provided SBE with an increased level of security for the workshops on its sites. The Timezones feature in Net2 is used to enable specific areas to remain open during hours when workshops are in use, these zones are then automatically secured when the building is empty.
Simon Ezeque from SBE, said: "The Net2 system has provided a greater sense of security for our customers' equipment, because it enables us to manage access permissions for individual employees and secure different zones separately; including access to the workshops, stock rooms and offices, it is the perfect solution for us."
With plans to acquire additional premises in the near future, the scalability of Net2 presents the opportunity for simple expansion. As the business continues to grow, their Net2 system can adapt to accommodate SBE's requirements.
Credit(s)
Further reading:
Protecting our most vulnerable
Access Control & Identity Management
In a nation grappling with the distressing rise in child kidnappings, the need for innovative solutions to protect our infants has never been more critical. South Africa finds itself in the throes of a child abduction pandemic.
Read more...
---
Simplify AARTO compliance for fleets
Guardian Eye IoT & Automation Asset Management Transport (Industry) Logistics (Industry)
While there are challenges around the management and implementation of the AARTO Amendment Act, there are also benefits that need to be understood today to ensure compliance and value tomorrow.
Read more...
---
New generation of cyber-focused controllers
Gallagher News & Events Access Control & Identity Management Products & Solutions
The C7000 gives users an opportunity to leverage their hardware and firmware to build a platform designed to catapult their organisation into the future, with cybersecurity baked in from inception.
Read more...
---
Logistics operators stand up to safety challenges
Logistics (Industry) Asset Management Transport (Industry)
The second annual Webfleet Road Safety Report for 2023 outlines common safety factors, challenges and solutions that South African transport operators face; deteriorating roads, poor vehicle maintenance, congestion and driver fatigue are common challenges.
Read more...
---
New T&A terminal features revolutionary AI technology
Suprema News & Events Access Control & Identity Management AI & Data Analytics
Suprema has launched BioStation 2a, the world's first deep learning-based fingerprint recognition solution, providing powerful access control features and an improved ability to extract templates from low-quality fingerprints.
Read more...
---
Unlocking efficiency and convenience
OPTEX Access Control & Identity Management
The OVS-02GT vehicle detection sensor is the newest member of OPTEX's vehicle sensor range, also known as 'virtual loop', and offers reliable motion detection of cars, trucks, vans, and other motorised vehicles using microwave technology.
Read more...
---
Access to data centre secured
Suprema Access Control & Identity Management Infrastructure
GBM required a modern access control system to increase the security of its facilities in a productive environment without affecting the operation of the offices and the data centre, which are carried out 24/7/365.
Read more...
---
People screening goes mobile
Xscann Technologies News & Events Asset Management
Xscann Technologies has delivered a new mobile solution with added value for people screening. This turnkey solution requires no civil works as it is an all-in-one complete body scanning solution built in a shipping container.
Read more...
---
Securing road transport across Africa
Technews Publishing Editor's Choice Asset Management Transport (Industry) Logistics (Industry) Risk Management & Resilience
SMART Security Solutions spoke to Filipe de Almeida, the Portugal & Spain Regional TAPA EMEA Lead, and Massimo Carelle, the TAPA EMEA Africa Region Lead, about securing transport and logistics in hostile environments.
Read more...
---
Enhanced security at Xanadu Nature Estate
Turnstar Systems Access Control & Identity Management Products & Solutions
Turnstar Systems recently installed two bicycle turnstiles at the 240-hectare Xanadu Nature Estate, set in the Magaliesberg, the perfect location for secure communal living catering to the lifestyle of residents.
Read more...
---