printer friendly version
Dealing with dry fingerprints
September 2018
Access Control & Identity Management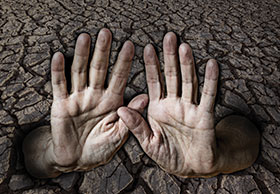 In the winter in South Korea, the temperature falls, and it becomes windy, consequently the humidity in the air drops. As a result, your skin becomes dry, leading to the oils and moisture in it to dry. Therefore, in winter, even correctly touching the surface of a fingerprint sensor with your fingertip can generate a dry fingerprint, which cannot be properly recognised.
In addition to being affected by seasonality, dry fingerprints can also easily occur in geographically dry regions, such as South Africa, Australia, and the Middle East. The occurrence of dry fingerprints is also very dependent on the individual's occupation and age. For example, dry fingerprints can occur with people who are required to frequently disinfect their hands at work, such as doctors and workers who handle wood, leather or metal, as well as with elderly people and people with dry skin (Xerosis).
When a dry fingerprint occurs, the person's fingertip hasn't properly come in contact with the surface of the fingerprint sensor, and as a result, a blurry fingerprint image is generated. A blurry image of a fingerprint makes it more difficult to extract the fingerprint's minutiae and is more likely to result in the extraction of false minutiae. Therefore, dry fingerprints eventually lead to a higher false rejection rate (FRR).
Even when there is a dry fingerprint problem, you can temporarily eschew it by blowing on your hands or applying hand cream to the fingers before going through the fingerprint authentication process. Nonetheless, such a measure is not a fundamental solution and therefore cannot guarantee the proper performance of fingerprint recognition. Suprema's latest fingerprint sensor and algorithm can resolve such problems altogether.
Comparison of matching algorithms
Unlike the ordinary fingerprint matching algorithm, with Suprema's fingerprint matching algorithm, inputted fingerprint images are analysed first by the Conformance Decision Engine (CDE), instead of sending them directly to the pre-processing stage. This Conformance Decision Engine (CDE) helps you obtain the correct fingerprint images even if fingerprints have been inputted in the wrong manner, by identifying instances such as when the fingerprint inputted has been produced by rubbing the surface of the fingerprint sensor with the fingertip. In addition, the acquired fingerprint images are analysed based on deep learning technology and subsequently go through the algorithm optimisation stage. This enables far faster provision of feedback to the user without having to go through the matching stage, because the fingerprint images are analysed in advance, prior to the image pre-processing stage.
Suprema's fingerprint matching algorithm makes it possible to obtain high-quality fingerprint images since it effectively controls the fingerprint sensor and algorithm based on the CDE, and for that reason it is also excellent at eliminating false minutiae. Equipped with optimised algorithms and computation performance, all Suprema products can complete fingerprint matching in less than a second, even for dry fingerprints, and demonstrate effective and reliable fingerprint matching performance in a variety of environments.
For more information contact: neaMetrics, 0861 632 638, info@neametrics.com, www.neametrics.com. Suprema, +27 11 784 3952, enquiry@suprema.co.za, www.suprema.co.za
Credit(s)
Further reading:
Protecting our most vulnerable
Access Control & Identity Management
In a nation grappling with the distressing rise in child kidnappings, the need for innovative solutions to protect our infants has never been more critical. South Africa finds itself in the throes of a child abduction pandemic.
Read more...
---
New generation of cyber-focused controllers
Gallagher News & Events Access Control & Identity Management Products & Solutions
The C7000 gives users an opportunity to leverage their hardware and firmware to build a platform designed to catapult their organisation into the future, with cybersecurity baked in from inception.
Read more...
---
New T&A terminal features revolutionary AI technology
Suprema News & Events Access Control & Identity Management AI & Data Analytics
Suprema has launched BioStation 2a, the world's first deep learning-based fingerprint recognition solution, providing powerful access control features and an improved ability to extract templates from low-quality fingerprints.
Read more...
---
Unlocking efficiency and convenience
OPTEX Access Control & Identity Management
The OVS-02GT vehicle detection sensor is the newest member of OPTEX's vehicle sensor range, also known as 'virtual loop', and offers reliable motion detection of cars, trucks, vans, and other motorised vehicles using microwave technology.
Read more...
---
Access to data centre secured
Suprema Access Control & Identity Management Infrastructure
GBM required a modern access control system to increase the security of its facilities in a productive environment without affecting the operation of the offices and the data centre, which are carried out 24/7/365.
Read more...
---
Enhanced security at Xanadu Nature Estate
Turnstar Systems Access Control & Identity Management Products & Solutions
Turnstar Systems recently installed two bicycle turnstiles at the 240-hectare Xanadu Nature Estate, set in the Magaliesberg, the perfect location for secure communal living catering to the lifestyle of residents.
Read more...
---
Digital identity verification checks to pass 70 billion in 2024
Access Control & Identity Management News & Events
A new study from Juniper Research has found that the number of digital identity verification checks will surpass 70 billion in 2024, growing 16% on the previous year's number of 61 billion.
Read more...
---
Reliable access management for famous film location
Paxton Access Control & Identity Management Residential Estate (Industry)
The Royal Connaught Park features a private swimming pool, health and fitness suite, outdoor tennis court and onsite parking, with over 100 residents coming and going every day.
Read more...
---
Smart opener for gates and garages
Smart Home Automation Access Control & Identity Management
The Smart Gate and Garage Opener allows consumers to control and monitor gates and garage doors that have already been fitted with automation devices via the Yale Home app on their smartphone.
Read more...
---
Mobile access to multiple locations
Suprema Access Control & Identity Management Products & Solutions
A central security network was used to link multiple sites across VPN connections to allow the Suprema CoreStations installed at various locations to talk to the remote server.
Read more...
---