printer friendly version
Tamper indicative solutions
September 2018 Asset Management, EAS, RFID, Products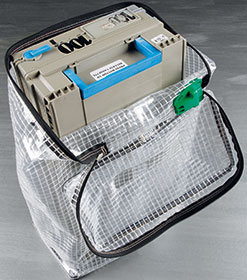 Cash handling requires secure handover, and in many instances this daily process involves several touch points. Tamper indicative bags, available from Integrity Control Systems (ICS), are a popular mechanism for the safe storage or movement of cash, whether in a retail environment for float control or end of day cash-up. High-security, uniquely numbered, one-trip bags are convenient and feature a receipt as proof of sealing and handover.
Sealable, multi-use bags are more cost effective but require simple controls to ensure bags move in a closed cycle. These bags are sealed with a uniquely numbered seal, which is discarded after authorised access. Bags can be custom designed to fit cash canisters or to accommodate large volumes of cash in a vault scenario, thereby reducing disposable waste and minimising operational costs.
High-value commodities such as mobile phones, airtime vouchers, consumer packaged goods, cosmetics and fashion accessories are often difficult to secure in the distribution value chain from distribution centre to store. A reusable, sealable tote bin is the ideal way to mitigate this risk. Available in various sizes, these totes nest when not in use to optimise storage space and are designed in such a way as to deter tampering.
The uniquely numbered seals can either be plastic which merely offers tamper indication, or they can be constructed of high-tensile aircraft cable which provides a physical barrier to entry. These seals would need to be removed with a cable cutter. In high-volume, high-risk operations, the tote bins would typically be asset tagged with RFID tags for real-time tracking and verification which delivers increased efficiency and inventory management.
For more information contact Claudia Coetzer, Integrity Control Systems, +27 11 397 2508, claudia@integritycontrol.co.za, www.integritycontrol.co.za
Further reading:
Argility showcases SkyData IoT Platform
Issue 6 2020 , Asset Management, EAS, RFID
SkyData, a device agnostic IoT cloud platform, is transforming asset and resource monitoring and management.
Read more...
---
Long-distance UHF readers
Residential Estate Security Handbook 2020 , Access Control & Identity Management, Products
The U1000 and U2000 are long-distance RFID access control systems with an IP66 protection certification.
Read more...
---
Serverless ANPR solution
Residential Estate Security Handbook 2020, XtraVision , CCTV, Surveillance & Remote Monitoring, Products
Serverless ANPR automatically controls the movement of up to 1000 listed cars through barriers and provides carpark management information.
Read more...
---
IoT security seal
Issue 4 2020 , Asset Management, EAS, RFID
With the current lockdown and ports operating at reduced capacity, the need for automation has been taken to a new level.
Read more...
---
Managing outputs, attendance and time
Issue 5 2020 , Asset Management, EAS, RFID
What started out as a great idea to bring structure, order, measurement and accountability to fieldwork, has virtually overnight turned into an indispensable tool.
Read more...
---
ZKTeco offers touchless access for people and vehicles
Issue 4 2020, ZKTeco , Asset Management, EAS, RFID
ZKTeco sports a range of touchless entrance control solutions from licence plate recognition cameras through to facial recognition and multi-modal access solutions.
Read more...
---
Li-ion UPS battery from Schneider Electric
Issue 2 2020 , Asset Management, EAS, RFID
Schneider Electric has announced the launch of the APC Smart-UPS Lithium-Ion UPS Battery to South Africa, offering double the lifespan of VRLA batteries.
Read more...
---
Taking identity management seriously
Issue 2 2020 , Asset Management, EAS, RFID
The most important and critical part of identity management is the enrolment/registration part of the process. This is where the real-world human being must be linked to the cyber world digital identity with forensic proof.
Read more...
---
Reducing identity fraud with a selfie
Access & Identity Management Handbook 2020, Technews Publishing , Asset Management, EAS, RFID
Authenticating your identity remotely via an app has become a reality with a new solution from South African company iiDENTIFii.
Read more...
---
Schneider Electric launches EcoStruxure Asset Advisor
Issue 2 2020 , Asset Management, EAS, RFID
Vendor-neutral asset risk management via sensors and cloud-based monitoring tools offers 24/7 data-driven predictive service for business continuity.
Read more...
---