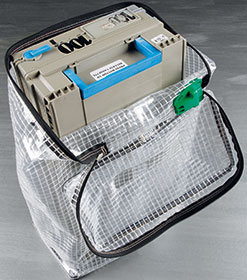 Tamper indicative solutions
September 2018, Asset Management, EAS, RFID, Products
Cash handling requires secure handover, and in many instances this daily process involves several touch points. Tamper indicative bags, available from Integrity Control Systems (ICS), are a popular mechanism for the safe storage or movement of cash, whether in a retail environment for float control or end of day cash-up. High-security, uniquely numbered, one-trip bags are convenient and feature a receipt as proof of sealing and handover.
Sealable, multi-use bags are more cost effective but require simple controls to ensure bags move in a closed cycle. These bags are sealed with a uniquely numbered seal, which is discarded after authorised access. Bags can be custom designed to fit cash canisters or to accommodate large volumes of cash in a vault scenario, thereby reducing disposable waste and minimising operational costs.
High-value commodities such as mobile phones, airtime vouchers, consumer packaged goods, cosmetics and fashion accessories are often difficult to secure in the distribution value chain from distribution centre to store. A reusable, sealable tote bin is the ideal way to mitigate this risk. Available in various sizes, these totes nest when not in use to optimise storage space and are designed in such a way as to deter tampering.
The uniquely numbered seals can either be plastic which merely offers tamper indication, or they can be constructed of high-tensile aircraft cable which provides a physical barrier to entry. These seals would need to be removed with a cable cutter. In high-volume, high-risk operations, the tote bins would typically be asset tagged with RFID tags for real-time tracking and verification which delivers increased efficiency and inventory management.
For more information contact Claudia Coetzer, Integrity Control Systems, +27 11 397 2508, claudia@integritycontrol.co.za, www.integritycontrol.co.za