printer friendly version
Warehouse management improves efficiency
September 2018 Asset Management, EAS, RFID, IT infrastructure, Logistics (Industry)
Cquential Warehouse Solutions has revealed details of the successful roll out of the Moresport warehouse management system. Moresport is a subsidiary of JSE listed Long4Life and constitutes its sport & recreation operating division.
Following an intensive evaluation, Moresport, with its well-known Sportsmans Warehouse and Outdoor Warehouse retail chains, selected Cquential Warehouse Management Solutions (WMS) to help the group to insource logistics at its newly built warehouse facility.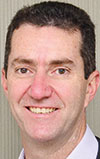 Steve Mallaby
According to Cquential CEO, Steve Mallaby, the relationship commenced five years ago and the business benefits of the implementation are already evident. "Tangible outcomes for this growing retail group with outlets around the country include: improved warehouse throughput; ability to leverage current infrastructure; improved picking efficiency and accuracy, and notably increased stock accuracy and optimisation.
"Moresport recognised the benefits attached to the flexibility and scalability of a cloud-based warehouse management solution. The group depends on this solution to run its warehouse and business optimally, which is crucial in an increasingly competitive environment. When stock is effectively stored and the supply chain runs efficiently, the cost per unit comes down, allowing retailers to be more competitive and grow their bottom line.
"Through careful attention to detail, logic embedded in the Cquential system and the use of advanced analytics, warehouse owners are able to determine how warehouses contribute to supply chain efficiencies and where savings can be achieved. This is becoming a focus for many local and global retailers now," he says.
"The WMS system is stable and effective, allowing us to support group growth," says Long4Life Sport & Recreation CEO, Cobus Loubser. "We now have the foundations in place to start looking at new and innovative technologies from Cquential. This will enable us to further manage costs and improve efficiencies. It has been very beneficial for us that Cquential keeps us updated on new international technologies and trends, with proactive options regarding future enhancements to support our business goals."
"The progress made to date is preparing the distribution centre for even greater innovation and efficiencies. We are currently working with Cquential on introducing advanced new technologies which could make Moresport a pioneer in advanced warehousing and which are projected to increase current picking speed and warehouse productivity by up to 20%," he concludes.
For more information, contact Cquential, +27 11 236 4360, info@cquential.com, www.cquential.com
Further reading:
Double dose of storage security
August 2019 , Products, IT infrastructure
The integration of InfiniBox and SafeNet KeySecure platforms brings data-at-rest encryption together with centralised logging, auditing capability.
Read more...
---
How far are we really at with artificial intelligence?
August 2019, Axis Communications SA , Editor's Choice, CCTV, Surveillance & Remote Monitoring, IT infrastructure, Residential Estate (Industry)
Justin Ludik unpacks exactly how far AI has come and what it potentially can do for society and more importantly, surveillance.
Read more...
---
Collaboration and tech key to safer, connected communities
August 2019 , Residential Estate (Industry), IT infrastructure
The advent of fibre-to-the-home has not only changed the way we work and play but has also heralded the launch of a number of advances for the security industry.
Read more...
---
Cyber tools and solutions
August 2019, Technews Publishing , Editor's Choice, Cyber Security, IT infrastructure, Residential Estate (Industry)
Hi-Tech Security Solutions looks at the various options we have when it comes to protecting yourself from the ever-growing scourge of cybercrime?
Read more...
---
Cloud advantage or cost?
August 2019 , Cyber Security, IT infrastructure
No matter how you look at it, security in the cloud is as important as security in traditional data centres.
Read more...
---
Data protection more challenging
July 2019 , Editor's Choice, IT infrastructure
The number of businesses unable to recover data after an incident nearly doubled from 2016, according to the Global Data Protection Index surveying 2 200 IT decision makers from 18 countries.
Read more...
---
Four essential cloud security concepts
July 2019 , Cyber Security, IT infrastructure
Security is a critical a component of any cloud environment, but to be effective, it needs to be as agile and dynamic as the cloud infrastructure being protected.
Read more...
---
TAPA EMEA appoints Thorsten Neumann as president and CEO
July 2019, TAPA (Transported Asset Protection Association) , News, Asset Management, EAS, RFID
The Transported Asset Protection Association (TAPA) has appointed Thorsten Neumann as its first full-time president & CEO.
Read more...
---
A platform to the future
June 2019, Genetec, Cathexis Technologies, Milestone Systems, Gijima Electronic and Security Systems (GESS) , Integrated Solutions, CCTV, Surveillance & Remote Monitoring, IT infrastructure
With AI, IoT and cloud changing the security technology landscape, will your security management platform be able to adapt to new demands?
Read more...
---
AI and cloud for sustainable buildings
June 2019, Johnson Controls , Commercial (Industry), Integrated Solutions, IT infrastructure
Bee'ah's sustainable headquarters will be infused with artificial intelligence across systems and spaces, including a digital concierge for every occupant and visitor.
Read more...
---