printer friendly version
Warehouse management improves efficiency
September 2018 Asset Management, Infrastructure, Logistics (Industry)
Cquential Warehouse Solutions has revealed details of the successful roll out of the Moresport warehouse management system. Moresport is a subsidiary of JSE listed Long4Life and constitutes its sport & recreation operating division.
Following an intensive evaluation, Moresport, with its well-known Sportsmans Warehouse and Outdoor Warehouse retail chains, selected Cquential Warehouse Management Solutions (WMS) to help the group to insource logistics at its newly built warehouse facility.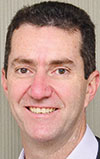 Steve Mallaby
According to Cquential CEO, Steve Mallaby, the relationship commenced five years ago and the business benefits of the implementation are already evident. "Tangible outcomes for this growing retail group with outlets around the country include: improved warehouse throughput; ability to leverage current infrastructure; improved picking efficiency and accuracy, and notably increased stock accuracy and optimisation.
"Moresport recognised the benefits attached to the flexibility and scalability of a cloud-based warehouse management solution. The group depends on this solution to run its warehouse and business optimally, which is crucial in an increasingly competitive environment. When stock is effectively stored and the supply chain runs efficiently, the cost per unit comes down, allowing retailers to be more competitive and grow their bottom line.
"Through careful attention to detail, logic embedded in the Cquential system and the use of advanced analytics, warehouse owners are able to determine how warehouses contribute to supply chain efficiencies and where savings can be achieved. This is becoming a focus for many local and global retailers now," he says.
"The WMS system is stable and effective, allowing us to support group growth," says Long4Life Sport & Recreation CEO, Cobus Loubser. "We now have the foundations in place to start looking at new and innovative technologies from Cquential. This will enable us to further manage costs and improve efficiencies. It has been very beneficial for us that Cquential keeps us updated on new international technologies and trends, with proactive options regarding future enhancements to support our business goals."
"The progress made to date is preparing the distribution centre for even greater innovation and efficiencies. We are currently working with Cquential on introducing advanced new technologies which could make Moresport a pioneer in advanced warehousing and which are projected to increase current picking speed and warehouse productivity by up to 20%," he concludes.
For more information, contact Cquential, +27 11 236 4360, info@cquential.com, www.cquential.com
Further reading:
Simplify AARTO compliance for fleets
Guardian Eye IoT & Automation Asset Management Transport (Industry) Logistics (Industry)
While there are challenges around the management and implementation of the AARTO Amendment Act, there are also benefits that need to be understood today to ensure compliance and value tomorrow.
Read more...
---
From damage management to false alarm prevention
Dallmeier Electronic Southern Africa Transport (Industry) Surveillance Logistics (Industry)
Video surveillance is undergoing an exciting evolution; today's IP-based solutions can be fully integrated into digital systems. With the increasing integration of artificial intelligence (AI); logistics, in particular, can make processes more transparent and exploit previously untapped potential.
Read more...
---
Protecting narrow areas in warehouse and logistics sites
OPTEX Facilities & Building Management Transport (Industry) Logistics (Industry)
Logistics facilities, warehouses and distribution centres are critical to the supply chain and any company's business operation and assets. Any disruption can have enormous consequences, both functional and financial.
Read more...
---
Logistics operators stand up to safety challenges
Logistics (Industry) Asset Management Transport (Industry)
The second annual Webfleet Road Safety Report for 2023 outlines common safety factors, challenges and solutions that South African transport operators face; deteriorating roads, poor vehicle maintenance, congestion and driver fatigue are common challenges.
Read more...
---
Majority of South African companies concerned about cloud security
Information Security Infrastructure
Global and local businesses share a common concern when it comes to cloud security. 95% of global businesses and 89% of local businesses are concerned about the security of public clouds.
Read more...
---
Consolidated cybersecurity management
Technews Publishing Editor's Choice Information Security Infrastructure
SMART Security Solutions spoke to Gareth Redelinghuys, Country Managing Director, African Cluster at Trend Micro, to find out what makes Trend stand out from the crowd and also its latest market offerings.
Read more...
---
Access to data centre secured
Suprema Access Control & Identity Management Infrastructure
GBM required a modern access control system to increase the security of its facilities in a productive environment without affecting the operation of the offices and the data centre, which are carried out 24/7/365.
Read more...
---
Africa's growth lies on shoulders of renewable energy
News & Events Infrastructure
The Africa Tech Festival from 13 to 16 November in Cape Town will unpack the challenges and discuss the pivotal role of sustainability & renewable energy in advancing technological development in Africa.
Read more...
---
People screening goes mobile
Xscann Technologies News & Events Asset Management
Xscann Technologies has delivered a new mobile solution with added value for people screening. This turnkey solution requires no civil works as it is an all-in-one complete body scanning solution built in a shipping container.
Read more...
---
Commvault appoints Graham Brown as Channel Manager for South Africa/SADC
News & Events Infrastructure
Commvault announced the appointment of industry veteran Graham Brown as Channel Manager for the South Africa/South African Development Community (SADC) region.
Read more...
---