printer friendly version
Warehouse management improves efficiency
September 2018 Asset Management, EAS, RFID, IT infrastructure, Logistics (Industry)
Cquential Warehouse Solutions has revealed details of the successful roll out of the Moresport warehouse management system. Moresport is a subsidiary of JSE listed Long4Life and constitutes its sport & recreation operating division.
Following an intensive evaluation, Moresport, with its well-known Sportsmans Warehouse and Outdoor Warehouse retail chains, selected Cquential Warehouse Management Solutions (WMS) to help the group to insource logistics at its newly built warehouse facility.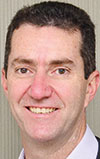 Steve Mallaby
According to Cquential CEO, Steve Mallaby, the relationship commenced five years ago and the business benefits of the implementation are already evident. "Tangible outcomes for this growing retail group with outlets around the country include: improved warehouse throughput; ability to leverage current infrastructure; improved picking efficiency and accuracy, and notably increased stock accuracy and optimisation.
"Moresport recognised the benefits attached to the flexibility and scalability of a cloud-based warehouse management solution. The group depends on this solution to run its warehouse and business optimally, which is crucial in an increasingly competitive environment. When stock is effectively stored and the supply chain runs efficiently, the cost per unit comes down, allowing retailers to be more competitive and grow their bottom line.
"Through careful attention to detail, logic embedded in the Cquential system and the use of advanced analytics, warehouse owners are able to determine how warehouses contribute to supply chain efficiencies and where savings can be achieved. This is becoming a focus for many local and global retailers now," he says.
"The WMS system is stable and effective, allowing us to support group growth," says Long4Life Sport & Recreation CEO, Cobus Loubser. "We now have the foundations in place to start looking at new and innovative technologies from Cquential. This will enable us to further manage costs and improve efficiencies. It has been very beneficial for us that Cquential keeps us updated on new international technologies and trends, with proactive options regarding future enhancements to support our business goals."
"The progress made to date is preparing the distribution centre for even greater innovation and efficiencies. We are currently working with Cquential on introducing advanced new technologies which could make Moresport a pioneer in advanced warehousing and which are projected to increase current picking speed and warehouse productivity by up to 20%," he concludes.
For more information, contact Cquential, +27 11 236 4360, info@cquential.com, www.cquential.com
Further reading:
Scanning for gold
Issue 8 2020, Saflec , Asset Management, EAS, RFID, Products
The metal detection market is such that customers looking for a specific point solution are becoming a rarity and the primary desire is for a solution.
Read more...
---
Manufacturer adopts touchless biometrics and temperature screening
Issue 1 2021 , Asset Management, EAS, RFID, Industrial (Industry)
Leading implantable plastics manufacturer adopts touchless biometrics and temperature screening via IXM TITAN with Enhancement Kit for workforce management and to safeguard employee health.
Read more...
---
Introducing Video Storage Solutions
Issue 1 2021 , Integrated Solutions, CCTV, Surveillance & Remote Monitoring, IT infrastructure
Video Storage Solutions (VSS) was formed with the single objective of providing system integrators who are part of the Milestone Community with verified video recording and storage appliances. VSS is distributed in South Africa by First Distribution.
Read more...
---
What happens to your data when you leave the estate?
Residential Security Handbook 2021: Smart Estate Living , Vox , Asset Management, EAS, RFID
COVID-19 infections and the imminent enforcement of the Protection of Personal Information Act (POPIA) on 1 July 2021 have put business and residential estate visitor management under the spotlight from both a health and a data privacy perspective.
Read more...
---
Ensuring the secure flow of information
Issue 9 2020 , Asset Management, EAS, RFID
The recent leak of two matric exam papers and arrest of a suspect has raised renewed concerns over security and data leaks within a corporate and public organisation environment.
Read more...
---
Opportunities on the edge
Issue 9 2020 , Editor's Choice, IT infrastructure
The ability of organisations to realise business value from data increasingly depends on their capacity to collect, process, store and analyse it at the edge.
Read more...
---
Information keeps the trucks rolling
Issue 9 2020 , Asset Management, EAS, RFID
Elite Truck Hire harnesses the power of information to optimise its business and prevent fraud with FleetDomain.
Read more...
---
Circular economy offers cost savings
Issue 7 2020 , Asset Management, EAS, RFID
Circular economy initiatives help businesses keep technology assets in use for longer, extracting the maximum value from those electronics while in use.
Read more...
---
First Distribution to distribute Video Storage Solutions
Issue 8 2020 , News, CCTV, Surveillance & Remote Monitoring, IT infrastructure
First Distribution has signed an agreement to distribute the entire Video Storage Solutions (VSS) product line of video surveillance appliances.
Read more...
---
IoT is transforming the mobility space
Issue 7 2020 , Asset Management, EAS, RFID
Technology is no longer a grudge purchase, but an indispensable part of modern business, especially in the mobility and transport sector.
Read more...
---