printer friendly version
Warehouse management improves efficiency
September 2018 Asset Management, EAS, RFID, IT infrastructure, Logistics (Industry)
Cquential Warehouse Solutions has revealed details of the successful roll out of the Moresport warehouse management system. Moresport is a subsidiary of JSE listed Long4Life and constitutes its sport & recreation operating division.
Following an intensive evaluation, Moresport, with its well-known Sportsmans Warehouse and Outdoor Warehouse retail chains, selected Cquential Warehouse Management Solutions (WMS) to help the group to insource logistics at its newly built warehouse facility.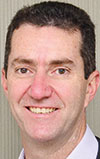 Steve Mallaby
According to Cquential CEO, Steve Mallaby, the relationship commenced five years ago and the business benefits of the implementation are already evident. "Tangible outcomes for this growing retail group with outlets around the country include: improved warehouse throughput; ability to leverage current infrastructure; improved picking efficiency and accuracy, and notably increased stock accuracy and optimisation.
"Moresport recognised the benefits attached to the flexibility and scalability of a cloud-based warehouse management solution. The group depends on this solution to run its warehouse and business optimally, which is crucial in an increasingly competitive environment. When stock is effectively stored and the supply chain runs efficiently, the cost per unit comes down, allowing retailers to be more competitive and grow their bottom line.
"Through careful attention to detail, logic embedded in the Cquential system and the use of advanced analytics, warehouse owners are able to determine how warehouses contribute to supply chain efficiencies and where savings can be achieved. This is becoming a focus for many local and global retailers now," he says.
"The WMS system is stable and effective, allowing us to support group growth," says Long4Life Sport & Recreation CEO, Cobus Loubser. "We now have the foundations in place to start looking at new and innovative technologies from Cquential. This will enable us to further manage costs and improve efficiencies. It has been very beneficial for us that Cquential keeps us updated on new international technologies and trends, with proactive options regarding future enhancements to support our business goals."
"The progress made to date is preparing the distribution centre for even greater innovation and efficiencies. We are currently working with Cquential on introducing advanced new technologies which could make Moresport a pioneer in advanced warehousing and which are projected to increase current picking speed and warehouse productivity by up to 20%," he concludes.
For more information, contact Cquential, +27 11 236 4360, info@cquential.com, www.cquential.com
Further reading:
Argility showcases SkyData IoT Platform
Issue 6 2020 , Asset Management, EAS, RFID
SkyData, a device agnostic IoT cloud platform, is transforming asset and resource monitoring and management.
Read more...
---
IoT security seal
Issue 4 2020 , Asset Management, EAS, RFID
With the current lockdown and ports operating at reduced capacity, the need for automation has been taken to a new level.
Read more...
---
Managing outputs, attendance and time
Issue 5 2020 , Asset Management, EAS, RFID
What started out as a great idea to bring structure, order, measurement and accountability to fieldwork, has virtually overnight turned into an indispensable tool.
Read more...
---
ZKTeco offers touchless access for people and vehicles
Issue 4 2020, ZKTeco , Asset Management, EAS, RFID
ZKTeco sports a range of touchless entrance control solutions from licence plate recognition cameras through to facial recognition and multi-modal access solutions.
Read more...
---
Li-ion UPS battery from Schneider Electric
Issue 2 2020 , Asset Management, EAS, RFID
Schneider Electric has announced the launch of the APC Smart-UPS Lithium-Ion UPS Battery to South Africa, offering double the lifespan of VRLA batteries.
Read more...
---
Taking identity management seriously
Issue 2 2020 , Asset Management, EAS, RFID
The most important and critical part of identity management is the enrolment/registration part of the process. This is where the real-world human being must be linked to the cyber world digital identity with forensic proof.
Read more...
---
Reducing identity fraud with a selfie
Access & Identity Management Handbook 2020, Technews Publishing , Asset Management, EAS, RFID
Authenticating your identity remotely via an app has become a reality with a new solution from South African company iiDENTIFii.
Read more...
---
Schneider Electric launches EcoStruxure Asset Advisor
Issue 2 2020 , Asset Management, EAS, RFID
Vendor-neutral asset risk management via sensors and cloud-based monitoring tools offers 24/7 data-driven predictive service for business continuity.
Read more...
---
Security enhancements at Sharm El-Sheikh
November 2019 , Asset Management, EAS, RFID
ADANI Systems supplied the X-ray screening equipment, including combined high-energy and low-energy systems, for Sharm El-Sheikh.
Read more...
---
A platform approach to innovation and value
CCTV Handbook 2019, Technews Publishing , Editor's Choice, CCTV, Surveillance & Remote Monitoring, Integrated Solutions, IT infrastructure
Moving to the platform model of doing business holds tremendous advantages for end users and smaller developers, but also for the whole technology supply chain.
Read more...
---