printer friendly version
First responder solution
September 2018 Security Services & Risk Management, Products & Solutions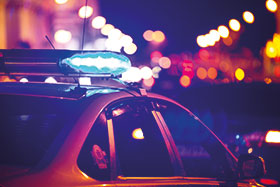 Safety on the job is top priority for law enforcement and first responders. Teams in the security industry need technology that is dependable, secure, and provides real-time data. Geotab's secure and sophisticated fleet management solutions offer insight, visibility, and actionable alerts. The latter transform operations and ensure driver and civilian safety.
Geotab has recently partnered with Signal Tower and Online Intelligence to create the First Responder Solution. Signal Tower is a high volume, hardware independent alarm monitoring and management system. Online Intelligence is a supplier of enterprise risk solutions across the African continent.
Previously, a customer would push their panic button, sending a signal to the control room. The control room would then have to radio all vehicles in order to locate and dispatch the nearest vehicle to the incident. The First Responder Solution enables control rooms to drag and drop addresses onto a map of vehicles, and automatically dispatch the nearest vehicle to the scene. The responder only needs to accept the allocated address.
The following factors are recorded: time alerted, time responded, time took to arrive, time spent at the customer, time departed and special notifications.
Control is further able to schedule responders to drive by clients which request this service, and provide reporting confirming the patrol. They are also able to schedule stand-down times for responders in specific locations at specific times.
Product features
• Auto-dispatch nearest patrol vehicle.
• Real-time tracking for accurate kilometres.
• Auto-arrival and departure at zone.
• Behaviour coaching – harsh braking, cornering and acceleration.
• Out of authorised zone and hour usage.
• Monitor patrol routes and fuel usage.
• Two way electronic communication (driver and control room).
• SLA Adherence.
• Monthly billing.
Geotab is also currently integrating with CASI, the new personalised security app that comes with the country's first mobile panic button and country-wide coverage. Armed responders will be notified of nearby emergencies as well as be navigated to the location of the smartphone that has activated the panic. On arrival the completion will be validated with a unique code.
For more information, contact Geotab Africa, +27 11 564 5400, info@geotab.co.za, www.geotabafrica.com
Further reading:
Tech developments lead hologram growth in 2024
News & Events Security Services & Risk Management
Micro-lenses, micro-mirrors and plasmonics are among the rapidly-emerging optical devices that have evolved on the back of holographic and diffractive technologies, and are seen as part of the natural evolution of optical science by R&D teams.
Read more...
---
SafeQuip introduces lithium fire extinguishers
Fire & Safety Products & Solutions
With the use of Lithium batteries increasing in many types of portable devices and battery storage solutions, SafeQuip, in partnership with AVD Lithex, is introducing a fire extinguisher aimed at suppressing and extinguishing, and also preventing re-ignition of lithium fires.
Read more...
---
New generation of cyber-focused controllers
Gallagher News & Events Access Control & Identity Management Products & Solutions
The C7000 gives users an opportunity to leverage their hardware and firmware to build a platform designed to catapult their organisation into the future, with cybersecurity baked in from inception.
Read more...
---
Nextivity CEL-FI ROAM R41 boosts your cell signal
IoT & Automation Products & Solutions
Designed for cars, trucks, and boats, it is the industry's most powerful cellular coverage solution for on-the-go applications. It features the 4th generation IntelliBoost chip to deliver channelised coverage for mobile network operator (MNO) signals.
Read more...
---
Are you leaving money on the table?
Editor's Choice Security Services & Risk Management
How many customers have you helped since starting your business? Where does most of your new business come from? If the answer is not from your database's existing customers, you might have a problem.
Read more...
---
Olarm advances smart security with Texecom integration
Olarm News & Events Perimeter Security, Alarms & Intruder Detection Products & Solutions
Following Olarm's achievement as the OSPA 2023 winner of 'Outstanding Security Integrator', it has taken another significant step in its innovation journey with the announcement of its integration with Texecom Premier Elite.
Read more...
---
Enhanced security at Xanadu Nature Estate
Turnstar Systems Access Control & Identity Management Products & Solutions
Turnstar Systems recently installed two bicycle turnstiles at the 240-hectare Xanadu Nature Estate, set in the Magaliesberg, the perfect location for secure communal living catering to the lifestyle of residents.
Read more...
---
The business value of ChatGPT
Security Services & Risk Management Risk Management & Resilience
Transparency, policy and integrity. It is critical for organisations to have a line of sight into processes and procedures that clearly define employee use cases when it comes to ChatGPT, says Lizaan Lewis, Head of the Legal Department at Altron Systems Integration.
Read more...
---
BMS for smaller businesses
Security Services & Risk Management Products & Solutions Risk Management & Resilience
Small businesses can also benefit from tailored energy management solutions just like large corporations. Effective energy management is essential for more sustainable and efficient operations.
Read more...
---
Kidnapping for ransom
News & Events Security Services & Risk Management Risk Management & Resilience
There has been an 8,6% increase in reported kidnapping cases in South Africa compared to last year, with 3 854 cases reported between April and June this year, leaving ordinary South Africans increasingly vulnerable.
Read more...
---