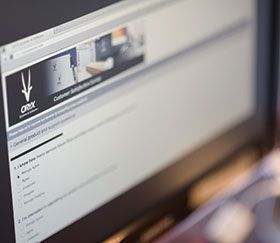 The platform you depend on
September 2018, This Week's Editor's Pick, Perimeter Security, Alarms & Intruder Detection, Integrated Solutions
If you have an alarm that is connected to an alarm monitoring company, there's more than an even chance the alarm monitoring platform your service provider uses was built by Oryx Systems. The company has been in the game of developing software for the security industry since 1993 and has captured the lion's share of the South African market. Oryx Systems' software is currently used in over 500 control rooms around the country and its clients range from small security operations in outlying towns to some of the largest control rooms across the country – as well as up into Africa where the company has installations in numerous countries.
According to MD, Grahame Clarke, Oryx has expanded with its clients, continually adding to its platform to meet the needs of the security market as it evolved over the past 25 years. Today, Oryx handles the technical setup and training to ensure its clients receive the solution they want and to ensure the system performs as required.
Over the years, the original solution has grown beyond merely monitoring alarms and now offers companies a full software solution for their control rooms. The foundation platform, Listener, is completely modular and allows clients to choose the modules they require in their operation, as well as seamlessly upscale with new modules as, and when, required.
For more than a decade now, Oryx has been providing its platform as a Software-as-a-Service (SAAS) solution, which means customers receive the latest upgrades as soon as they are available. Clients can choose from a broad range of modules including monitoring, managing alarms and responses, financial accounting, recurring billing, SMS and mobile messaging. Fleet management and an automatic dispatch module are also integrated into the platform giving true dispatch and arrival times. Arrivals are validated against the premises location to ensure the vehicles are going to the response site.
Clarke says the latest features from Oryx worth noting are its mobile integration as well as an increasing video verification capability. In the mobile space, Oryx can provide apps for residential and commercial customers of the monitoring companies. These apps allow the end users to monitor their own alarms from their smartphones, setting or disabling alarms, testing their alarm, cancelling responses and an emergency button which can dispatch a response to either a fixed site or a remote GPS coordinate.
Each app is designed to meet the monitoring companies' individual requirements and is branded as their own app. The apps can also include video streaming of alarm situations if the user has the correct equipment installed and the service provider offers that service.
Clarke adds that video verification is a growing requirement and Oryx is continually integrating new DVRs and camera brands into their offering. This means, on an alarm exception, customers have a single view into the client's premise enabling them to cut down on unneeded responses or appropriately escalate the reaction response.
The major software project for Oryx at present is a revamp of its platform which will see a new CRM version launched in 2019. This version will make better use of cloud services and capabilities (for those customers interested in lowering their infrastructure costs), opening the door for mobile sales and service teams, keeping better control of all business processes, changing the way alarm monitoring companies operate and manage the services they provide.
Oryx customers will have the option of moving all, or parts, of their services to the cloud with the associated benefits, including security and the ability to keep their own processes and procedures private.
For more information, contact Oryx Systems, +27 11 367 5525, helpdesk@oryxsystems.co.za, www.oryxsystems.co.za