printer friendly version
Solutions to be heard
September 2018 Transport (Industry), Security Services & Risk Management
TOA Electronics Southern Africa recently added new products to its range of voice alarm systems and IP intercom systems.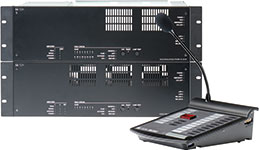 VX-3000
The TOA VX-3000 is a reliable and energy-saving voice alarm system that combines all important functions for public address, voice alarm and background music in one unit frame. The limited number of components makes the design and installation much easier, as well as saving space and reducing cable complexity.
This enables rapid system configuration and makes the VX-3000 a cost-effective system. The VX-3000 voice alarm system can be installed as a decentralised system (using an IP network). This will reduce cable runs as the headend equipment can be installed in different areas of the site. The voice alarm system is EN 54-4 and EN 54-16 certified.
It uses low-loss modular Class-D amplifiers with three different output ratings. These can easily be removed or replaced simply by unplugging them, so there is no need for specialist tools. By using modern power supply switching technology, the system becomes much more energy efficient and keeps the operating costs low.
Thanks to its flexible and scalable system architecture, the VX-3000 system can be used for both small and large applications, with up to 256 remote microphones and 128 audio sources.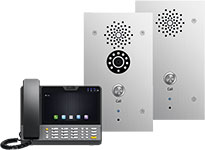 N-SP80
TOA has also launched the N-SP80 range of SIP video intercoms as well as the N-8000SG SIP Gateway to integrate the TOA N-8000 IP intercom to the SIP intercom range or with SIP PABX systems. The three contemporary SIP-based intercom stations offer high-quality audio and video communication and a user-friendly electronic access control system. The SIP intercom stations are compatible with a variety of SIP servers (Cisco, Avaya, Asterisk, Genetec) and enable peer-to-peer communication with an unlimited number of connectable stations within the SIP system.
It can integrate with external SIP compatible systems through a SIP server. Peer-to-peer mode is also available for standalone system operations without SIP server environment. Additionally, multi-cast transmission ensures paging into multiple zones. These systems are ideal for schools, hotels, healthcare and industrial facilities, as well as offices and malls.
New products available
TOA Electronics Southern Africa was appointed as the sole distributors for sub-Saharan Africa by Cambridge Sound Management, a manufacturer of sound masking and speech privacy systems. This means the company now offers the QtPro and DynasoundPro sound masking technology which helps organisations of all sizes protect speech privacy, reduce noise distractions, and increase comfort and workplace productivity.
The proprietary sound masking technology works by adding a low level, unobtrusive background sound to an environment. The ambient, specially-optimised sound masking drastically reduces the intelligibility of human speech. The result is a workplace that is measurably more acoustically comfortable and private without sacrificing the architectural design of the space.
The Cambridge Sound Management Systems are aimed at call centres, open plan offices, healthcare facilities, corporate and government offices, conference venues as well as many more applications.
TOA is also the supplier of Fire Phone Systems, which fully comply with BS5839, Pt 9. The systems supplied are used as a fire telephone system, disabled refuge call system or as a combined system when both fire telephones and disabled refuge points (allowing people who cannot easily evacuate a building to communicate with a central control point during a fire emergency) are required.
Additionally, TOA also distributes the Ampetronic hearing loop systems. An established technology, hearing loops help with hearing loss, increasing the clarity of amplified sound, in any busy environment, by working in conjunction with a person's own hearing aid.
Ampetronic hearing loop systems, also known as audio induction loop systems or T loops, are designed and built to the highest standards and can be used in many applications, including retail stores, banks, airports, bus terminus' and railway stations, schools and universities, houses of worship, museums, conference venues and more.
Ampetronic also manufactures counter intercom systems, which are designed for applications where there is difficulty in communicating between staff and clients (due to thick glass). These systems are ideal for banks, ticket offices, information kiosks, security booths and an optional glass mounted hearing loop system can also be integrated into the system to enable those that are hearing impaired to easily communicate with staff.
The counter loop systems are becoming popular in retail applications worldwide as retailers implement systems so that cashiers can easily communicate with hearing impaired clients and vice versa, clients can easily communicate with staff that are hearing impaired.
For more information, contact TOA Electronics Southern Africa, 27 11 608 1477, lsher@toasa.co.za, www.toa.co.za
Credit(s)
Further reading:
Why rehearsals and drills for crises and evacuation are so important
August 2019, Leaderware , CCTV, Surveillance & Remote Monitoring, Security Services & Risk Management
The rehearsal of concept (ROC) drill has been used extensively in the military, but is just as important when facing risks in organisations and institutions to protect people on the ground.
Read more...
---
24-hour emergency response for staff
August 2019 , News, Security Services & Risk Management
The FirstRand Group has partnered with PanicGuard to create a 24-hour emergency response programme for staff.
Read more...
---
Keeping our changing environment secure
August 2019 , Editor's Choice, Security Services & Risk Management
For a crime to take place there needs to be a victim and a criminal who sees an opportunity. For a cybercrime to take place we need the same set of circumstances.
Read more...
---
The importance of real security risk assessments
August 2019, Sentinel Risk Management , Editor's Choice, Security Services & Risk Management, Residential Estate (Industry)
Andy Lawler, MD, Sentinel Risk Management, says a security risk assessment is an onerous task, but is not something estates can consider optional or a luxury item anymore.
Read more...
---
Risk assessment or product placement?
August 2019, Technews Publishing, Alwinco, SMC - Security Management Consultants , Editor's Choice, Security Services & Risk Management, Residential Estate (Industry)
Hi-tech security solutions asked a couple of experts to provide estate managers and security managers with some insights into what a 'real' risk assessment includes.
Read more...
---
Residential security – caveat emptor
August 2019, Stafix , Integrated Solutions, Security Services & Risk Management
When it comes to improving your property's security, make sure you take all the options into account as you build a layered approach to keeping people safe and assets secured.
Read more...
---
Ensuring your electric fence is compliant
August 2019, Stafix , Perimeter Security, Alarms & Intruder Detection, Security Services & Risk Management
A challenge facing both existing and potentially new perimeter electric fence installations is how to economically meet the legal requirements required in the SANS 10222-3:2016 standards document.
Read more...
---
Addressing risks by means of access control layout and design
August 2019 , Access Control & Identity Management, Security Services & Risk Management
In order to develop a suitable, practical and appropriate security system for any organisation, it is essential to first develop a master security and life safety plan strategy.
Read more...
---
Inundated with cyberattacks from all directions
August 2019 , Editor's Choice, Cyber Security, Security Services & Risk Management
IT managers are inundated with cyberattacks coming from all directions and are struggling to keep up due to a lack of security expertise, budget and up-to-date technology.
Read more...
---
Addressing risks in the healthcare sector
August 2019, Secnovate, Technews Publishing, ZKTeco , Healthcare (Industry), Security Services & Risk Management
The healthcare sector poses unique challenges and risks. Hospitals, for example, need to have a more-or-less 'open door' policy when it comes to people entering the premises and the main reception area.
Read more...
---