printer friendly version
Solutions to be heard
September 2018 Transport (Industry), Security Services & Risk Management
TOA Electronics Southern Africa recently added new products to its range of voice alarm systems and IP intercom systems.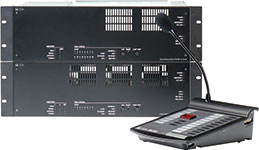 VX-3000
The TOA VX-3000 is a reliable and energy-saving voice alarm system that combines all important functions for public address, voice alarm and background music in one unit frame. The limited number of components makes the design and installation much easier, as well as saving space and reducing cable complexity.
This enables rapid system configuration and makes the VX-3000 a cost-effective system. The VX-3000 voice alarm system can be installed as a decentralised system (using an IP network). This will reduce cable runs as the headend equipment can be installed in different areas of the site. The voice alarm system is EN 54-4 and EN 54-16 certified.
It uses low-loss modular Class-D amplifiers with three different output ratings. These can easily be removed or replaced simply by unplugging them, so there is no need for specialist tools. By using modern power supply switching technology, the system becomes much more energy efficient and keeps the operating costs low.
Thanks to its flexible and scalable system architecture, the VX-3000 system can be used for both small and large applications, with up to 256 remote microphones and 128 audio sources.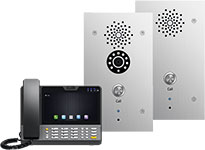 N-SP80
TOA has also launched the N-SP80 range of SIP video intercoms as well as the N-8000SG SIP Gateway to integrate the TOA N-8000 IP intercom to the SIP intercom range or with SIP PABX systems. The three contemporary SIP-based intercom stations offer high-quality audio and video communication and a user-friendly electronic access control system. The SIP intercom stations are compatible with a variety of SIP servers (Cisco, Avaya, Asterisk, Genetec) and enable peer-to-peer communication with an unlimited number of connectable stations within the SIP system.
It can integrate with external SIP compatible systems through a SIP server. Peer-to-peer mode is also available for standalone system operations without SIP server environment. Additionally, multi-cast transmission ensures paging into multiple zones. These systems are ideal for schools, hotels, healthcare and industrial facilities, as well as offices and malls.
New products available
TOA Electronics Southern Africa was appointed as the sole distributors for sub-Saharan Africa by Cambridge Sound Management, a manufacturer of sound masking and speech privacy systems. This means the company now offers the QtPro and DynasoundPro sound masking technology which helps organisations of all sizes protect speech privacy, reduce noise distractions, and increase comfort and workplace productivity.
The proprietary sound masking technology works by adding a low level, unobtrusive background sound to an environment. The ambient, specially-optimised sound masking drastically reduces the intelligibility of human speech. The result is a workplace that is measurably more acoustically comfortable and private without sacrificing the architectural design of the space.
The Cambridge Sound Management Systems are aimed at call centres, open plan offices, healthcare facilities, corporate and government offices, conference venues as well as many more applications.
TOA is also the supplier of Fire Phone Systems, which fully comply with BS5839, Pt 9. The systems supplied are used as a fire telephone system, disabled refuge call system or as a combined system when both fire telephones and disabled refuge points (allowing people who cannot easily evacuate a building to communicate with a central control point during a fire emergency) are required.
Additionally, TOA also distributes the Ampetronic hearing loop systems. An established technology, hearing loops help with hearing loss, increasing the clarity of amplified sound, in any busy environment, by working in conjunction with a person's own hearing aid.
Ampetronic hearing loop systems, also known as audio induction loop systems or T loops, are designed and built to the highest standards and can be used in many applications, including retail stores, banks, airports, bus terminus' and railway stations, schools and universities, houses of worship, museums, conference venues and more.
Ampetronic also manufactures counter intercom systems, which are designed for applications where there is difficulty in communicating between staff and clients (due to thick glass). These systems are ideal for banks, ticket offices, information kiosks, security booths and an optional glass mounted hearing loop system can also be integrated into the system to enable those that are hearing impaired to easily communicate with staff.
The counter loop systems are becoming popular in retail applications worldwide as retailers implement systems so that cashiers can easily communicate with hearing impaired clients and vice versa, clients can easily communicate with staff that are hearing impaired.
For more information, contact TOA Electronics Southern Africa, 27 11 608 1477, lsher@toasa.co.za, www.toa.co.za
Credit(s)
Further reading:
Fleet management systems in SA to reach 3,8 million units by 2027
Transport (Industry)
According to a research report from the IoT analyst firm, Berg Insight, the number of active fleet management systems deployed in commercial vehicle fleets in South Africa reached an estimated 2,1&nbspmillion in Q4&nbsp2022.
Read more...
---
Tech developments lead hologram growth in 2024
News & Events Security Services & Risk Management
Micro-lenses, micro-mirrors and plasmonics are among the rapidly-emerging optical devices that have evolved on the back of holographic and diffractive technologies, and are seen as part of the natural evolution of optical science by R&D teams.
Read more...
---
Simplify AARTO compliance for fleets
Guardian Eye IoT & Automation Asset Management Transport (Industry) Logistics (Industry)
While there are challenges around the management and implementation of the AARTO Amendment Act, there are also benefits that need to be understood today to ensure compliance and value tomorrow.
Read more...
---
From damage management to false alarm prevention
Dallmeier Electronic Southern Africa Transport (Industry) Surveillance Logistics (Industry)
Video surveillance is undergoing an exciting evolution; today's IP-based solutions can be fully integrated into digital systems. With the increasing integration of artificial intelligence (AI); logistics, in particular, can make processes more transparent and exploit previously untapped potential.
Read more...
---
Modern warehouses come with added fire risk
Fire & Safety Transport (Industry)
Along with increased investments in modern warehousing in Africa, there is also a need to focus on protecting warehouses from crime, however, fire can arguably be a greater danger to business continuity.
Read more...
---
Integrated solutions for secure logistics and transport
Secutel Technologies Transport (Industry)
SMART Security Solutions asked Secutel's GM, Andre Vermeulen, what the company offers to the logistics and transport industries to improve their security posture and protect people and assets.
Read more...
---
Protecting narrow areas in warehouse and logistics sites
OPTEX Facilities & Building Management Transport (Industry) Logistics (Industry)
Logistics facilities, warehouses and distribution centres are critical to the supply chain and any company's business operation and assets. Any disruption can have enormous consequences, both functional and financial.
Read more...
---
Logistics operators stand up to safety challenges
Logistics (Industry) Asset Management Transport (Industry)
The second annual Webfleet Road Safety Report for 2023 outlines common safety factors, challenges and solutions that South African transport operators face; deteriorating roads, poor vehicle maintenance, congestion and driver fatigue are common challenges.
Read more...
---
Are you leaving money on the table?
Editor's Choice Security Services & Risk Management
How many customers have you helped since starting your business? Where does most of your new business come from? If the answer is not from your database's existing customers, you might have a problem.
Read more...
---
Securing road transport across Africa
Technews Publishing Editor's Choice Asset Management Transport (Industry) Logistics (Industry) Risk Management & Resilience
SMART Security Solutions spoke to Filipe de Almeida, the Portugal & Spain Regional TAPA EMEA Lead, and Massimo Carelle, the TAPA EMEA Africa Region Lead, about securing transport and logistics in hostile environments.
Read more...
---