printer friendly version
Fleet safety upgrade
September 2018 Transport (Industry), Products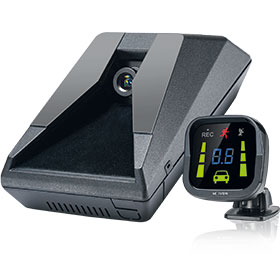 For modern fleets there should be no compromise on safety as it is now possible to achieve higher levels of driver safety without the cost of buying up on fleet vehicles.
Across the sometimes frighteningly broad range of vehicle options available in South Africa – both passenger and commercial – specification levels and add-on manufacturer options often present a bewildering array of choices. However, worldwide demand for increased levels of safety standards has meant huge strides forward in providing drivers with both passive and active levels of assistance to mitigate or prevent crashes.
Sadly, some of the more important technology is currently available only in high-end or higher priced vehicles that may not be within the budget plans of many fleet managers. Moreover, considering the volatile Rand and equally changeable fuel price, these managers remain under massive pressure to keep costs contained.
Features such as Forward Collision Warning, Lane Departure Warning and Pedestrian Collision Warning are now available in SA as aftermarket fitment items and are suitable for passenger cars, trucks and buses.
The EyeZon iGoMDAS-9 Premium helps drivers avoid collisions with computer vision image processing technology, and is available locally through ITS South Africa under the EyeZon iGoADAS brand.
• Forward Collision Warning (FCW) recognises various vehicles, such as passenger cars, trucks and buses and provides reliable FCW application in daytime and night time with Time-To-Collision (TTC) notification.
• Lane Departure Warning (LDW) recognises various lane markings such as solid, double, and dashed markings and can differentiate lane colours such as red, white, yellow and blue.
• Pedestrian Collision Warning (PCW) recognises pedestrians, cyclists and motor cycles.
Additionally EyeZon iGoMDAS-9 Premium supports RS-232/CAN integration capabilities to a telematics device or modem in order to transmit driving data, including warning events to the backend server for analysis.
The installation is made simple as it connects via OBDII, CAN Bus or through a hard-wired analogue connection to the vehicle, while product calibration is done via Wi-Fi on an Android EyeZon iGoMDAS app.
The iGoMDAS-9 is the latest product release to combine all the FCW and LDW features, but also includes an advanced PCW algorithm, telematics integration, dual video channel recordings and driver display indicator options. EyeZon iGoMDAS-9 Premium complies fully with the EU - LDW and FCW standard and has ISO, FCC and CE approvals. Accepting the assistance of technology to mitigate the imperfect driving behaviour of gullible human beings should make perfect sense for most drivers? As the saying goes, "A little bit of prevention is worth a huge amount of cure".
The system costs in the region of R7 995 excl. VAT installed, while rental or finance options are available from the Wesbank Webshop.
For more information, contact Eddie Kartun, ITS SA, 0861 393 966, sales@itssa.co.za, www.itssa.co.za
Credit(s)
Further reading:
Emergency lighting and fire detection combination
August 2019 , Fire & Safety, Products
Hochiki Europe has launched FIREscape+, a system which combines emergency lighting, fire detection and wayfinding technology.
Read more...
---
Extended two-way radio communications
August 2019 , Security Services & Risk Management, Residential Estate (Industry), Products
The two-way radio communication industry has been enhanced by the introduction of Halo PTT radio networks, which are GSM based.
Read more...
---
Outdoor access terminals
August 2019, Suprema , Access Control & Identity Management, Residential Estate (Industry), Products
Rugged, dust- and weather-proof access control solutions that provide exceptional durability in extreme conditions is a strong requirement for many residential estates.
Read more...
---
End-to-end security solutions for residential estates
August 2019, Elvey Security Technologies , Integrated Solutions, Residential Estate (Industry), Products
While there are a multitude of security options available for residential estate body corporates, unfortunately the solutions are not always able to integrate seamlessly, resulting in a hotchpotch of disparate systems.
Read more...
---
Out-of-the-box security command centre
August 2019 , Security Services & Risk Management, Products
Advanced Command Centre helps security companies optimise resources, improve operational capabilities and manage risks.
Read more...
---
Remote time management
August 2019, Jarrison Systems , Access Control & Identity Management, Products
Jarrison Systems has announced its JT Clock Myself and JT Clock Team. Both are solutions designed to add value to the Jarrison Time product.
Read more...
---
New series of XVR to support AT and AF PoC cameras
August 2019, Dahua Technology South Africa , CCTV, Surveillance & Remote Monitoring, Products
Dahua has launched a series of surveillance products that incorporate video, audio, power and data over a single coaxial cable.
Read more...
---
Deep-learning bi-spectral camera
August 2019, Hikvision South Africa , CCTV, Surveillance & Remote Monitoring, Products
Hikvision has released a new thermal deep-learning turret camera, which will bring enhanced capabilities of indoor fire detection, including an advanced temperature anomaly alarm and visual warning.
Read more...
---
Dallmeier integrates facial recognition
July 2019, Dallmeier Electronic Southern Africa , CCTV, Surveillance & Remote Monitoring, Products
German manufacturer Dallmeier has announced a development partnership to integrate AnyVision's facial recognition technology into Dallmeier's Hemisphere platform.
Read more...
---
Unlocking the potential of smart locks
July 2019, Secutel Technologies , Access Control & Identity Management, Products
Matrix COSEC has an access solution that has been successfully rolled out with one of the major gyms in South Africa – granting access to both the gym and locker facilities to its members.
Read more...
---