printer friendly version
Fleet safety upgrade
September 2018 Transport (Industry), Products & Solutions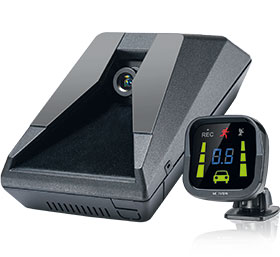 For modern fleets there should be no compromise on safety as it is now possible to achieve higher levels of driver safety without the cost of buying up on fleet vehicles.
Across the sometimes frighteningly broad range of vehicle options available in South Africa – both passenger and commercial – specification levels and add-on manufacturer options often present a bewildering array of choices. However, worldwide demand for increased levels of safety standards has meant huge strides forward in providing drivers with both passive and active levels of assistance to mitigate or prevent crashes.
Sadly, some of the more important technology is currently available only in high-end or higher priced vehicles that may not be within the budget plans of many fleet managers. Moreover, considering the volatile Rand and equally changeable fuel price, these managers remain under massive pressure to keep costs contained.
Features such as Forward Collision Warning, Lane Departure Warning and Pedestrian Collision Warning are now available in SA as aftermarket fitment items and are suitable for passenger cars, trucks and buses.
The EyeZon iGoMDAS-9 Premium helps drivers avoid collisions with computer vision image processing technology, and is available locally through ITS South Africa under the EyeZon iGoADAS brand.
• Forward Collision Warning (FCW) recognises various vehicles, such as passenger cars, trucks and buses and provides reliable FCW application in daytime and night time with Time-To-Collision (TTC) notification.
• Lane Departure Warning (LDW) recognises various lane markings such as solid, double, and dashed markings and can differentiate lane colours such as red, white, yellow and blue.
• Pedestrian Collision Warning (PCW) recognises pedestrians, cyclists and motor cycles.
Additionally EyeZon iGoMDAS-9 Premium supports RS-232/CAN integration capabilities to a telematics device or modem in order to transmit driving data, including warning events to the backend server for analysis.
The installation is made simple as it connects via OBDII, CAN Bus or through a hard-wired analogue connection to the vehicle, while product calibration is done via Wi-Fi on an Android EyeZon iGoMDAS app.
The iGoMDAS-9 is the latest product release to combine all the FCW and LDW features, but also includes an advanced PCW algorithm, telematics integration, dual video channel recordings and driver display indicator options. EyeZon iGoMDAS-9 Premium complies fully with the EU - LDW and FCW standard and has ISO, FCC and CE approvals. Accepting the assistance of technology to mitigate the imperfect driving behaviour of gullible human beings should make perfect sense for most drivers? As the saying goes, "A little bit of prevention is worth a huge amount of cure".
The system costs in the region of R7 995 excl. VAT installed, while rental or finance options are available from the Wesbank Webshop.
For more information, contact Eddie Kartun, ITS SA, 0861 393 966, sales@itssa.co.za, www.itssa.co.za
Further reading:
Effective access control
Flow Systems Access Control & Identity Management Products & Solutions
Flow Systems has introduced its new Extra Heavy Duty Industrial Rising Vehicle Barrier, which provides a high level of protection. It is a traditional-looking control barrier with the benefits of high-level physical protection.
Read more...
---
Fleet management systems in SA to reach 3,8 million units by 2027
Transport (Industry)
According to a research report from the IoT analyst firm, Berg Insight, the number of active fleet management systems deployed in commercial vehicle fleets in South Africa reached an estimated 2,1&nbspmillion in Q4&nbsp2022.
Read more...
---
Simplify AARTO compliance for fleets
Guardian Eye IoT & Automation Asset Management Transport (Industry) Logistics (Industry)
While there are challenges around the management and implementation of the AARTO Amendment Act, there are also benefits that need to be understood today to ensure compliance and value tomorrow.
Read more...
---
SafeQuip introduces lithium fire extinguishers
Fire & Safety Products & Solutions
With the use of Lithium batteries increasing in many types of portable devices and battery storage solutions, SafeQuip, in partnership with AVD Lithex, is introducing a fire extinguisher aimed at suppressing and extinguishing, and also preventing re-ignition of lithium fires.
Read more...
---
From damage management to false alarm prevention
Dallmeier Electronic Southern Africa Transport (Industry) Surveillance Logistics (Industry)
Video surveillance is undergoing an exciting evolution; today's IP-based solutions can be fully integrated into digital systems. With the increasing integration of artificial intelligence (AI); logistics, in particular, can make processes more transparent and exploit previously untapped potential.
Read more...
---
Modern warehouses come with added fire risk
Fire & Safety Transport (Industry)
Along with increased investments in modern warehousing in Africa, there is also a need to focus on protecting warehouses from crime, however, fire can arguably be a greater danger to business continuity.
Read more...
---
Integrated solutions for secure logistics and transport
Secutel Technologies Transport (Industry)
SMART Security Solutions asked Secutel's GM, Andre Vermeulen, what the company offers to the logistics and transport industries to improve their security posture and protect people and assets.
Read more...
---
New generation of cyber-focused controllers
Gallagher News & Events Access Control & Identity Management Products & Solutions
The C7000 gives users an opportunity to leverage their hardware and firmware to build a platform designed to catapult their organisation into the future, with cybersecurity baked in from inception.
Read more...
---
Protecting narrow areas in warehouse and logistics sites
OPTEX Facilities & Building Management Transport (Industry) Logistics (Industry)
Logistics facilities, warehouses and distribution centres are critical to the supply chain and any company's business operation and assets. Any disruption can have enormous consequences, both functional and financial.
Read more...
---
Logistics operators stand up to safety challenges
Logistics (Industry) Asset Management Transport (Industry)
The second annual Webfleet Road Safety Report for 2023 outlines common safety factors, challenges and solutions that South African transport operators face; deteriorating roads, poor vehicle maintenance, congestion and driver fatigue are common challenges.
Read more...
---