printer friendly version
Stallion hosts technology day
September 2018 News & Events, Conferences & Events, Training & Education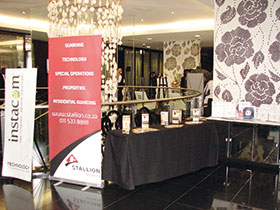 On 27 July, Stallion Security hosted its second annual technology day at the Da Vinci Hotel in Sandton to give its clients insight into some of the latest and greatest products and solutions available in the security market.
"The purpose of the event was to show our clients how technology is advancing, by giving them a first-hand look at not only some of the cutting-edge technologies of today, but importantly also what may be possible in, say, six months from now," explains Stallion's managing director Brad Soekoe. "It's really much more than just showing off what Stallion can do, it's about opening up people's thought processes so they can start planning ahead, which is essential given the frantic pace technologies such as artificial intelligence and others are advancing at."
Soekoe emphasises that the event was geared towards reinforcing the strong partnerships Stallion has with its own suppliers. "It's important that our clients have confidence that when they come to us, it's about more than just putting our sign up outside their premises. We have access to best-in-breed solutions and support, and our suppliers are just as important as we are in all this," he says.
The suppliers who exhibited on the day were ADI Global Distribution, ANV, Gallagher, Instacom, MiRO Distribution, Pentagon in partnership with Elvey, Reditron, Regal Distributors SA, Specialised Battery Systems (SBS), TeleEye, Turnstar Systems and Videofied. "As opposed to a big exhibition where you're always competing for visitors' attention, this technology day gave us and our suppliers an opportunity to show off their latest and greatest technology in a setting that allows for more personal and more meaningful conversations," Soekoe continues.
During the lunch break, a well-received presentation was delivered by Brad Sadler, creator of the website Pros and ExCons (www.prosandexcons.co.za). Having been convicted of fraud in the workplace, he was able to give the audience a unique perspective on the risks involved and spoke about topics like when does a risk become a bribe, and how criminal elements insinuated their way into his life and the price he continues to pay for his mistakes.
Feedback on the event from Stallion's clients and suppliers alike was overwhelmingly positive, with good, quantifiable leads having been established. Soekoe says the success of the technology day means that it will definitely be repeated and is already being planned for around the same time of the year.
For more information contact Brad Soekoe, Stallion Security, +27 11 533 8888, brads@stallion.co.za, www.stallion.co.za
Credit(s)
Further reading:
Helping South African university students and staff to stay safe
News & Events
Buzzer is a free mobile app that allows users to quickly and easily report incidents of crime, violence, or harassment to campus security and other relevant authorities.
Read more...
---
Tech developments lead hologram growth in 2024
News & Events Security Services & Risk Management
Micro-lenses, micro-mirrors and plasmonics are among the rapidly-emerging optical devices that have evolved on the back of holographic and diffractive technologies, and are seen as part of the natural evolution of optical science by R&D teams.
Read more...
---
Trellix detects collaboration by cybercriminals and nation states
News & Events Information Security
Trellix has released The CyberThreat Report: November 2023 from its Advanced Research Centre, highlighting new programming languages in malware development, adoption of malicious GenAI, and acceleration of geopolitical threat activity.
Read more...
---
People are craving connection
News & Events
As 2023 nears its close, global security manufacturer Gallagher Security is sharing key observations from some of the year's biggest industry events, chief among them the rising importance of community building these events facilitate.
Read more...
---
ePSiRA online system
PSiRA (Private Security Ind. Regulatory Authority) News & Events
[Sponsored] As part of the digitisation of the security industry, the Private Security Industry Regulatory Authority (PSiRA) introduced the ePSiRA online system, which allows clients to transact online.
Read more...
---
New generation of cyber-focused controllers
Gallagher News & Events Access Control & Identity Management Products & Solutions
The C7000 gives users an opportunity to leverage their hardware and firmware to build a platform designed to catapult their organisation into the future, with cybersecurity baked in from inception.
Read more...
---
New T&A terminal features revolutionary AI technology
Suprema News & Events Access Control & Identity Management AI & Data Analytics
Suprema has launched BioStation 2a, the world's first deep learning-based fingerprint recognition solution, providing powerful access control features and an improved ability to extract templates from low-quality fingerprints.
Read more...
---
South African Cyber Risk Survey 2023
News & Events
Aon South Africa has released its 2023 Cyber Risk Survey for South Africa, providing insights on current trends in cyber risk governance practices being deployed by South African companies in various market segments.
Read more...
---
Africa Online Safety Fund announces grant winners
News & Events Information Security
The Africa Online Safety Fund (AOSF) has announced the winners of this year's grants; among them are five organisations operating in South Africa to educate people about online risks.
Read more...
---
Service orientation and attention to detail
Technews Publishing Editor's Choice Risk Management & Resilience
Lianne Mc Hendry evolved from working for an accounting firm to an accomplished all-rounder familiar with the manufacturing, distribution, and system integration aspects of the security industry value chain.
Read more...
---