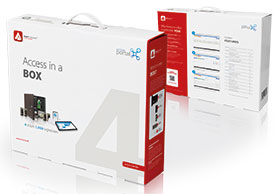 SMB access control in a box
August 2018, This Week's Editor's Pick, Access Control & Identity Management
Local access control company, Impro Technologies, has launched a new solution for small- to medium-sized premises. Access in a Box provides all the components for an access control solution, in one neat package.
A key innovation of the solution is the inclusion of the software in the controller, which means no complicated servers or computers are necessary. Everything you need is embedded in the controller, free of charge.
The software is also easy to configure. No specialised training is necessary as the system auto-detects the installed hardware, and the simple-to-use interface means you can configure the system in just a few minutes, all from the convenience of your smartphone! Another benefit for installers is the use of three-core cable for the installation – guaranteeing an easier installation, no matter the skill level.
Especially designed for small to medium premises, this powerful solution provides enterprise-style features without the associated cost, such as:
• 24-hour access through your smartphone.
• Anti-cloning (copying) credentials to prevent unauthorised access.
• Anti-passback doors (APB.)
• Tamper protection on the housing, with automatic alerts.
• Built-in reports, like hours worked.
• Real-time ability to add or remove access rights.
What's in the box?
Access in a Box comprises a secure lockable metal enclosure, prewired with a switchmode power supply, controller and module; along with 4 readers and 10 anti-cloning credential cards. Installers only need add the locking accessory and three-core cable and you're done.
To find out more about Access in a Box, visit www.impro.net/box.