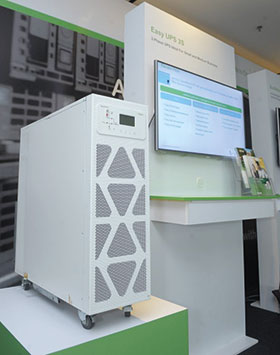 Schneider Electric introduces Easy UPS 3S
August 2018, IT infrastructure, Products
Schneider Electric South Africa has announced the launch of the Easy UPS 3S in Africa, a 10-to-40 kVA Uninterruptible Power Supply (UPS) that offers robust electrical specifications and compact design. The unit delivers up to 96% efficiency in double conversion mode and up to 99% efficiency in energy-saving ECO Mode. Easy UPS 3S users also benefit from the start-up service option to ensure the unit is configured properly and safely for optimal performance, reliability, safety, and peace of mind.
Other features include:
• Operating temperature up to 40ºC.
• Conformal coating for protection in rugged environments.
• Easy to replace dust filter.
• Easy service access via the magnetic front panel.
• Internal, external, and third-party battery options.
• Easy monitoring and management with EcoStruxure IT's cloud-based and on premise software suites when you buy the optional network card.
• Easy Loop test verifies UPS performance before you connect your load, without the need for a load bank.
For more information contact Schneider Electric South Africa, +27 11 254 6400, jacqui.gradwell@schneider-electric.com, www.schneider-electric.co.za