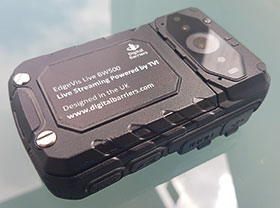 Live facial recognition from body-worn cameras
August 2018, CCTV, Surveillance & Remote Monitoring, Integrated Solutions, Security Services & Risk Management
UK company Digital Barriers announced the launch of its SmartVis Identifier, a live facial recognition system for body-worn law enforcement cameras. The integration of the company's EdgeVis and SmartVis technologies provides defence, security and law enforcement agencies with real-time facial recognition against multiple watch lists and databases.
SmartVis facial recognition technology is already available for standard smartphones and has now been adapted to run live on the company's body-worn cameras. Combined with EdgeVis, the company's mobile live streaming solution, it makes streaming from body-worn devices both operationally and financially viable.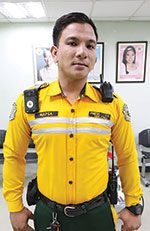 It also means that whenever security personnel or police are dealing with someone, the body-worn camera can transmit the image to the control room where facial recognition can be done and the results communicated to the officer. The facial recognition is triggered via a one-touch button on the camera and functions automatically from there.
According to the company, "By removing human error from the equation and plugging resourcing gaps, it enables organisations to significantly widen their deployments of facial recognition to enhance security and public safety, with identities confirmed and persons of interest highlighted in real time."
Speaking to Hi-Tech Security Solutions, Digital Barrier's Richard Revis said EdgeVis was designed to transmit video over low-bandwidth connections. He said this includes 2G connectivity in remote places, or in places where there are many people using the available bandwidth – such as sporting or entertainment events. Revis says the system uses 60% less bandwidth than standard technologies.
In terms of battery life, Revis says the body-worn cameras can last 8 hours recording video in HD with GPS on, but if video streaming to a control room is used, it can obviously shorten the battery's life. Recharging is simple, however, the cameras are simply slotted into a charging rack where they are secured, and while charging the footage is automatically downloaded.
The system offers low latency and low bandwidth streaming in both directions, allowing over-the-air access to device recordings and GPS locational data from the control centre. This means operators in a control room can see live footage of a situation and dispatch assistance immediately if required.
To cater for the potential challenges of functioning out in the real world, the current body-worn cameras are rated IP65, with IP67 devices set to launch soon. The devices also have a 2 metre drop rating.
Rollout in Makati
The city of Makati in the Philippines makes use of EdgeVis to enhance its emergency response processes and ensure the security and safety of traffic officers. By enabling the live-streaming of footage from cameras back to a central control centre, Makati hopes to deter attacks from violent motorists, respond more efficiently to traffic accidents and promote transparency between civic workers and citizens.
Makati is one of the sixteen cities that makes up Metro Manila, is the financial centre of the Philippines and has the highest concentration of multinational and local corporations in the country. While it is home to only half a million residents, the daytime population of the city is estimated to be more than triple that. It has been reported that
600 000 vehicles move through downtown Makati on a typical weekday.
Abby Binay, Mayor of the City of Makati, said, "The implementation of the first live streaming body-worn cameras has been a success and our officers are already enthusiastically utilising this technology in order to ensure their safety and support the disaster management in the city. The body cameras will not only promote transparency in the field, they will also aid in faster response time in case of a road accident or an emergency."
For more information, contact Digital Barriers, +44 20 3553 5888, info@digitalbarriers.com, https://www.digitalbarriers.com/solutions/edgevis-live/, or www.digitalbarriers.com/technology/video-analytics/smartvis-face.
.