printer friendly version
Ambling to Abu Dhabi
June 2013
News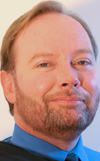 I spent a few days in Abu Dhabi last month at a Milestone partner conference. There is a quick note about it in this issue and I will follow it up with a more in-depth article next month as there was not time to stretch the deadline any further and do a full review without risking our production manager going psycho – or should that be more psycho.
It is amazing to see the development going on in the region. In one of the presentations, IMS Research predicted that the Middle East is going to be growing far faster than anywhere else in terms of security systems. One of the American vendors at the conference told me there are thousands of new high-rise buildings planned over the next few years (until 2030), making the UAE in particular a great place to be in the security business, not to mention the building industry. So instead of packing for Perth, perhaps our security experts should be ambling to Abu Dhabi. It is certainly much safer there – unless you happen to be Dr Karabus.
Of course there is a dire need for security in South Africa, but given recent developments in the country, it seems as though some people are not keen to put their money on the line in what many view as a precarious future. Dismal education, dismal productivity, a seemingly dismal understanding of economics, dismal accountability mixed with raging corruption and unemployment (they could not be linked, could they?) have placed South Africa in a vulnerable position.
Hi-Tech Security Solutions has just held its latest Executive Roundtable Breakfast – more on that in the next issue – where Clem Sunter spoke on possible scenarios for the country going forward. Let us just say we have some work to do because we are at the stage where we have to actually get stuff done instead of talking about it; or it is time to call at the Australian Consulate and hand in those emigration forms.
The coming month is a busy one for the security industry as IFSEC SA will be held in June at Gallagher Estate. Be sure to drop by the Hi-Tech Security Solutions stand for a cup of coffee.
I heard this at the executive breakfast so thought I would relay it – anonymously of course. The story concerns the lengths people will go to in order to avoid being identified and comes out of Africa where a company recently installed a biometric time and attendance solution. The devices were regularly being vandalised to the extent they had to be replaced, so the company also installed a CCTV system to monitor the fingerprint readers and catch the culprit.
Naturally, as soon as the cameras were installed, the vandalism stopped. Shortly thereafter, an employee came into work with a doctor's note saying he could not clock in using the fingerprint readers for health reasons. He and his doctor claimed the biometric readers had made him impotent. Of all the health reasons someone could select for not using a biometric T&A system, that one must take the cake.
I hope you enjoy the issue and get a chance to attend IFSEC SA – it is on the Gautrain bus route.
Andrew Seldon – Editor
Credit(s)
Further reading:
Olarm launches the Olarm LINK
Olarm Perimeter Security, Alarms & Intruder Detection News Products
Building on the success of smart-enabling, monitoring and controlling alarm panels and electric fences, Olarm has a new solution for customers to integrate gates, garage doors, pumps and other electrical products with the Olarm APP and Olarm PRO communicator.
Read more...
---
Ultimate smart monitoring and reliability
Olarm Perimeter Security, Alarms & Intruder Detection News Products
Olarm is gearing up to unveil its latest product, the Olarm MAX, set to be available in late 2023, which will redefine smart monitoring by offering unparalleled connectivity options and functionality.
Read more...
---
Insights from the 2023 Cloud Security Report
News Cyber Security
Increased costs, compliance requirements, hybrid and multi-cloud complexities, reduced visibility, and a lack of skilled practitioners cause organisations to slow or adjust their cloud adoption strategies.
Read more...
---
New algorithm for OT cybersecurity risk management
Industrial (Industry) Cyber Security News Commercial (Industry)
OTORIO's new risk management model and attack graph analysis algorithm technology, calculates OT cybersecurity threats and provides risk mitigation actions, prioritised according to actual exposure and potential impact on operations.
Read more...
---
Robots: a security opportunity or a threat?
Editor's Choice News Conferences & Events
Professor Martin Gill, Director of Perpetuity Research & Consultancy International and the School of Criminal Justice at the University of South Africa (UNISA), will be holding a Global Thought Leadership Security webinar on 22 June 2023 to discuss the contentious issue of robots operating in the security industry.
Read more...
---
UNISA sponsors Securex seminars
Editor's Choice News Conferences & Events
As part of UNISA's 150-year birthday celebrations, UNISA has sponsored the Securex Theatre Seminar Programme, which will include a number of prominent industry specialists, academics and security practitioners focusing on a number of themes.
Read more...
---
Facilities Management Seminar Theatre
Securex South Africa News
The free-to-attend Facilities Management Seminar Theatre, powered by Broll, delivers information on the latest market trends, thereby keeping attendees up to date on solutions and technology centred on increasing facility system optimisation.
Read more...
---
The latest security trends at Securex South Africa 2023
Securex South Africa News Conferences & Events Training & Education
Security technology evolves at a blistering pace, so it's important to keep up to date with changing trends in order to ensure maximised safety of human and personal assets. The Securex Seminar Theatre, powered by UNISA, is the place to be.
Read more...
---
Sustainability School opens for enrolment
Education (Industry) News Security Services & Risk Management
Three-part programme, first developed for Schneider Electric employees, is now available for free for companies worldwide. Attendees learn how to future-proof their businesses and accelerate their decarbonisation journeys.
Read more...
---
From the editor's desk: Get Smart
Technews Publishing News
Welcome to the fourth issue of Hi-Tech Security Solutions for 2023, which is also the first issue of Smart Security Solutions. As noted in previous issues, Hi-Tech Security Solutions has been rebranded to Smart Security Solutions.
Read more...
---