printer friendly version
Logistics with drones
August 2018 News, Logistics (Industry)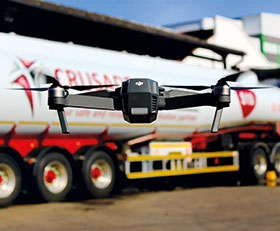 A new black-owned logistics company servicing the KZN and inland fuel depot route is being aided by some of the newest tech in logistics, as it goes toe-to-toe with big transport companies.
Using drones to create its niche in the complex business of fuel distribution, Crusade Logistics plans routes and monitors driver safety, providing customers with two-hourly updates on the estimated arrival time to the depots, ensuring that they are ready to receive the fuel.
Currently bridging fuel for Chevron South Africa and the Caltex Brand in KwaZulu-Natal, the 51% Black-owned and 30% Black female-owned fuel hauler recently secured Enterprise and Supplier Development (E&SD) funding from Chevron South Africa to expand its business. Chevron South Africa's E&SD programme is not only aimed at growing its base of capable and reliable partners, but also, improving opportunities for new black-owned entrants to drive transformation through its value chain.
Crusade Logistics has received industry accolades for driver safety, fuel efficiency and reliability. "We mark out the routes first with drones to give drivers visual cues and familiar landmarks on an electronic journey plan. We have seen a marked improvement in driver safety and it also reduces the risk of trucks getting lost with a full load of fuel onboard," said co-owner of Crusade Logistics, Wesley Naidoo.
"Start-up firms are held to the same exacting standards as more established suppliers, and while there can be significant barriers to entry for new entrants, we are keen to enable their success by providing them with business opportunities within our fuel supply chain," said Chevron South Africa's fleet operations manager, Noma Dumse.
Naidoo went on to say, "For us, one of the biggest benefits has been receiving mentorship from Chevron South Africa and integrating their best practice standards and culture into our business. We have been so inspired by how this programme has assisted us, that we are now helping other small black-owned businesses. In our own way, we are paying it forward."
Further reading:
TAPA: The role of an effective treasury function in business risk management
June 2019, Technews Publishing , News
Neil Le Roux, the Founder of Diligent Advisors will speak at the TAPA SA (Transported Asset Protection Association) annual conference on 26 July 2019.
Read more...
---
iLegal 2019: Enhancing and empowering your control rooms
July 2019, Technews Publishing , News, Conferences & Events
iLegal 2019 will be held on 12 September 2019 at The Rosebank Crowne Plaza in Johannesburg. iLegal is the surveillance industry's premier one-day conference hosted jointly by Hi-Tech Security Solutions and Dr Craig Donald.
Read more...
---
Residential Estate Security Conference 2019: Managing for efficiency
July 2019, Technews Publishing , News, Conferences & Events
The Residential Estate Security Conference 2019 will be held on 20 August 2019, once again at the Indaba Hotel in Fourways, Johannesburg.
Read more...
---
Spending to save
August 2019, Technews Publishing , News
As residential estates and complexes grow like weeds across South Africa, often promoting themselves as more secure than a stand-alone house, many are finding that close proximity to a neighbour or a ...
Read more...
---
From the editor's desk: The difference between potential and skills
August 2019, Technews Publishing , News
This issue of Hi-Tech Security Solutions includes our annual Local Manufacturing feature and it's great to know that local security manufacturers are still going strong, even if the general manufacturing ...
Read more...
---
A customised solution for backup power
August 2019, Specialised Battery Systems , News, Integrated Solutions
Specialised Battery Systems designed and implemented a bespoke solution for Stallion Security Electronics to deploy at almost any site.
Read more...
---
Patient critical – healthcare's cybersecurity pulse
August 2019, Wolfpack Information Risk , News, Cyber Security, Healthcare (Industry)
The healthcare industry has become one of the leading cybersecurity attack vectors worldwide for several reasons.
Read more...
---
iLegal 2019: Keeping security one step ahead
July 2019, Technews Publishing , News
The iLegal 2019 conference will focus on Augmented Surveillance, including the physical and logical technologies, people and processes required to enhance security and business decisions.
Read more...
---
A one-size-fits-all approach won't secure the IoT
August 2019 , News, Cyber Security
Securing the Internet of Things (IoT) is something which cannot be done with a one-size-fits-all approach, and every kind of connected object must be assessed individually.
Read more...
---
Came acquires Turkish company Özak
August 2019, CAME BPT South Africa , News, Access Control & Identity Management
Came broadens its market horizons and signals growth and consolidation in the Middle East.
Read more...
---