printer friendly version
How healthy is your management?
August 2018 Healthcare (Industry), Products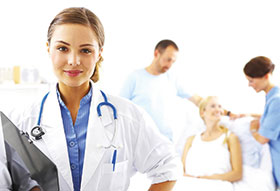 Most will agree that being admitted to hospital is a stressful experience. This is often coupled with concerns regarding quality of healthcare and safety, not helped by the sensationalist media articles that frequent our news feeds.
A private clinic recently came under fire for complaints of poor quality healthcare. It was quick to look for a solution to improve its service level performance, and in turn to quell the concerns of complainants and negative press received. It selected Active Track as a means to monitor its staff's performance. The device, with RFID, GPS and GSM functionality, and housed in a hand-held and tamperproof casing, was met with approval by management.
RFID tags were placed at the entrance to each ward, above every hospital bed and at various duress locations. The nurses, doctors and other medical professionals were issued with the Active Track devices at the start of their respective shifts. The solution was quick to implement as the personnel were merely required to scan the RFID tags of the wards visited and patients checked as they carried out their routine rounds and duties.
The captured data was automatically stored on and accessible via the cloud software. In this way, management could view the movements of its staff remotely and in real-time.
As an extra check, pre-programmed alerts were set to be triggered in the event of missed scan-in points, duress situations and/or emergencies such as fire. The alerts were programmed to be sent via SMS and email to action an appropriate response, and documented on the cloud software.
An emergency alert would be triggered by pressing the panic button on the Active Track device. This would generate an alarm in the Active Track 24-hour support centre, in addition to the dispatch of an email and SMS. The call centre would immediately call the device to determine the nature of the emergency, and take further steps to provide assistance. It would also pin-point the GPS location of the device to ensure that help is directed to the precise co-ordinates of the emergency.
Similarly, a distress situation would be communicated to both the support centre and management by pressing the Active Track's duress button, dropping the device or scanning a duress RFID tag. A distress response would differ slightly from other emergencies, as the support centre would place a silent call through to the device to listen in on the situation within seconds of receiving the distress alarm.
The Active Track, when integrated into a healthcare setting, promotes a union of compassion and healthcare – a goal which every healthcare provider strives to achieve.
Credit(s)
Further reading:
Active Track
Securex Preview 2019, Active Track , Products
Active Track is showcasing current and new guard monitoring and visitor management systems, as well as a virtual Active Track and an intelligent messaging system. Come and experience the new applications ...
Read more...
---
Face to face with Suprema FaceLite
May 2019, Suprema , Editor's Choice, Access Control & Identity Management, News, Products
Suprema has announced the launch of FaceLite, the new generation compact face recognition terminal designed for enterprise access control as well as time and attendance applications.
Read more...
---
Moisture detection and the dangers of digital disruption
May 2019 , Fire & Safety, Products
When it comes to protecting businesses against disruption, water damage poses a significant threat, especially in the modern age where electrical systems are ingrained in almost every aspect of daily life.
Read more...
---
Effective intruder detection: more important than ever
May 2019, Powell Tronics , Perimeter Security, Alarms & Intruder Detection, Products
While intruder detection systems abound, not all solutions are created equal. Ensuring that their intruder detection system is with them for the long haul is something that all end-users desire.
Read more...
---
Intelligent ceiling detector
May 2019, Regal Distributors SA , Perimeter Security, Alarms & Intruder Detection, Products, Agriculture (Industry)
The RISCO Industrial LuNAR Grade 3 is an intelligent ceiling detector with bidirectional remote control, a mounting height of up to 8,6 m and a coverage area of up to 18 m in diameter.
Read more...
---
Outdoor detector with low false alarm rate
May 2019, Regal Distributors SA , Perimeter Security, Alarms & Intruder Detection, Products
The RISCO wired Beyond detector is the company's next generation in outdoor detection, featuring an updated, sleek design.
Read more...
---
KCB Bank Tanzania
May 2019 , CCTV, Surveillance & Remote Monitoring, Products
Uniview delivered a cost-effective and intelligent solution to help KCB Bank to upgrade its CCTV system.
Read more...
---
New Flex Gen2 IR PTZ range
May 2019, Elvey Security Technologies , CCTV, Surveillance & Remote Monitoring, Products
The Illustra Flex Gen2 family of infrared (IR) PTZ cameras is equipped with powerful zoom and control in even the most challenging lighting conditions.
Read more...
---
Illustra Flex IR PTZ
May 2019, Johnson Controls , CCTV, Surveillance & Remote Monitoring, Products
Two new 2-megapixel Illustra Flex IR PTZs from Tyco are packed with functionality which enables them to collectively provide an affordable solution for virtually any video surveillance application.
Read more...
---
Biometrics in future healthcare
May 2019 , Healthcare (Industry), Access Control & Identity Management
The idea of using biometrics in the healthcare sector is not new, but it is one that hasn't been explored or exploited to its full potential.
Read more...
---