printer friendly version
How healthy is your management?
August 2018 Healthcare (Industry), Products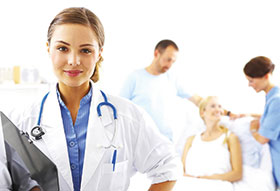 Most will agree that being admitted to hospital is a stressful experience. This is often coupled with concerns regarding quality of healthcare and safety, not helped by the sensationalist media articles that frequent our news feeds.
A private clinic recently came under fire for complaints of poor quality healthcare. It was quick to look for a solution to improve its service level performance, and in turn to quell the concerns of complainants and negative press received. It selected Active Track as a means to monitor its staff's performance. The device, with RFID, GPS and GSM functionality, and housed in a hand-held and tamperproof casing, was met with approval by management.
RFID tags were placed at the entrance to each ward, above every hospital bed and at various duress locations. The nurses, doctors and other medical professionals were issued with the Active Track devices at the start of their respective shifts. The solution was quick to implement as the personnel were merely required to scan the RFID tags of the wards visited and patients checked as they carried out their routine rounds and duties.
The captured data was automatically stored on and accessible via the cloud software. In this way, management could view the movements of its staff remotely and in real-time.
As an extra check, pre-programmed alerts were set to be triggered in the event of missed scan-in points, duress situations and/or emergencies such as fire. The alerts were programmed to be sent via SMS and email to action an appropriate response, and documented on the cloud software.
An emergency alert would be triggered by pressing the panic button on the Active Track device. This would generate an alarm in the Active Track 24-hour support centre, in addition to the dispatch of an email and SMS. The call centre would immediately call the device to determine the nature of the emergency, and take further steps to provide assistance. It would also pin-point the GPS location of the device to ensure that help is directed to the precise co-ordinates of the emergency.
Similarly, a distress situation would be communicated to both the support centre and management by pressing the Active Track's duress button, dropping the device or scanning a duress RFID tag. A distress response would differ slightly from other emergencies, as the support centre would place a silent call through to the device to listen in on the situation within seconds of receiving the distress alarm.
The Active Track, when integrated into a healthcare setting, promotes a union of compassion and healthcare – a goal which every healthcare provider strives to achieve.
Credit(s)
Further reading:
A 'step-change' in tracking and monitoring
Issue 8 2020, Dahua Technology South Africa , CCTV, Surveillance & Remote Monitoring, Products
View an overall scene while monitoring a specific person or vehicle, or obtain a panoramic view while being able to zoom in and track particular targets.
Read more...
---
AX PRO wireless alarm solutions
Issue 8 2020, Hikvision South Africa , Perimeter Security, Alarms & Intruder Detection, Products
Hikvision announced its new generation of wireless alarm systems – the AX PRO – delivering comprehensive alarm solutions for both residential and commercial applications.
Read more...
---
Scanning for gold
Issue 8 2020, Saflec , Asset Management, EAS, RFID, Products
The metal detection market is such that customers looking for a specific point solution are becoming a rarity and the primary desire is for a solution.
Read more...
---
Red G advances with 2020 vision
Issue 9 2020 , Fire & Safety, Products
Red G has reached its 18th year of trading while maintaining focus as South Africa's premier fire-suppression systems supplier.
Read more...
---
Keeping COVID in check
Issue 8 2020, Suprema , Access Control & Identity Management, Healthcare (Industry)
Suprema thermal camera solution helps prevent the spread of COVID-19 in South Korea in a focused healthcare approach from government.
Read more...
---
Free-flow smart weapons detection system
Issue 8 2020, XPro Security Solutions , News, Security Services & Risk Management, Products
Detecting people carrying weapons and preventing them from entering your venue is now possible, without sacrificing the visitor experience.
Read more...
---
Technologies for paediatric care
Issue 7 2020, Duxbury Networking , Healthcare (Industry)
Virtual contact via electronic devices may decrease the sense of isolation and alienation between parents and babies deprived of physical contact.
Read more...
---
The time for resilience is now
Issue 7 2020, Galix Group , Healthcare (Industry)
With healthcare receiving more funding and grants due to COVID-19, it's become a (perceived) easy target for cyber criminals.
Read more...
---
Detect dangerous insider activity
Issue 8 2020, J2 Software , Cyber Security, Products
Offering unique 'Indicators of Intent' capabilities, Intercept 6.0 empowers cybersecurity teams with contextual awareness of workforce activities without invading personal privacy.
Read more...
---
Technologies to improve patient care in the healthcare industry
Issue 7 2020, Duxbury Networking , Healthcare (Industry)
In addition to addressing security issues, the hotel industry already uses cameras to improve the quality of customer service. Likewise, healthcare facilities are also gradually adopting this concept.
Read more...
---