printer friendly version
Active tracking of security personnel
August 2018
Products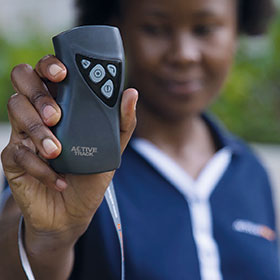 The Active Track is a handheld device engineered to improve the effectiveness of and control over internal and outsourced security services. It boasts RFID, GPS and GSM functionalities, panic and silent call functions, and is supported via an online portal and 24-hour call centre. Complementing its functionality is the device's tamper-proof and waterproof design, as well as a battery life of up to 72 hours.
Through its GPS, GSM and RFID capabilities, the device monitors a guard's whereabouts in real-time, and automatically alerts the user and the support centre in the event of a missed patrol. In response, the guard will be contacted via the device, allowing one to determine why the patrol was missed – whether the guard was asleep, carrying out patrols incorrectly or in a distress situation – and to take the appropriate remedial action. In addition, various alarm functions are available to the guard to ensure that assistance is provided if safety of life or property is threatened.
From a reporting side, automated reports can be generated from the data captured by the device, based on the user's KPIs. These reports, together with all patrols and data, can be accessed in real-time through the online portal, making it effortless to monitor guards remotely, at all times.
Credit(s)
Further reading:
Access Track
Securex Preview 2019, Access Track , Products
Access Track Integri-Register is an easy-to-use and cost effective electronic visitor information management system aimed at replacing traditional access registers that is suitable for use at any access ...
Read more...
---
Active Track
Securex Preview 2019, Active Track , Products
Active Track is showcasing current and new guard monitoring and visitor management systems, as well as a virtual Active Track and an intelligent messaging system. Come and experience the new applications ...
Read more...
---
Advanced ID Solutions
Securex Preview 2019 , Products
Securex 2019 will see the launch of a new company entering into the PACS space, Advanced ID Solutions, in partnership with AceProx Identifikationsysteme and ID Control. ID Control manufactures and supports ...
Read more...
---
Ajax Systems
Securex Preview 2019 , Products
Ajax Systems is a European security systems manufacturer, founded in 2011 and its products are represented in 77 countries. Ajax Systems has developed unique wireless communication protocols Jeweller ...
Read more...
---
Arteco
Securex Preview 2019, Arteco Global , Products
Arteco will showcase its integrated and event-based solutions and unveil the newborn in its software portfolio: OMNIA, Arteco's user-centred intuitive UI. The interface is developed specifically for Universal ...
Read more...
---
ASSA ABLOY
Securex Preview 2019, ASSA ABLOY South Africa , Products
ASSA ABLOY will be showcasing the latest in access control and security with solutions suitable for all applications and environments. Visitors can experience the new eCLIQ electronic keying system, which ...
Read more...
---
Axitech
Securex Preview 2019, Axitech , Products
Axitech will be showcasing products and solutions that foster the development of new trends in the security industry. From ground-breaking detection systems, reliable security hardware and ICT solutions ...
Read more...
---
Baltic Car Equipment
Securex Preview 2019 , Products
Baltic Car Equipment (BCE) is presenting its FMS500 product line for fleet management solutions. The product range includes the FMS500 One, FMS500 Light, FMS500 Light+, FMS500 StCAN, FMS500 Tacho and ...
Read more...
---
BluChip Retail Solutions
Securex Preview 2019 , Products
Come and experience the power of NFC and UHF technology not only as a security element, but combined with digital it opens a world of new opportunities. We will be show casing a range of hardware options ...
Read more...
---
Centurion Systems
Securex Preview 2019, Centurion Systems , Products
Centurion Systems will be making its return to Securex with a product line-up aimed specifically at the commercial market. While Centurion is perhaps best known as a manufacturer of gate motors, this ...
Read more...
---