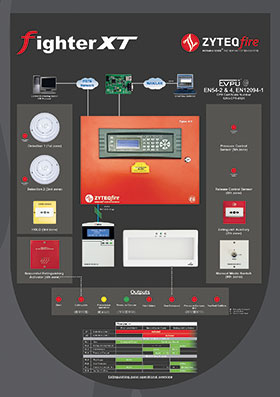 Zyteq Fire launches extinguishing system
July 2018, Fire & Safety, Products
Zyteq Fire has launched a fully certified extinguishing system featuring an EN12094-1 compliant panel with large LCD display, metal enclosure,
1000 line event log accessible from the panel and remotely, front manual release button, pre-programmed extinguishing sequence, 8 relay outputs and 8 inputs, along with a full array of extinguishing accessories.
This panel is supported by its locally designed and manufactured range of conventional smoke and heat detectors that are now EN54 approved. The microprocessor based detectors feature dual LEDs for 360° visibility of alarm conditions, drift compensation for improved reliability and reduced cleaning intervals of optical detectors, Rate-of-Rise heat detection and the unique integrated detector/sounder/beacon.
All detectors are fitted with LEDs that 'flash Green' for healthy and 'flash Red' for service. These detectors also have a built-in feature that allows detector data (obscuration value, serial number etc.) to be downloaded via RFID. This information is invaluable in critical extinguishing applications.
Local manufacturing and design allows for very competitive pricing and full customer support from Zyteq's engineering and manufacturing teams in Cape Town.
For more information, contact info@zyteqfire.com, www.zyteqfire.com