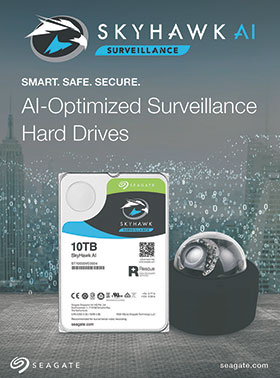 Seagate launches AI hard drives
July 2018, IT infrastructure, Products
Analytics on video surveillance hardware is growing exponentially as hardware manufacturers continue to include sophisticated analytic features on network video recorders (NVRs) and cameras. Complex deep learning and machine learning applications (such as facial recognition and the identification of irregular behaviour) are becoming increasingly prevalent, but can only be deployed by making use of artificial intelligence (AI).
In parallel, the need for fast video analytics and superior storage solutions will grow in demand as the workload burden on NVR storage significantly increases. The Seagate SkyHawk AI range is ideal for intensive computational workloads that typically accompany AI work streams, as its high throughput and enhanced caching deliver low latency and excellent random read performance to quickly locate and deliver video images and footage analysis. This enables on-the-edge decision making, eliminating the latency of processing.
For more information, contact Regal Distributors, +27 87 802 3800, info@regalsecurity.co.za, www.regalsecurity.co.za