printer friendly version
SATEC VisitMe SmartApp
July 2018
Access Control & Identity Management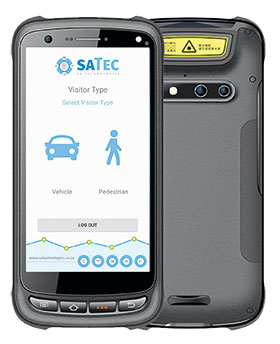 SA Technologies (SATEC) has launched a SmartApp, the app is a quick and user-friendly interface for estate residents to manage their visitors.
The app has been designed to manage visitors in an innovative and feature-rich manner which puts control of visitors in the resident's hands. A resident can grant or deny access on any smartphone registered to the system. The operator can interact directly with the resident using the VisitMe scanner.
A call function is included on the scanner for residents that might miss a push notification from the scanner, informing them of a visitor at the gate. The solution provides one point of communication to all of the residents without having different hardware and databases that needs to be updated on different platforms – no more Intercoms required to process unexpected visitors and courier companies.
• By capturing the vehicle and visitor details with a scanner, the HOA and the resident will know who entered and exited the site with a time and date stamp.
• Onsite validation also ensures that the driver and vehicle information matches on exit – the guard is notified of any anomalies before raising the boom.
• This gives estate or complex residents absolute control over their visitors, delivery companies, and contractors.
HOA's could look forward to no additional fees that need to be processed into the levy accounts, as this solution is rented at one standard rate. The SmartApp and the VisitMe scanner is included into one complete bundle with an SLA that covers repair costs.
For more information, contact SATEC, sales@satechnologies.co.za, www.satechnologies.co.za
Further reading:
Improved security health check tool
Gallagher Access Control & Identity Management Products
Gallagher Security has streamlined its free Security Health Check tool, making it easier than ever to protect against potential system risks and improve business efficiencies.
Read more...
---
Suprema showcases integrated security solutions
Suprema Access Control & Identity Management Products
Apart from being an access terminal that supports multiple credentials such as facial recognition, RFID, mobile and QR codes, the BioStation 3 also supports VoIP Intercom and real-time video monitoring features to make it a truly multi-functional reader.
Read more...
---
Local electronic locks
Access Control & Identity Management
YeboTech is an electronics manufacturing company, founded in 2005, which designs, markets and sells an electronic key and locking systems, aimed at replacing all conventional mechanical locks.
Read more...
---
Selecting the correct access control system
Enkulu Technologies Access Control & Identity Management
Frazer Matchett, Managing Director of Enkulu Technologies, suggests the right questions to ask when selecting an access control solution; not just the access system, but the integrated solution that fits your requirements.
Read more...
---
Integrated guarding services
XtraVision Integrated Solutions Access Control & Identity Management Industrial (Industry)
XtraVision offers a few tips on how to go about planning and setting up an integrated approach to sustainable and successful security services, from the initial risk assessment to the technology and people required.
Read more...
---
Paxton secures multi-tenant office in Cape Town
Paxton Integrated Solutions Access Control & Identity Management Products
Cecilia Square in Paarl, Cape Town is an office building from where several businesses operate. The multi-tenant site has recently undergone a full refurbishment, including a complete upgrade of its security system for access control.
Read more...
---
AI face recognition OEM module
Suprema News Access Control & Identity Management Products
Suprema AI, a company specialized in artificial intelligence–based integrated security solutions, recently launched its high-performance face recognition OEM module called 'Q-Face Pro' in response to the growing need for contactless security solutions.
Read more...
---
KWAL raises a glass to security upgrade
Turnstar Systems Access Control & Identity Management Products
The Kenya Wine Agencies Limited (KWAL) was in need of an integrated security upgrade. This is where Turnstar came into the picture to provide a solution that would keep KWAL secure and efficient.
Read more...
---
Dahua Insider Series for touchless access
Dahua Technology South Africa Access Control & Identity Management Products
The Insider Series Access Control Solution offers touchless access (via Bluetooth) using the DMSS mobile app; it has three distance modes and two trigger modes (normal and shake).
Read more...
---
Time and attendance with a difference
Access Control & Identity Management
The Platinum Mobile app allows employers to track employees work hours, location, leave and more, when employees do not have access to the office clocking terminal, are onsite or out in the field visiting clients.
Read more...
---