printer friendly version
Securing Zeitz MOCAA's facilities
July 2018
Access Control & Identity Management
The Zeitz Museum of Contemporary Arts Africa (MOCAA) is the first of its kind in Africa and the eyes of the continent are firmly fixed on this public not-for-profit facility. The museum is situated adjacent to the well-known tourist destination – the V&A Waterfront in Cape Town – which attracts 24-million visitors annually.

A Powell Tronics-supplied biometric reader at the entrance to the Centre of Art Education within the Zeitz MOCAA facilities.
The museum collects, preserves, researches, and exhibits 21st century art from Africa and its diaspora, hosts international exhibitions, develops supporting educational and enrichment programmes, encourages intercultural understanding and guarantees access for all. There are over 100 galleries, spread over nine floors, dedicated to a large cutting-edge permanent collection, temporary exhibitions and centres for art education, curatorial excellence, performative practice, photography, the moving image, and the Costume Institute.
"The art is considered a priceless asset and must be naturally secured at all times It was also essential to manage the flow of staff and third parties. It is vital to ensure that it is protected from both theft and damage, so it is deemed of the utmost importance to carefully control the access of all individuals entering the museum and to keep the building safe at all times," says John Powell, CEO of access control specialists Powell Tronics.
"A knock-on benefit is the ability to enhance the OHS element by determining the number of people who are in the facility at one time and being able to account for them at muster points in the event of an emergency," adds Powell.
The museum's Lungile Thethelwa says that several partnerships were established during the realisation of MOCAA, from construction to cost consultancy. "Rather than demolish the cluster of 42 concrete maize storage cylinders, these 33-metre high tubes were re-purposed into a striking art centre that pays homage to its surroundings. The 6 000 m2 exhibition space houses galleries, a rooftop sculpture garden, state-of-the-art storage and conservation areas, a bookshop, a restaurant and bar, and reading rooms. The highly unusual building, with its cathedral-like atrium, required the best-of-breed security and appropriate solutions were carefully considered."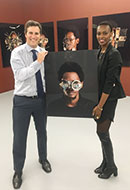 Matthew Bushell (operations coordinator at Powell Tronics) with Thobile Ndarana (manager: Councils and Membership at Zeitz MOCAA).
Thethelwa explains that Powell Tronics was selected as a solutions provider due to its acumen and reputation in the access control space. "Armed with extensive technical proficiency and knowledge, the team has managed a successful implementation of a world class access control system. The Impro software and various readers are fully operational on approximately 100 doors at the museum's entrance and exit points. The system has completely exceeded our expectations and we would not hesitate to recommend Powell Tronics as a service provider, based on their technical insight and ability to strategically advise on security and access control requirements in an efficient manner."
"We recognise that institutions like this require tried and tested security systems. By applying our knowledge and expertise gained over the past 10 years, we are able to customise solutions that best fit the application. This is not only a first for Africa in terms of its sheer size, but it is a wonderful tribute to the preservation of valuable African artefacts and we are pleased to be playing a role in keeping them safe and secure. Access control on this site is impressive because of the underlying link to preservation and protection of the legacy that the museum represents," says Powell.
"Powell Tronics' passion for security and Zeitz MOCAA's passion for contemporary African culture forms a perfect partnership in illustrating best practice. We are sensitive to creating value in the community and recognise that Africa's impressive heritage must be cherished and celebrated, in a safe and secure manner. We welcome the opportunity to become involved in projects of this nature, which are outside the bounds of our usual customer projects," says Powell.
For more information contact Powell Tronics, 0861 787 2537, marketing@powelltronics.com, www.p-tron.com
Further reading:
Gallagher Security releases Command Centre v9
Gallagher News & Events Access Control & Identity Management Integrated Solutions
Richer features, greater integrations, with the release of Gallagher Security's Command Centre v9 security site management software designed to integrate seamlessly with various systems and hardware.
Read more...
---
Paxton's Net2 secures medicinal cannabis facility
Paxton Access Control & Identity Management Healthcare (Industry) Videos
Paxton's Net2 access control has been installed at Highlands Grow, a fully licensed industrial-scale cultivator, producing cannabis for medicinal and recreational use.
Read more...
---
Lock down your access control with Alcatraz AI
C3 Shared Services Healthcare (Industry) Access Control & Identity Management AI & Data Analytics
Alcatraz AI, represented in South Africa by C3 Shared Services, changes access control by harnessing the power of artificial intelligence and analytics at the edge, where facial recognition becomes the essential credential autonomously.
Read more...
---
Effective access control
Flow Systems Access Control & Identity Management Products & Solutions
Flow Systems has introduced its new Extra Heavy Duty Industrial Rising Vehicle Barrier, which provides a high level of protection. It is a traditional-looking control barrier with the benefits of high-level physical protection.
Read more...
---
Newport Aquarium replaces traditional locks and keys
Paxton Access Control & Identity Management Entertainment and Hospitality (Industry)
Newport Aquarium wanted to replace its old security system with an easy-to-use and high-security access control solution to keep the animals, visitors, and staff safe. The solution was Net2, a PC-based access control system that offers centralised administration.
Read more...
---
Securing easy access
Suprema neaMetrics Access Control & Identity Management
Securing access to hospitals and healthcare institutions presents a unique set of challenges, because these facilities operate 24/7, have highly 'open' access in public areas and require a strict level of security.
Read more...
---
Reliable mass notification
Access Control & Identity Management
The use of voice alarm and voice evacuation systems within the healthcare industry ensures a safer and more reassuring environment in the event of an emergency.
Read more...
---
Upgrading security at lifestyle estate
Turnstar Systems Access Control & Identity Management
Lifestyle estates are often located in out-of-town settings, and living away from the hustle and bustle of the city can be conducive to a relaxing lifestyle. However, it requires a high level of security to keep residents secure.
Read more...
---
Protecting our most vulnerable
Access Control & Identity Management
In a nation grappling with the distressing rise in child kidnappings, the need for innovative solutions to protect our infants has never been more critical. South Africa finds itself in the throes of a child abduction pandemic.
Read more...
---
New generation of cyber-focused controllers
Gallagher News & Events Access Control & Identity Management Products & Solutions
The C7000 gives users an opportunity to leverage their hardware and firmware to build a platform designed to catapult their organisation into the future, with cybersecurity baked in from inception.
Read more...
---