printer friendly version
GSM cargo protection
July 2018 Asset Management, EAS, RFID, Security Services & Risk Management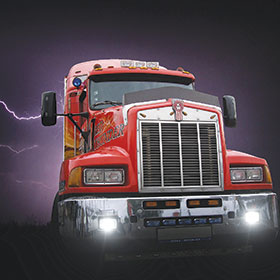 High-value logistics companies can now secure their goods in transit with a Cell Lock system from Netshield. With this latest innovation, your business can be assured that high-value and high-risk goods get to their destination safely and securely.
In short, Netshield's Cell Lock controller will only allow the unlocking sequence of a door on a cargo unit when the vehicle transporting it reaches and enters the pre-assigned GPS perimeter (the destination geo-fenced area) of the delivery destination.
The Cell Lock system is designed for easy fitment in the cargo container of logistics vehicles, and has an intelligent GPS­locating and GSM communicating module, that controls the locking and unlocking of a bolt locking system in your vehicles. The lock can only be unlocked, at two or more preselected options: when the container reaches a pre-allocated geo-fenced environment, within an allocated time, on an action by the distributing and/or receiving supervisor, and then only if a predefined unlocking procedure is followed.
"The Cell Lock increases the security of the cargo container of a delivery vehicle by adding a bolt-locking system that will only unlock if a series of predetermined security steps are taken," says Inus Dreckmeyr, CEO at Netshield. "The system is designed to buy more time for armed response to reach a vehicle in the eventuality that there is a security problem, and that goods can't be tampered with while on route to their destination."
The Cell Lock places control back into the hands of the logistics supervisor, who can also, with the addition of a few sensors to the system, constantly view the vehicle's progress and position, as well as monitor environmental conditions such as temperature, humidity and even water leaks. This is of particular value to companies with sensitive cargo, such as food, pharmaceuticals and chemicals. Additionally, the geo-fence locking mechanism can assist cash-in-transit firms to add an additional layer of security to their vehicles.
According to Dreckmeyr, the systems' ability to disconnect the driver from the system completely, makes it particularly popular in high-security situations. The door will not unlock under any circumstances, unless it has reached its intended destination, specific security codes that are generated by the supervisor on its arrival are used, or if it is brought back to the depot. Organisations can also leverage transgression detection, such as noting that a door is open while the vehicle is moving, etc. With its alarm dashboard, a logistics manager or supervisor can garner a birds-eye view (with event-enabled zoom in) of the cargo and its movements for analysis at a later stage.
Dispatch managers can also override the lock with an RFID card at the main warehouse to speed up loading and offloading. Further intelligence can be built into the system with the addition of an RFID antenna that can track what goods are offloaded at each delivery point, sending this information back to the system.
"Fitting this device to delivery vehicles radically reduces the probability of internally orchestrated loss and theft, and increases the time needed to enter the vehicle in a hijacking situation. It is also able to provide an accurate recording of environmental factors such as the duration that the door is open, temperature, flooding, humidity and vibration, as well as other critical conditions during transit and delivery," adds Dreckmeyr.
For more information, contact Netshield, +27 12 841 0320, sales@netshieldsa.com, www.netshieldsa.com
Credit(s)
Further reading:
Reducing identity fraud with a selfie
Access & Identity Management Handbook 2020, Technews Publishing , Asset Management, EAS, RFID
Authenticating your identity remotely via an app has become a reality with a new solution from South African company iiDENTIFii.
Read more...
---
From physical security to cybersecurity
Access & Identity Management Handbook 2020, Genetec , Cyber Security, Security Services & Risk Management
Genetec discusses the security-of-security concept as a means to protect cameras, door controllers and other physical security devices and systems against cybercriminal activity.
Read more...
---
Biometrics in identity
Access & Identity Management Handbook 2020 , Access Control & Identity Management, Security Services & Risk Management
With multiple identity providers offering to manage digital identities for the general public, the root identity – the single sovereign trusted identity upon which all others are based – must start with government.
Read more...
---
Security enhancements at Sharm El-Sheikh
November 2019 , Asset Management, EAS, RFID
ADANI Systems supplied the X-ray screening equipment, including combined high-energy and low-energy systems, for Sharm El-Sheikh.
Read more...
---
ContinuitySA offers ISO 22301 Lead Implementer course
October 2019, ContinuitySA , Training & Education, Security Services & Risk Management, Transport (Industry)
ContinuitySA is once again offer its five-day Certified ISO 22301 Lead Implementer course on 18-22 November 2019 at the company's Midrand facility.
Read more...
---
Preparing your data for PoPI
September 2019 , IT infrastructure, Security Services & Risk Management
When it comes to protecting any information, the way data is secured across the value chain needs to be addressed.
Read more...
---
A balanced, fair industry
October 2019, PSIRA (Private Security Ind. Regulatory Authority) , Residential Estate (Industry), Security Services & Risk Management, Associations
PSiRA is focused on supporting the effective promotion and regulation of the private security industry.
Read more...
---
SOAR an essential part for security operations
October 2019 , Editor's Choice, Cyber Security, Security Services & Risk Management
MJ Strydom, MD of cybersecurity specialist company DRS discusses the challenges around the security incident response lifecycle.
Read more...
---
The importance of body-worn cameras in the workplace
October 2019 , CCTV, Surveillance & Remote Monitoring, News, Security Services & Risk Management
South Africans have far more agency over their security than they have realised in the past.
Read more...
---
Increase in Business Email Compromise (BEC) attacks
October 2019 , Cyber Security, Security Services & Risk Management
A new Mimecast ESRA report finds millions of spam, tens of thousands of BEC or impersonation attacks, dangerous file types and malware attachments being delivered to users' inboxes.
Read more...
---