printer friendly version
GSM cargo protection
July 2018 Asset Management, EAS, RFID, Security Services & Risk Management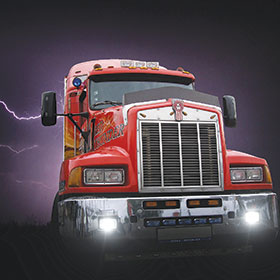 High-value logistics companies can now secure their goods in transit with a Cell Lock system from Netshield. With this latest innovation, your business can be assured that high-value and high-risk goods get to their destination safely and securely.
In short, Netshield's Cell Lock controller will only allow the unlocking sequence of a door on a cargo unit when the vehicle transporting it reaches and enters the pre-assigned GPS perimeter (the destination geo-fenced area) of the delivery destination.
The Cell Lock system is designed for easy fitment in the cargo container of logistics vehicles, and has an intelligent GPS­locating and GSM communicating module, that controls the locking and unlocking of a bolt locking system in your vehicles. The lock can only be unlocked, at two or more preselected options: when the container reaches a pre-allocated geo-fenced environment, within an allocated time, on an action by the distributing and/or receiving supervisor, and then only if a predefined unlocking procedure is followed.
"The Cell Lock increases the security of the cargo container of a delivery vehicle by adding a bolt-locking system that will only unlock if a series of predetermined security steps are taken," says Inus Dreckmeyr, CEO at Netshield. "The system is designed to buy more time for armed response to reach a vehicle in the eventuality that there is a security problem, and that goods can't be tampered with while on route to their destination."
The Cell Lock places control back into the hands of the logistics supervisor, who can also, with the addition of a few sensors to the system, constantly view the vehicle's progress and position, as well as monitor environmental conditions such as temperature, humidity and even water leaks. This is of particular value to companies with sensitive cargo, such as food, pharmaceuticals and chemicals. Additionally, the geo-fence locking mechanism can assist cash-in-transit firms to add an additional layer of security to their vehicles.
According to Dreckmeyr, the systems' ability to disconnect the driver from the system completely, makes it particularly popular in high-security situations. The door will not unlock under any circumstances, unless it has reached its intended destination, specific security codes that are generated by the supervisor on its arrival are used, or if it is brought back to the depot. Organisations can also leverage transgression detection, such as noting that a door is open while the vehicle is moving, etc. With its alarm dashboard, a logistics manager or supervisor can garner a birds-eye view (with event-enabled zoom in) of the cargo and its movements for analysis at a later stage.
Dispatch managers can also override the lock with an RFID card at the main warehouse to speed up loading and offloading. Further intelligence can be built into the system with the addition of an RFID antenna that can track what goods are offloaded at each delivery point, sending this information back to the system.
"Fitting this device to delivery vehicles radically reduces the probability of internally orchestrated loss and theft, and increases the time needed to enter the vehicle in a hijacking situation. It is also able to provide an accurate recording of environmental factors such as the duration that the door is open, temperature, flooding, humidity and vibration, as well as other critical conditions during transit and delivery," adds Dreckmeyr.
For more information, contact Netshield, +27 12 841 0320, [email protected], www.netshieldsa.com
Credit(s)
Further reading:
What to do in the face of growing ransomware attacks
Technews Publishing Cyber Security Security Services & Risk Management
Ransomware attacks are proliferating, with attackers becoming more sophisticated and aggressive, and often hitting the same victims more than once, in more than one way.
Read more...
---
Optimising remote technical support
Technews Publishing Asset Management, EAS, RFID Products
Sanden Intercool Kenya improves efficiency, removes manual processes with FIELDForce from MACmobile, making its technical backup and support staff more productive, while also optimising record keeping.
Read more...
---
Where does SA logistics stand as far as cybersecurity is concerned?
Logistics (Industry) Security Services & Risk Management
Lesiba Sebola, director of information technology at Bidvest International Logistics, says it is paramount to safeguard IT infrastructure given how central it has become to operations.
Read more...
---
Deposita's Digitisor SmartPOS devices can grow your business
Deposita Financial (Industry) Asset Management, EAS, RFID
The Digitisor N910 Pro and N700 SmartPOS devices are suited for SMME retailers and suppliers looking to enhance their customer payment experience.
Read more...
---
Top fraud trends to watch in 2023
News Security Services & Risk Management
Even though financial concerns remain a significant obstacle for companies in implementing new anti-fraud technologies, 60% of businesses expect an increase in their anti-fraud technology budgets in the next two years.
Read more...
---
Warehouse management system for ECONOFOODS
Asset Management, EAS, RFID
CQuential rolls out warehouse management system for ECONOFOODS national network, starting with its Johannesburg warehouse in a phased rollout.
Read more...
---
Be cautious when receiving deliveries at home
News Perimeter Security, Alarms & Intruder Detection Security Services & Risk Management
Community reports of residents being held up at their gate when collecting fast food deliveries at home are once again surfacing.
Read more...
---
Sasol ensures Zero Trust for SAP financials with bioLock
Technews Publishing Editor's Choice Cyber Security Security Services & Risk Management
Multi-factor authentication, including biometrics, for SAP Financials from realtime North America prevents financial compliance avoidance for Sasol.
Read more...
---
HS 6040 security X-ray inspection system
Asset Management, EAS, RFID Products
Hissco's HS 6040 DE is a compact, versatile security X-ray machine used in a wide range of applications, and manufactured under strictest ISO 9001:2015 and CE standards.
Read more...
---
Hytera and KZN Police Service roll out digital call handling system
Government and Parastatal (Industry) Asset Management, EAS, RFID Integrated Solutions
Hytera Communications announced that the municipality of Ray Nkonyeni in the KwaZulu-Natal province of South Africa is now using its digital call handling system for the reporting and recording of crimes.
Read more...
---