printer friendly version
The data explosion has just begun
July 2018 IT infrastructure, Integrated Solutions, Products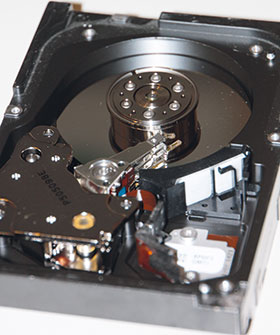 Anybody that thinks there is too much data being generated today would be correct, however, they would also be shocked to learn that the growth of data generated in our public and private lives is only set to grow exponentially in the coming years.
In a report titled Data Age 20251, the IDC says things will only get worse. The report describes the current times we are living in as the Digital Existence, "defined by the sum of all data created, captured, and replicated on our planet." It states that "the world around us is undergoing a fundamental change, transforming the way we live, work, and play."
The defining comment of the report says: "What the next decade will bring using the power of data is virtually limitless."
There are five key trends the IDC recognises that will intensify the role data is playing in changing our world:
1. "The evolution of data from business background to life-critical … data has become essential to our society and our individual lives. In fact, IDC estimates that by 2025, nearly 20% of the data in the global datasphere will be critical to our daily lives and nearly 10% of that will be hypercritical."
2. "Embedded systems and the Internet of Things (IoT) … the latter will generate vast amounts of data that will, in turn, allow us the chance to refine and improve our systems and processes in previously unimagined ways. … By 2025, an average connected person anywhere in the world will interact with connected devices nearly 4800 times per day – basically one interaction every 18 seconds."
3. "Mobile and real-time data. Increasingly, data will need to be instantly available whenever and wherever anyone needs it. … By 2025, more than a quarter of data created in the global datasphere will be real time in nature, and real-time IoT data will make up more than 95% of this."
4. "Cognitive/artificial intelligence (AI) systems that change the landscape. The flood of data enables a new set of technologies such as machine learning, natural language processing, and artificial intelligence – collectively known as cognitive systems – [will] turn data analysis from an uncommon and retrospective practice into a proactive driver of strategic decision and action … the amount of the global datasphere subject to data analysis will grow by a factor of 50 to 5.2 ZB (zettabytes) in 2025; the amount of analysed data that is 'touched' by cognitive systems will grow by a factor of 100 to 1.4 ZB in 2025!" (One ZB equates to 1021 bytes or around 1 trillion gigabytes.)
5. "Security as a critical foundation. All this data from new sources open up new vulnerabilities to private and sensitive information . . . By 2025, almost 90% of all data created in the global datasphere will require some level of security, but less than half will be secured."
The report and its associated infographic², show that data growth will grow from a total of 16 ZB in 2016 to 163 ZB in 2025. To make it more understandable, 163 ZB is like watching the entire Netflix catalogue 489 million times, or the equivalent of the storage capacity of
40 trillion DVDs (a pile that would reach the moon and back over 100 million times).
What to do with all the data
Apart from the dramatic changes all this data will offer us, we will need to make a new plan when it comes to storing the data. Martin Kruger, territory sales manager for Seagate SA says the storage options we are comfortable with today just won't make the grade. What is required are new hyperscale storage solutions.
According to Techopedia, hyperscale storage "is an enterprise-class storage mechanism with the ability to massively expand under a controlled and efficient managed, software-defined framework. It enables the construction of storage facilities designed to manage and store petabytes or even greater quantities of data." (A petabyte (PB) is around 1015 bytes or 1000 TB.)
Kruger says that the Seagate Exos X class of enterprise hard drives are designed for hyperscale efficiency and "ever-evolving security mandates". These drives sport the latest in hard drive technology and currently support up to 12 TB per drive.
He continues that Exos X12 enterprise hard drives offer the highest rack space efficiency, packing up to 10 PB in a single 42U rack. Its enhanced caching ensures it provides fast data transfers, while added innovations such as Seagate's PowerBalance, PowerChoice and RAID Rebuild will ensure your storage keeps running at a cost-effective total cost of ownership (TCO).
Seagate PowerBalance optimises performance and power consumption of the drive, while PowerChoice technology (an implementation of T10 Approved Standard No T10/09-054 and T13 Standard No T13/452-2008), is an automatic power-saving feature that is activated during very brief periods of command inactivity, without impacting performance.
RAID Rebuild technology takes the strain out of rebuilding a RAID solution when a drive fails. Traditionally, rebuilding a 2 TB drive in a RAID-5 setup could take 25 hours or more (most often more), placing significant workloads on the remaining drives.
RAID Rebuild technology first attempts to rebuild data from the failed drive and then starts the RAID recovery process. This is not only faster, but it reduces the pressure on the rest of the system.
While 2025 and the storage technology that will be available then is still a few years away, Seagate is developing technology that will simplify and reduce the TCO of scaling your storage to meet the enormous data needs of the future. The only question remaining is how each individual will deal with the deluge of data around them.
For more information, contact Seagate South Africa, martin.kruger@seagate.com, www.seagate.com
1. https://www.seagate.com/www-content/our-story/trends/files/Seagate-WP-DataAge2025-March-2017.pdf
2. https://www.seagate.com/files/www-content/our-story/trends/files/data-age-2025-infographic-2017.pdf
Credit(s)
Further reading:
Securing perimeters of secure locations
November 2019, Axis Communications SA, Modular Communications, Hikvision South Africa, Nemtek Electric Fencing Products, Technews Publishing, Stafix , Government and Parastatal (Industry), Perimeter Security, Alarms & Intruder Detection, Integrated Solutions
Hi-Tech Security Solutions asked a number of companies offering perimeter security solutions for their insights into protecting the boundaries of national key points.
Read more...
---
Accelerating global IoT deployment
October 2019 , IT infrastructure
Upcoming suite of Eseye products will deliver global IoT connectivity with near 100% coverage, automated onboarding and data provision into AWS IoT Core.
Read more...
---
The importance of XDR for cyber protection
October 2019 , Cyber Security, Products
35% of South African organisations are expecting an imminent cyberattack and a further 31% are bracing for it to happen within a year, according to local research conducted by Trend Micro.
Read more...
---
Digitising Maslow's Hierarchy of Needs
October 2019 , Integrated Solutions, IT infrastructure
Mobile technology has the potential to change how Africa approaches patient and healthcare, says Phathizwe Malinga, managing director, SqwidNet.
Read more...
---
Intelligent analytics and the brains to match
September 2019, Bosch Building Technologies , CCTV, Surveillance & Remote Monitoring, Integrated Solutions
What if the brains behind our security cameras could be trained to improve their cognitive ability to pay attention, learn, and problem-solve according to specific rules and situations?
Read more...
---
Edge computing ? drivers and benefits
September 2019 , IT infrastructure
Edge computing brings bandwidth-intensive content and latency-sensitive applications closer to the user or data source.
Read more...
---
Advanced connectivity enables fast and flexible networks
September 2019 , IT infrastructure
Advanced networking is the unsung hero of our digital future, offering a continuum of connectivity that can drive the development of new products and services and transform operating models.
Read more...
---
AI-powered autonomous Drone-in-a-Box
September 2019 , CCTV, Surveillance & Remote Monitoring, Integrated Solutions
Organisations in the mining, energy and industrial, oil and gas, ports and terminals sectors can optimise security and business operations, whilst reducing risks and operational costs
Read more...
---
Looking ahead with mobile access technologies
Access & Identity Management Handbook 2020, Technews Publishing, HID Global, dormakaba South Africa, Salto Systems Africa, Suprema, Gallagher , Access Control & Identity Management, Integrated Solutions
Given the broad use of smartphones around the world and the numerous technologies packed into these devices, it was only a matter of time before the access control industry developed technology that would ...
Read more...
---
Scalable access solution
Access & Identity Management Handbook 2020 , Access Control & Identity Management, Integrated Solutions
Bosch Building Technologies makes access management simple, scalable and always available with Access Management System 2.0.
Read more...
---