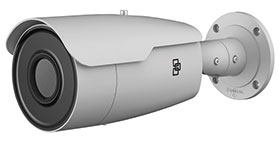 UTC launches TruVision thermal camera range
July 2018, CCTV, Surveillance & Remote Monitoring, Products
Thermal cameras have advanced significantly over the past few years and we now have powerful thermals available to the security user. Users can now choose thermal cameras with higher resolution and uncooled imagers at cost-effective prices, making these cameras a viable enhancement to any perimeter or external CCTV system.
In addition to outdoor use, thermals can also be deployed internally in specific areas where there is a heat indication requirement. For example, you can make sure your data centres or power supplies do not overheat by monitoring them with a thermal camera that will raise the alarm if the temperature goes above a certain threshold.
This is only the beginning, says Gregory Collyer, area sales manager at UTC. "Over the next few years we should see technology evolving and further cost reductions of the hardware, combined with better image rendering. Built in video analytics is also improving and we expect to see dramatic improvements in automated detection and alerts."
Collyer explains that due to the strong contrasts available in a thermal image, analytics such as detection and analysing motion is becoming standard, and more accurate than ever. If users choose a camera from a reputable company, the analytics within the camera can be relied on in even the most inhospitable environments.
TruVision thermal camera range
UTC recently launched the TruVision range of thermal cameras. The range consists of four bullet camera models in different resolution and lens variants, all featuring on-board analytics. "With this core functionality, the thermal cameras are ideal for perimeter detection applications both in short- and long-range applications," says Collyer. "These cameras effectively fill a gap in our portfolio and will allow our channel partners to both offer a full solution to existing customers as well as penetrate new segments they previously did not have access to."
The analytics available in the TruVision thermals include the following:
• Detection: being able to determine that an object is there (movement of an object).
• Recognition: being able to recognise the type of object (person, vehicle, animal, etc.).
• Identification: being able to distinguish key characteristics of the object (uniform, type of car, hairstyle, etc.).
The thermals also include temperature-monitoring functionality for critical infrastructure. They can be used in combination with a variety of TruVision and UltraView recording platforms, as well as any third-party platform using ONVIF or CGI connectivity.
As for the specifications of the TruVision camera range, Collyer says they offer the following:
• H.265 compression.
• Uncooled thermal sensor.
• Long-range object detection.
• IP66 rating for outdoor installation.
• 50 fps high frame rate support.
• Embedded analytics for perimeter protection application.
• Dual IP and analogue video output.
• PoE+ support.
• SD card support for edge recording.
For more information, contact UTC Fire & Security, +27 11 579 7300, customer.servicessa@fs.utc.com, www.firesecurityproducts.com