printer friendly version
Surveillance culture, good and bad
May 2013
News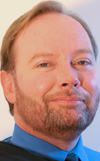 News of the bomb attack in Boston was all over the news last month, complete with some really mindless and careless speculation among TV and print journalists about who did it, who was arrested and a host of other supposed facts that turned out to be made up in the desperation to get a story. One of the interesting aspects to come out of the tragedy was the amount of video footage (mostly poor quality) taken before and after the explosion.
Between CCTV cameras and mobile devices, it seems everything we do these days is on a video somewhere – and that is not even in London. The bad news is that everything we do is recorded somewhere; the good news in the case of a terrorist attack like the one in Boston is that everything is recorded somewhere.
While video can help to identify and catch suspects, it also allows almost anyone to publish stories and images about the incident. Take the New York Post's front page shortly after the Boston bombing. It carried a large picture of two people the publication identified as suspects. In fact, they were simply bystanders but the paper did not bother to make this clear. At the time of writing it has not issued an apology either. Stupidity or sensationalism? There is a rather vicious attack on the editor at http://ow.ly/kdiYh (warning: contains offensive language). And even that is nothing compared to the 'news' on Twitter in the days following the bomb blast.
Of course, more important than recording footage of crimes is the ability of the authorities to make use of the video in prosecutions, which includes the process of securing the video and keeping it under control throughout the investigation and prosecution process. Sadly, while the SAPS has a few excellent forensic analysts who are CSI quality – CSI in the real world, not Hollywood – there are far too few of them and their colleagues often let them down because they are not trained to manage video evidence.
If we want video to make a difference in our lives that makes being under constant surveillance worth it, those we trust with protecting us must take responsibility to handle the systems and footage correctly – which is a subject in itself that cannot fit onto this page. Needless to say, it is a sore issue in South Africa.
PSIRA registration is required
Following on from a query from a distributor, I asked SASA whether it was necessary that CCTV installers are also registered at PSIRA. The answer is yes. The minimum qualifications are that owners and senior directors require a Grade B certification, while employees need to be Grade D certified. So even security equipment installers need to be registered and qualified. Perhaps these required qualifications are ludicrous for installers, but there it is.
Correction
In the March issue we published an article 'Centurion acquires MyGSM' ( http://www.securitysa.com/44900n) with an image of Christo Wentzel, but we labelled the image with the incorrect name. Hi-Tech Security Solutions apologises for the error.
It will not, however, be an error to read this month's edition of Hi-Tech Security Solutions. As always, comments are welcome at [email protected]
Credit(s)
Further reading:
Cyber resilience is more than cybersecurity
Technews Publishing Cyber Security Integrated Solutions IT infrastructure
Hi-Tech Security Solutions held a round-table discussion focusing on cyber resilience and found that while the resilience discipline includes cybersecurity, it also goes much further.
Read more...
---
Johnny Aucamp joins iPulse exco
News
Johnny Aucamp has joined iPulse Systems as its chief sales officer (CSO), adding a massive boost to the executive team.
Read more...
---
From the editor's desk: Security and resilience
Technews Publishing News
It's often said that South Africans are a resilient bunch, and history has proven this correct. When it comes to security, both cyber and physical, resilience is key to an effective defensive plan. ...
Read more...
---
Hikvision aims for solutions
Technews Publishing Hikvision South Africa Editor's Choice CCTV, Surveillance & Remote Monitoring News Integrated Solutions Conferences & Events
Hikvision recently held a roadshow titled Industry X, where the company highlighted its latest products and solutions, supported by partners and distributors.
Read more...
---
Olarm launches PRO 4G communicator
Olarm News Perimeter Security, Alarms & Intruder Detection Products
Olarm has announced an additional 4G/LTE version of its Olarm PRO smart communicator. It is aimed at areas suffering from poor connectivity by providing support for 4G, 2G and Wi-Fi networks.
Read more...
---
ADI Expo returns to South Africa
Technews Publishing ADI Global Distribution News
September saw the return of the ADI Expo to South Africa. The Johannesburg event was held at the Focus Rooms and the Durban event, two days later, at the Southern Sun Elangeni & Maharani.
Read more...
---
Technoswitch Awards dinner for 2022
Technews Publishing News Fire & Safety
Technoswitch hosted its fifth awards dinner at Montecasino in September, where customers and suppliers celebrated a year of success.
Read more...
---
Suprema joins FiRa Consortium
Suprema News Access Control & Identity Management
Suprema recently became a member of the FiRa Consortium, a consultative body that establishes standards for ultra-wideband (UWB) technology, the next generation of wireless communication.
Read more...
---
Reliable, low-maintenance video appliances
Technews Publishing Editor's Choice CCTV, Surveillance & Remote Monitoring News IT infrastructure Products
Symetrix, part of the Agera Group, has added the AES range of video recording servers, storage appliances and workstations to its portfolio.
Read more...
---
ZYTEQ Fire Engineering Summit 2022
ZYTEQ Fire Fire & Safety News
Cape Town-based ZYTEQ Fire hosted its inaugural Engineering Summit at the Commodore Hotel in Cape Town and the Leonardo Hotel in Sandton, Johannesburg.
Read more...
---