printer friendly version
Hytera introduces new PD485 DMR handset
July 2018 Security Services & Risk Management, Products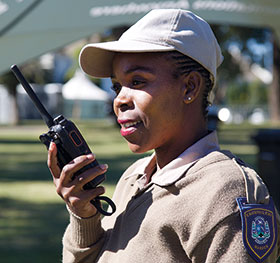 Hytera has introduced the new PD485 to complement the existing PD405 and PD415 DMR handsets. This robust handheld digital radio offers a simple communication solution with OLED screen, programmable keys and emergency button, and is ideal for users operating in manufacturing, facilities management or education environments.
Highlights of the new PD485 include a full-sized keypad, an OLED display, dedicated emergency button and optional Bluetooth and GPS. This compact DMR radio offers customers versatile, professional communication possibilities at a very moderate price.
Whether for use in shopping centres, manufacturing and logistics, or by security services for indoor and outdoor applications – thanks to its robust housing and versatile functionality, the IP54 rated device is at home in a wide range of workplaces. Weighing just 308 grams and with dimensions of 117 x 55 x 37 mm, the radio is light and user friendly.
Bluetooth 4.0 and GPS
The optional integrated Bluetooth 4.0 and GPS module enhance the user experience and communication possibilities. With the Bluetooth interface, wireless audio accessories can be paired for covert use or improved convenience. The PD485 also supports data exchange and convenient programming via Bluetooth. The optional integrated GPS module and the GPS antenna allow for real-time positioning of subscribers using various AVL applications.
Versatile keypad
Alongside a wide range of communication options, the full-sized keypad also enables simplified programming. Settings such as the current frequency, timeslot or colour code can be quickly and easily changed via the keypad, without needing to connect the unit to CPS.
Product features
Roaming: This feature allows the radio to switch between sites on multi-site conventional systems, ensuring seamless communication.
Priority interrupt: Send a priority transmission to interrupt other calls.
Emergency mode: Raise an alarm with top priority to a base-station or to other radios with the pre-programmed emergency mode, identifying the ID of the person issuing the alarm. Also receive emergency notifications.
Instant messaging: Supports messaging to individuals or groups.
Long battery life: Operating time of approximately 16 hours in digital mode.
Analogue or digital: Detects either signal and automatically switches between modes.
For more information, contact Mandla Booi, Altech Alcom Radio, +27 79 350 1924, mbooi@ad.arh.net.za, www.ard.co.za
Further reading:
Is AI the game-changer for streamlining anti-money laundering compliance?
Financial (Industry) Security Services & Risk Management
In the aftermath of South Africa's recent grey listing, companies are now confronted with the imperative to address eight identified strategic deficiencies, while simultaneously reducing their financial crime risk through anti-money laundering compliance processes.
Read more...
---
Five ways to reduce your cyber insurance premiums
Security Services & Risk Management News
With the global costs of cybercrime expected to soar to $13 trillion within the next five years, cyber insurance is booming as organisations try to mitigate the risk of financial losses.
Read more...
---
Client satisfaction boosted by 85% at Thungela Mine
Thorburn Security Solutions News Security Services & Risk Management Mining (Industry)
Thorburn Security, a division of Tsebo Solutions Group, has announced its recent collaboration with Kwa-Zulu Natal security company, Ithuba Protection Services, as part of its Enterprise Supplier Development (ESD) initiatives across Africa.
Read more...
---
Long-distance connectivity with Simplex ES Net Life Safety
Johnson Controls Global Products Fire & Safety Products
ES Net Network Bridge allows fire alarm system data to be transmitted across distant buildings via a customer's existing network infrastructure, improving system-wide monitoring and control in facilities and campuses where life safety networks are often widely dispersed.
Read more...
---
Migrating to the cloud? Beware the many hurdles
IT infrastructure Security Services & Risk Management
While there are undoubtedly many benefits, there are also numerous hurdles to cloud adoption. Some of the biggest challenges revolve around managing cloud spend, understanding the cost components of cloud infrastructure, and how those costs can scale.
Read more...
---
Visitor management via QR code
ATG Digital Access Control & Identity Management Products
ATG Digital has launched its QR Code Reader to enhance access control's security and efficiency. The new QR Code Reader enables seamless, contactless access control, creating an efficient user journey.
Read more...
---
Key strategies for businesses in the face of cyber threats
Cyber Security Security Services & Risk Management
Businesses face severe financial and reputational consequences due to data breaches and daily website hacks, and not all organisations are adequately prepared to combat these escalating threats.
Read more...
---
District secures activity centre
Paxton Access Control & Identity Management Products
Paxton's Net2 access control solution is a user-friendly and flexible networked access control system, which made installing and managing access control security at an activity centre straightforward.
Read more...
---
Manage security systems remotely
Hikvision South Africa CCTV, Surveillance & Remote Monitoring IT infrastructure Products
Hikvision launched a new generation of smart managed switches that, in conjunction with the Hik-Partner Pro mobile app, enable installers to remotely deploy and configure security systems with comprehensive operation and maintenance capabilities.
Read more...
---
From overwhelm to oversight
Editor's Choice Cyber Security Products
Security automation is vital in today's world, and Microsoft Sentinel is a widely adopted, but complex answer. ContraForce is an easy-to-use add-on that automatically processes, verifies and warns of threats round-the-clock.
Read more...
---