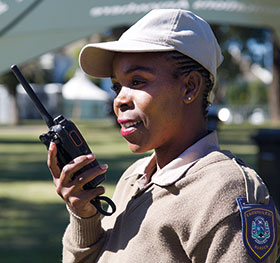 Hytera introduces new PD485 DMR handset
July 2018, Security Services & Risk Management, Products
Hytera has introduced the new PD485 to complement the existing PD405 and PD415 DMR handsets. This robust handheld digital radio offers a simple communication solution with OLED screen, programmable keys and emergency button, and is ideal for users operating in manufacturing, facilities management or education environments.
Highlights of the new PD485 include a full-sized keypad, an OLED display, dedicated emergency button and optional Bluetooth and GPS. This compact DMR radio offers customers versatile, professional communication possibilities at a very moderate price.
Whether for use in shopping centres, manufacturing and logistics, or by security services for indoor and outdoor applications – thanks to its robust housing and versatile functionality, the IP54 rated device is at home in a wide range of workplaces. Weighing just 308 grams and with dimensions of 117 x 55 x 37 mm, the radio is light and user friendly.
Bluetooth 4.0 and GPS
The optional integrated Bluetooth 4.0 and GPS module enhance the user experience and communication possibilities. With the Bluetooth interface, wireless audio accessories can be paired for covert use or improved convenience. The PD485 also supports data exchange and convenient programming via Bluetooth. The optional integrated GPS module and the GPS antenna allow for real-time positioning of subscribers using various AVL applications.
Versatile keypad
Alongside a wide range of communication options, the full-sized keypad also enables simplified programming. Settings such as the current frequency, timeslot or colour code can be quickly and easily changed via the keypad, without needing to connect the unit to CPS.
Product features
Roaming: This feature allows the radio to switch between sites on multi-site conventional systems, ensuring seamless communication.
Priority interrupt: Send a priority transmission to interrupt other calls.
Emergency mode: Raise an alarm with top priority to a base-station or to other radios with the pre-programmed emergency mode, identifying the ID of the person issuing the alarm. Also receive emergency notifications.
Instant messaging: Supports messaging to individuals or groups.
Long battery life: Operating time of approximately 16 hours in digital mode.
Analogue or digital: Detects either signal and automatically switches between modes.
For more information, contact Mandla Booi, Altech Alcom Radio, +27 79 350 1924, mbooi@ad.arh.net.za, www.ard.co.za