printer friendly version
The fastest Plus series NAS
July 2018
IT infrastructure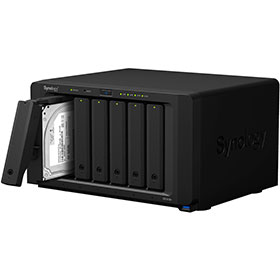 Synology has launched the DiskStation DS1618+, a 6-bay NAS featuring the Intel Atom C3538. For tech enthusiasts and small to medium sized businesses, DS1618+ is an all-in-one solution for file serving, application hosting, data backup and real-time collaboration.
DS1618+ is powered by a quad-core Intel Atom processor C3538 and 4GB DDR4 non-ECC SODIMM RAM, expandable up to 32 GB in ECC SODIMMs. The storage capacity can be upgraded to 192 TB when connected to two DX517 expansion units.
"Modern-day companies compete based on the speed at which they generate, process, and use data to drive innovations," said Derren Lu, CEO at Synology. "By integrating Intel technology, we are putting a compact powerhouse in every SMB. It will allow them to take advantage of that untapped throughput to give their companies that extra edge."
With Synology's M2D17 PCIe adaptor card, DS1618+ can house dual M.2 SATA SSD, taking advantage of the SSD cache to boost maximum throughput and reduce the I/O latency. By alternatively installing a network interface card via the PCIe slot, DS1618+ supports up to two 10 GbE ports to reach a maximum throughput of 1551 MBps reading and 586 MBps writing.
The DS1618+ runs on DiskStation Manager, the operating system for Synology NAS devices, with quality applications offered to enhance data security and work efficiency. Synology's Extended Warranty add-on service (EW201) can be purchased together with DS1618+, available in select regions worldwide, to provide up to five years of hardware warranty coverage.
For more information on DS1618+, please visit https://www.synology.com/products/DS1618+
Further reading:
Data storage has a power consumption problem
IT infrastructure
We store data with electricity, placing data onto magnetic mediums or altering electric charges inside flash memory, but all that reading and writing requires electricity, which is becoming more expensive as supply crumbles.
Read more...
---
Veeam introduces new competency programme for partners
IT infrastructure News
Veeam Competency Programme for Veeam Value-Added Resellers and Veeam Cloud & Service Provider partners offers enhanced solution-oriented training and go-to-market capability development that increase credibility and visibility in the local marketplace.
Read more...
---
End the scourge of solar panel theft
Guardian Eye IT infrastructure Security Services & Risk Management
Modern solar installations are designed so they can be put together very quickly, but this means they can also be dismantled very quickly, and so there has been a massive spike in the theft of solar panels from roofs.
Read more...
---
Smart buildings require smarter networks
Commercial (Industry) IT infrastructure
The smart building is not a new concept, but it's more than just four walls built sustainably, but a network that interconnects people, processes, data, and things. Lots and lots of things.
Read more...
---
How international cloud trends impact Africa
Technews Publishing IT infrastructure
Enterprises are realising that hyperscale cloud is better suited to development and not everyday business, while the bills have also grown significantly as their cloud needs have become more complicated and sprawled.
Read more...
---
VMware unveils new security capabilities
Cyber Security IT infrastructure Products
At the RSA Conference 2023, VMware unveiled enhanced features for its suite of security solutions to address the increasing sophistication and scale of cyberattacks and to deliver strong lateral security across multi-cloud environments.
Read more...
---
Beyond the blackout
IT infrastructure Security Services & Risk Management
Julian Liebenberg, Chief of Cloud Platform Solutions at BCX discusses why cloud solutions are the future for large enterprises when dealing with the economic and productivity consequences of load shedding.
Read more...
---
AIOps-driven cloud management
IT infrastructure Products
Next generation of HPE Aruba Networking Central paves the way for the era of AI-powered network management; 'Agile NaaS' strategy simplifies delivery of critical network services via HPE GreenLake.
Read more...
---
Complex, but critical partner in security
Technews Publishing Bidvest Protea Coin Editor's Choice Integrated Solutions IT infrastructure Mining (Industry)
Smart Security looks at how drones can be applied effectively in mine security operations. The ability to quickly gain a birds-eye view of a situation, whether security, safety or operational in nature, makes drones a significant value-add to mines.
Read more...
---
The data must flow
Technews Publishing IT infrastructure Mining (Industry)
Amidst the dirt and dust, the data packets must always be moving in order for mines to remain on top of their environments, their people, their processes and equipment, and most importantly, the safety of everyone on site.
Read more...
---