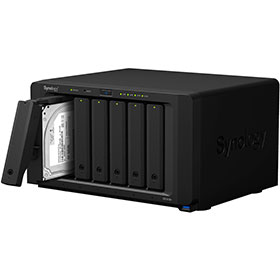 The fastest Plus series NAS
July 2018, IT infrastructure
Synology has launched the DiskStation DS1618+, a 6-bay NAS featuring the Intel Atom C3538. For tech enthusiasts and small to medium sized businesses, DS1618+ is an all-in-one solution for file serving, application hosting, data backup and real-time collaboration.
DS1618+ is powered by a quad-core Intel Atom processor C3538 and 4GB DDR4 non-ECC SODIMM RAM, expandable up to 32 GB in ECC SODIMMs. The storage capacity can be upgraded to 192 TB when connected to two DX517 expansion units.
"Modern-day companies compete based on the speed at which they generate, process, and use data to drive innovations," said Derren Lu, CEO at Synology. "By integrating Intel technology, we are putting a compact powerhouse in every SMB. It will allow them to take advantage of that untapped throughput to give their companies that extra edge."
With Synology's M2D17 PCIe adaptor card, DS1618+ can house dual M.2 SATA SSD, taking advantage of the SSD cache to boost maximum throughput and reduce the I/O latency. By alternatively installing a network interface card via the PCIe slot, DS1618+ supports up to two 10 GbE ports to reach a maximum throughput of 1551 MBps reading and 586 MBps writing.
The DS1618+ runs on DiskStation Manager, the operating system for Synology NAS devices, with quality applications offered to enhance data security and work efficiency. Synology's Extended Warranty add-on service (EW201) can be purchased together with DS1618+, available in select regions worldwide, to provide up to five years of hardware warranty coverage.
For more information on DS1618+, please visit https://www.synology.com/products/DS1618+