printer friendly version
The fastest Plus series NAS
July 2018
IT infrastructure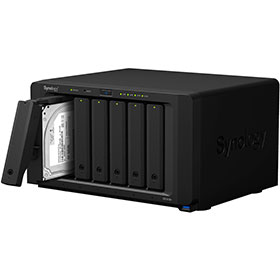 Synology has launched the DiskStation DS1618+, a 6-bay NAS featuring the Intel Atom C3538. For tech enthusiasts and small to medium sized businesses, DS1618+ is an all-in-one solution for file serving, application hosting, data backup and real-time collaboration.
DS1618+ is powered by a quad-core Intel Atom processor C3538 and 4GB DDR4 non-ECC SODIMM RAM, expandable up to 32 GB in ECC SODIMMs. The storage capacity can be upgraded to 192 TB when connected to two DX517 expansion units.
"Modern-day companies compete based on the speed at which they generate, process, and use data to drive innovations," said Derren Lu, CEO at Synology. "By integrating Intel technology, we are putting a compact powerhouse in every SMB. It will allow them to take advantage of that untapped throughput to give their companies that extra edge."
With Synology's M2D17 PCIe adaptor card, DS1618+ can house dual M.2 SATA SSD, taking advantage of the SSD cache to boost maximum throughput and reduce the I/O latency. By alternatively installing a network interface card via the PCIe slot, DS1618+ supports up to two 10 GbE ports to reach a maximum throughput of 1551 MBps reading and 586 MBps writing.
The DS1618+ runs on DiskStation Manager, the operating system for Synology NAS devices, with quality applications offered to enhance data security and work efficiency. Synology's Extended Warranty add-on service (EW201) can be purchased together with DS1618+, available in select regions worldwide, to provide up to five years of hardware warranty coverage.
For more information on DS1618+, please visit https://www.synology.com/products/DS1618+
Further reading:
AI and self-healing
Issue 7 2020 , IT infrastructure
Storage infrastructure that has in-built capacity as well as the ability to self-heal and self-tune is critical.
Read more...
---
Understanding the need to secure your SD-WAN platform
Issue 7 2020 , IT infrastructure
SD-WAN functions need to be virtualised to keep up with evolving security threats and to control the cost of updating and upgrading security elements.
Read more...
---
Software-defined everything
Issue 7 2020 , IT infrastructure
BCX prepares businesses for the future with the launch of its Multi Domain Software Defined Network, applying intent-based networking throughout the enterprise.
Read more...
---
Beating the recessionary blues
Issue 6 2020 , IT infrastructure
Most companies are looking to eke out savings by sweating technology assets a bit longer and by trimming operating costs.
Read more...
---
Designing a modern security network
Issue 6 2020, Regal Distributors SA , IT infrastructure
Traditionally security networks have served us well, but with the rapid advancements in technology it may be time to review the requirements for your security network.
Read more...
---
Home-grown, cloud-based safety and security solutions
Residential Estate Security Handbook 2020 , IT infrastructure, Integrated Solutions
BeSecure has taken security and communications technologies and turned them into what is best described as care and safety solutions for the estate community in South Africa.
Read more...
---
Bringing the wonders of fibre to your estate
Residential Estate Security Handbook 2020, Vox Telecom , IT infrastructure
The Hi-Tech Security Solutions' Residential Security Conference in Durban was a magnificent event where Vox showcased its visitor management solution.
Read more...
---
Protecting your electrical equipment
Residential Estate Security Handbook 2020, BFR Digital, PSS Distributors , IT infrastructure
Load shedding is a constant danger as the surges that occur when the lights come on cause damage to electronic equipment, including security equipment, unless it is protected.
Read more...
---
Hunting for backdoors in counterfeit Cisco devices
Issue 5 2020 , IT infrastructure
F-Secure's investigation highlights challenges facing organisations that discover counterfeit devices in their IT infrastructure.
Read more...
---
5G brings immediate opportunities for SA
Issue 6 2020 , IT infrastructure
The recent launch of 5G technology in South Africa presents several highly attractive opportunities for consumers, carriers and industry at large.
Read more...
---