printer friendly version
Cooling criminal cravings
July 2018 Security Services & Risk Management, Products
The high crime levels in all areas of South African life has not shown any signs of abating, in fact, the numbers have increased over the past few years. We only need to look at farm murders and cash-in-transit attacks to realise that things are not improving.
When it comes to the protection of a home or business, there are options to choose from for added security, but not all of these are effective. Home and small business owners in particular are not offered security measures tailored to their requirements (unless they have an enormous amount of money to spend), but are offered generic one-size-fits-all solutions.
Günther Wockelmann from Roteck South Africa believes that the result of this status quo is simply a reactive security operation that reacts after the criminals have done what they intended. As Wockelmann says, "Since a bullet only needs 20 milliseconds to reach a target, I believe that, especially in crime, every second counts."
This means that blurry images from late-night CCTV operations and having a tracker in your car that allows someone to find your vehicle (hopefully) after it has been hijacked are simply not good enough. We need to be able to identify and deter criminals before they are in control of the situation. In other words, pressing a panic button once they are in your house is too late.
Wockelmann has therefore come up with a solution that could deter criminals, but at the very least will delay them for long enough to allow potential victims to secure themselves. The solution is water.
Wet and unhappy criminals
During his research, Wockelmann found that crime statistics were much lower when it was raining. Not even criminals want to work in the pouring rain. Roteck has therefore designed a few security products that douse criminals with water when they try their luck. This works especially well when the water is sprayed from an inconvenient angle, like from the ground up.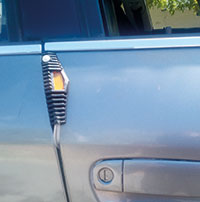 The solution is not simply a water cannon of some form, but early detection and a generic spray nozzle or sprinkler. Catching the fiends before they are in control is important, after which you can apply your water protection to delay them. And even if they are determined to continue, you have given yourself more time to secure yourself and your loved ones, and call for help.
Wockelmann adds that there are also different ways to enhance the efficiency or your water protection without causing permanent damage to the target. For example, mixing the water with harmless liquid bio fertiliser (which leaves an unpleasant smell for days), dishwasher liquid (which creates foam and a slippery surface) or food colouring (which sticks to the target for a long time) can make their crime spree very unpleasant.
He says even cold drinks containing sugar are an option as they leave a sticky and inconvenient mess. Then you can also add other unpleasant products, such as pepper or chili (with oil to prevent clotting), or even a drop of Tabasco.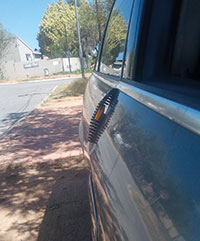 Easy to install and use
The Roteck systems can be triggered manually by an individual (there's even a solution that attaches to a car to discourage hijackers and window washers – see image), or automatically by existing security sensors. Many surveillance cameras include analytics that trigger an event when someone walks into a specific area, if this area is in front of your door, for example, you could ensure unexpected snoopers receive a cold welcome.
Roteck has developed a number of liquid security solutions which can be used indoors and outdoors. These are not the water cannons one sees the police using against rioters on TV, but they dispense enough water to make anyone on the receiving side unhappy. The solutions are power friendly and can even run on battery power during power outages.
The company's latest product is the eGuard, an automated revolving 4-channel high-pressure water spray system for indoor and outdoor applications. The outdoor version operates with high pressure tap water, while the indoor version is portable, battery operated and fuelled from a canister. This canister can store any none corrosive liquid or mixture hereof. A similar but smaller system is available for vehicles to be activated in case of hijacking attempts.
For more information, contact Roteck South Africa, +27 11 024 7322, info@roteck.co.za, www.roteck.co.za
Credit(s)
Further reading:
Improved security health check tool
Gallagher Access Control & Identity Management Products
Gallagher Security has streamlined its free Security Health Check tool, making it easier than ever to protect against potential system risks and improve business efficiencies.
Read more...
---
Sustainability School opens for enrolment
Education (Industry) News Security Services & Risk Management
Three-part programme, first developed for Schneider Electric employees, is now available for free for companies worldwide. Attendees learn how to future-proof their businesses and accelerate their decarbonisation journeys.
Read more...
---
Maximum fire protection for the most dangerous places
Securiton Fire & Safety Mining (Industry) Products
Africa's heavy mining and resource processing industries are some of the continent's leading economic lights. They also present some of its toughest fire safety challenges on the planet.
Read more...
---
From the editor's desk: Get Smart
Technews Publishing News
      Welcome to the fourth issue of Hi-Tech Security Solutions for 2023, which is also the first issue of Smart Security Solutions. As noted in previous issues, Hi-Tech Security Solutions has been rebranded ...
Read more...
---
RDC expands its production capabilities
Radio Data Communications Perimeter Security, Alarms & Intruder Detection Products
Local electronics manufacturer, RDC, recently acquired a new SMT (surface mount technology) machine to boost its manufacturing output and meet the needs of its global customer base.
Read more...
---
Suprema showcases integrated security solutions
Suprema Access Control & Identity Management Products
Apart from being an access terminal that supports multiple credentials such as facial recognition, RFID, mobile and QR codes, the BioStation 3 also supports VoIP Intercom and real-time video monitoring features to make it a truly multi-functional reader.
Read more...
---
Success in business process best practices
Technews Publishing Kleyn Change Management Editor's Choice Integrated Solutions Security Services & Risk Management
This month we commandeer time with the woman who is spearheading our national conversation on Women in Security, Lesley-Anne Kleyn, to get to know the lady herself a little better.
Read more...
---
Unlock seamless security with integrated products
Secutel Technologies Integrated Solutions Products
By combining SecuVue and Secutraq, Secutel has created a system that enables users to configure analytics, facial recognition, pose detection, and XFS among other security triggers modern service providers require.
Read more...
---
Paxton secures multi-tenant office in Cape Town
Paxton Integrated Solutions Access Control & Identity Management Products
Cecilia Square in Paarl, Cape Town is an office building from where several businesses operate. The multi-tenant site has recently undergone a full refurbishment, including a complete upgrade of its security system for access control.
Read more...
---
AI face recognition OEM module
Suprema News Access Control & Identity Management Products
Suprema AI, a company specialized in artificial intelligence–based integrated security solutions, recently launched its high-performance face recognition OEM module called 'Q-Face Pro' in response to the growing need for contactless security solutions.
Read more...
---