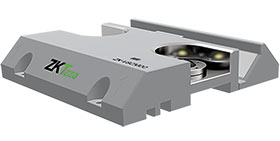 Under-vehicle inspection system
July 2018, Products, Access Control & Identity Management
The ZK-VSCN100 is a portable under-vehicle inspection system. When a vehicle passes over it, the system can quickly recognise the vehicle licence plate and generate a high definition image of the undercarriage, which will be recorded on the computer.
With foreign object detection function, the system can quickly and accurately identify suspect objects attached to the underside of vehicles.
It can quickly be installed or disassembled and used in many solutions. It does not need civil construction and can be installed in 10 minutes, including wiring. In addition, it is convenient to move and deliver because all components can be placed in a cabinet with wheels.
Features
• Easy to install and maintain.
• Automatic digital line scan camera, with high-resolution colour image.
• Image of total vehicle undercarriage.
• Flexible access control.
• 20-ton axle capacity.
• Automatic image comparison.
• Foreign object detection.
• Real-time surveillance.
For more information, contact ZKTeco (SA), +27 12 259 1047, sales@zkteco.co.za, www.zkteco.co.za