printer friendly version
Thermal fire prevention
July 2018 Fire & Safety, CCTV, Surveillance & Remote Monitoring, Products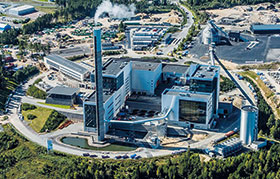 For companies involved in waste management, spontaneous fires are a fact of life and the critical issue is therefore to detect an outbreak as efficiently as possible and prevent it spreading. For one such company in Sweden, FLIR thermal imaging cameras have played an essential role in this effort since 2016.
Jönköping Energi turns up to 160 000 tons of waste per year – or 20 tons an hour – into heat and electricity, sufficient to cover the annual needs of 25 000 households. Preventing and controlling fires is not only a matter of safety, but also of economics.
"We have trucks bringing in waste not just from the surrounding area but from all over Europe which is dumped in a waste bunker, mixed by automatic cranes and stored awaiting transportation to the boiler," explained plant manager, Magnus Olsson.
He continued: "These waste piles can be a dangerous mix. Spontaneous combustion from biological products or other heat sources is a continual threat that needs to be monitored 24/7. Apart from the environmental consequences and obvious safety risks, an outbreak of fire can be very costly, up to £100 000 (about R1,7 million) per day. That's why it is so important to have a reliable early warning system."
Historically, the plant relied on aspiration-based smoke detection that pulled in air from the environment to analyse it for the presence of smoke. Its main failing was speed. For the system to generate an alarm, smoke had to make physical contact with the sensor which was installed high up in the ceiling of the waste bunker. By the time this happened any fire would have already taken hold.
To provide the sixth sense it clearly needed, Jönköping Energi switched to a system from Termisk Systemteknik, based on FLIR thermal imaging. For fire detection, infrared is a superior technology because it senses the surface temperature of material. In effect, it 'sees' the source of the fire in its infancy, before it has the chance to develop.
The chosen system comprises two FLIR A615 thermal imaging cameras in protective housings, mounted on pan-and-tilt systems, one at each end of the bunker. They are controlled via Termisk's dedicated TST Fire software so that when a hot spot is detected by one camera, the other camera is trained on it too.
The software calculates the co-ordinates of the hotspot, based on the combined thermal images and an alarm is generated. From the waste bunker control room, operators can then direct the water canon to the hotspot to extinguish the fire.
"This system has proved to be very accurate as it is able to measure temperatures to a fraction of a degree," confirmed Claes Nelsson of Termisk Systemteknik. "Thanks to the high resolution of the two FLIR cameras – 640 x 480 pixels – the entire bunker can be monitored in detail. This enables the control room operators to detect really small hot spots. The FLIR A615 is one of our preferred FLIR cameras for this type of application as it operates with a Gigabit Ethernet interface so it integrates very well with our software."
Compliance with GigEVision and GenICam standards allows the FLIR A615 to be integrated with a wide variety of similarly compliant equipment and is supported by a choice of third-party software, such as TST Fire. Trigger and synchronisation capabilities enable it to control, or be controlled by a host of other types of equipment. And when used with wireless and fibre-optic line adaptors, this high-performing camera can be used almost anywhere, including over long distances.
For more information contact FLIR Systems, www.flir.com, or refer to the www.hsbd.co.za for SA distributors.
Further reading:
Texecom launches the Midnight Black Collection
Technews Publishing Perimeter Security, Alarms & Intruder Detection Products
Working in harmony with darker environments, the Midnight Black Collection has been created for businesses and sites that require or prefer a security solution which offers discreet protection that compliments their surroundings.
Read more...
---
Optimising remote technical support
Technews Publishing Asset Management, EAS, RFID Products
Sanden Intercool Kenya improves efficiency, removes manual processes with FIELDForce from MACmobile, making its technical backup and support staff more productive, while also optimising record keeping.
Read more...
---
Advanced server performance and energy efficient design
Editor's Choice IT infrastructure Products
Dell PowerEdge server portfolio expansion offers more performance, including up to 2.9x greater AI inferencing while Dell Smart Flow design and Dell Power Manager software advancements deliver greater energy efficiency.
Read more...
---
Gallagher to showcase new Controller 7000 single door
Technews Publishing Access Control & Identity Management Products
Gallagher will be showcasing its latest access control innovation, the Controller 7000 Single Door on its stand at Intersec Dubai from 17-19 January 2023.
Read more...
---
Batteries creating false alarms due to load shedding
Uniross Batteries Smart Home Automation Products
A local security company has solved the problem of receiving false alarms during loadshedding by replacing its customers' 12 V lead batteries with lithium batteries.
Read more...
---
Minimising fire risks in automotive logistics
Hikvision South Africa CCTV, Surveillance & Remote Monitoring Products Logistics (Industry)
Automotive logistics company uses thermal imaging solution from Hikvision to ensure its stores of lithium batteries for electric vehicles never overheat and cause a fire.
Read more...
---
Axis launches P3265-LVE dome camera
Axis Communications SA Products CCTV, Surveillance & Remote Monitoring
Based on ARTPEC-8 — the latest Axis system-on-chip (SoC) — Axis' latest dome high-performance camera includes a deep learning processing unit (DLPU), and cybersecurity features.
Read more...
---
Incorporate fire safety in the design phase
Fire & Safety
ASP Fire CEO Michael van Niekerk says companies can prevent their infrastructure project from going up in flames by incorporating fire safety in the design phase.
Read more...
---
Olarm product highlights for 2022
Olarm Perimeter Security, Alarms & Intruder Detection Products
Olarm rapidly expanded its ecosystem in 2022 with several new products, the launch of its training academy, and a presence in Gauteng.
Read more...
---
Smart home security
Olarm Smart Home Automation Perimeter Security, Alarms & Intruder Detection Products
The applied use of smart technology within the Olarm ecosystem, through smart features coupled with existing systems, extends the benefits of technology into different spheres.
Read more...
---