printer friendly version
Delivering measurable return on ­investment
July 2018 Industrial (Industry), Access Control & Identity Management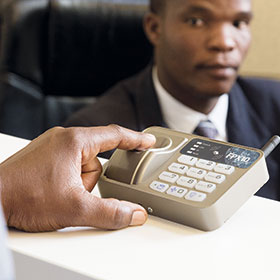 Manufacturing concerns will agree that personnel management and keeping costs to a minimum is key. These aspects were at the fore of a local factory owner's mind some months ago, while he was fighting to stay afloat in a fluctuating economy.
Of concern was the potential inability to deliver on orders placed, and possible retrenchment of employees. Among other factors, it appeared that the wages paid were not in proportion with the team's performance.
An associate of the owner referred him to Active Track, in the hope of it assisting with the management and performance of the factory staff.
The owner spoke with Active Track's sales representative for the area who advised that the GPS and GSM-enabled FPX10 device would be the ideal tool to monitor staff and the wages paid. Active Track met the owner and the management team on-site and trained them on the FPX10 and its web-based support platform. Thereafter, the fingerprints of all staff were loaded on to the device and site-specific parameters were set.
For a period of 30 days, each staff member scanned his/or her fingerprint as he/or she arrived at the factory and left at the end of the day. In this way, the time and attendance of all employees was logged. Due to its GSM and GPS capabilities and integration software, the data captured by the FPX10 was effortlessly integrated into the factory's payroll management system, which ensures that staff are only paid for the real hours worked. This exercise resulted in a reduction of the factory's payroll, with the added benefit of there being no dispute regarding the reason for the various pay reductions.
In addition to a reduction in payroll, management could monitor time and attendance remotely, via the online support platform. In real-time, management could log on to the portal and see which employees had reported for duty and/or failed to do so, and which staff members had arrived late or left early on any day. Daily reports were automatically generated from the captured data and could be accessed via the portal. This tool equipped the owner to take disciplinary action against under-performing staff.
The FPX10 was configured so that management would receive automated email and SMS notifications in the event of breach of the factory's pre-set parameters, or activation of the FPX10's panic or emergency functions.
Importantly, the FPX10's extended battery life of up to 72 hours, portable nature and rugged casing ensured that the unit was always operational and not affected by being dropped accidentally, or by harsh or dusty conditions often associated with the industrial sector. The data captured by the FPX10 is accurate, thanks to the FPX10's 21-point fingerprint recognition. Similar products rely on a simple six-point fingerprint recognition, which often results in inaccurate data and creates the potential for abuse by users.
While the scale of the factory did not require it, larger factories can also utilise the FPX10 to control access to various areas, such as offices and storerooms, by granting certain personnel access to specified areas.
Credit(s)
Further reading:
Addressing the SCADA in the room
Industrial (Industry) Cyber Security
Few other sectors command the breadth of purpose-built and custom devices necessary to function, as the industrial and manufacturing industries. These unique devices create an uncommon risk that must be assessed and understood to fully protect against incoming attacks.
Read more...
---
Integrated guarding services
XtraVision Integrated Solutions Access Control & Identity Management Industrial (Industry)
XtraVision offers a few tips on how to go about planning and setting up an integrated approach to sustainable and successful security services, from the initial risk assessment to the technology and people required.
Read more...
---
Paxton secures multi-tenant office in Cape Town
Paxton Integrated Solutions Access Control & Identity Management Products
Cecilia Square in Paarl, Cape Town is an office building from where several businesses operate. The multi-tenant site has recently undergone a full refurbishment, including a complete upgrade of its security system for access control.
Read more...
---
AI face recognition OEM module
Suprema News Access Control & Identity Management Products
Suprema AI, a company specialized in artificial intelligence–based integrated security solutions, recently launched its high-performance face recognition OEM module called 'Q-Face Pro' in response to the growing need for contactless security solutions.
Read more...
---
Vulnerabilities in industrial cellular routers' cloud management platforms
Industrial (Industry) Cyber Security Security Services & Risk Management
Research from OTORIO, a provider of operational technology cyber and digital risk management solutions, unveils cyber risks in M2M protocols and asset registration that expose hundreds of thousands of devices and OT networks to attack
Read more...
---
Container conversions for access control
BoomGate Systems Products Access Control & Identity Management Mining (Industry)
Boomgate Systems has a range of access control solutions to streamline efficiencies and ensure that the integrity of security is enhanced. An integral part of access control systems is the use of container conversions.
Read more...
---
National standards for evacuation compliance
TOA Electronics Mining (Industry) Access Control & Identity Management Products
Issued in February 2020 in terms of the National Building Regulations and Building Standard Act, the updated SANS 10400-T: 2020 standard outlines the compliance requirements for both voice alarm and evacuation and fire detection systems.
Read more...
---
The factory of the future will be data-driven and AI optimised
Industrial (Industry)
Moving AI to the manufacturing edge promises a lot of tantalising benefits, but it also poses some unique challenges that need to be overcome for manufacturing edge AI deployments to be successful.
Read more...
---
Impro modernises access control at University of Stellenbosch
Impro Technologies Editor's Choice Access Control & Identity Management Education (Industry) Products
The University of Stellenbosch has been using Impro access control technologies for many years to control access to its various buildings and facilities. It recently decided to upgrade its access technologies and Impro equipment was, again, selected.
Read more...
---
Integrating existing technology and AI
Secutel Technologies Financial (Industry) Access Control & Identity Management Products
Financial institutions require strict security processes governing staff and visitors (including unwanted visitors), from the perimeter, right into their campuses and buildings; however, replacing all existing security systems with new technology is not always viable.
Read more...
---