printer friendly version
Securing the Internet of Things
July 2018 Cyber Security, Industrial (Industry)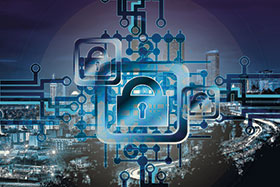 With more than 75 billion devices expected to be connected to the Internet by 2025, the Internet of Things (IoT) has become an integral part of the digital world. As we become more reliant on these devices for our work and personal lives, we need to be aware of their inherent security risks.

Jorina van Rensburg, MD of Condyn.
One of the biggest problems is the login and password details of connected devices. These are typically preconfigured by manufacturers. How many end-users change these default settings? Using sophisticated tools, hackers can 'snoop' the Internet for these standard details and can easily gain access to them, severely compromising the user.
Another challenge is how easy it has become for manufacturers to send through updates to connected devices. Because this communication is unencrypted, patches can be installed remotely for bug fixes. While ostensibly a good thing, they do leave back doors open for malicious users to exploit.
Of course, it is not always about accessing data but also spying on people. For example, the increasing number of smart televisions in homes have seen some manufacturers pull data that shows what consumers are watching. Even worse, those sets with embedded Web cameras can also be hacked and used to look into the homes of people without them even realising it.
Getting smart
People are not cybersecurity experts. Many will not read the terms of use or technical documentation. It is all about using the connected device as quickly as possible. This is where the term 'plug-and-play' comes from – the manufacturer provides standard settings designed to make the device as easy as possible to use when it lands in front of a consumer.
Alexei Parfentiev, senior business analyst at SearchInform, believes a distinction should be made between IoT and the Industrial IoT (IIoT).
"The former is person-oriented and makes people's life comfortable. The latter is developed for an industry and must be optimised." Smart appliances, for example, help people save electricity or take care of their health. Within some industries, devices are used to automate menial administrator tasks, increase enterprise productivity, and let employees focus on more strategic roles.
Irrespective of whether it is consumer-facing or enterprise-focused, the reality is that IoT devices need better security. "Manufacturers must take responsibility to protect these devices and warn users of possible cybersecurity threats. Sadly, making the sale seems to be the only priority. But the situation might improve if vendors are motivated to take IoT security more seriously. For example, regulators could fine manufacturers if found guilty of neglecting their corporate responsibilities when it comes to securing devices."
So, while it becomes inconvenient if a smart home system fails and the doors do not open automatically, imagine the impact if an armament system or power station is compromised. Security therefore has to be a priority in this new era of connected devices and the IoT.
For more information, go to www.condyn.net
Further reading:
Insights from the 2023 Cloud Security Report
News Cyber Security
Increased costs, compliance requirements, hybrid and multi-cloud complexities, reduced visibility, and a lack of skilled practitioners cause organisations to slow or adjust their cloud adoption strategies.
Read more...
---
New algorithm for OT cybersecurity risk management
Industrial (Industry) Cyber Security News Commercial (Industry)
OTORIO's new risk management model and attack graph analysis algorithm technology, calculates OT cybersecurity threats and provides risk mitigation actions, prioritised according to actual exposure and potential impact on operations.
Read more...
---
Veeam finds 93% of cyberattacks target backup storage
Cyber Security
Veeam unveils the results of its 2023 Ransomware Trends Report, showing cyber insurance is becoming too expensive and 21% of organisations are unable to recover their data after paying the ransom.
Read more...
---
Cybersecurity providers must first protect themselves
Cyber Security
In a joint advisory released by cybersecurity agencies across the United States, UK, Australia, Canada and New Zealand, managed security service providers (MSSPs) have been warned of a sharp increase in cyberattacks targeting their systems.
Read more...
---
Cyber attackers used over 500 tools and tactics in 2022
Cyber Security News
The most common root causes of attacks were unpatched vulnerabilities and compromised credentials, while ransomware continues to be the most common 'end game' and attacker dwell time is shrinking – for better or worse.
Read more...
---
Addressing the SCADA in the room
Industrial (Industry) Cyber Security
Few other sectors command the breadth of purpose-built and custom devices necessary to function, as the industrial and manufacturing industries. These unique devices create an uncommon risk that must be assessed and understood to fully protect against incoming attacks.
Read more...
---
Integrated guarding services
XtraVision Integrated Solutions Access Control & Identity Management Industrial (Industry)
XtraVision offers a few tips on how to go about planning and setting up an integrated approach to sustainable and successful security services, from the initial risk assessment to the technology and people required.
Read more...
---
Recession or stress?
Cyber Security News
The economic landscape has seen many technology companies lay off vast numbers of employees, but for cybersecurity, the picture looks very different – a dynamic mixture of excitement, challenges and toxicity.
Read more...
---
Vulnerabilities in industrial cellular routers' cloud management platforms
Industrial (Industry) Cyber Security Security Services & Risk Management
Research from OTORIO, a provider of operational technology cyber and digital risk management solutions, unveils cyber risks in M2M protocols and asset registration that expose hundreds of thousands of devices and OT networks to attack
Read more...
---
NEC XON appoints Armand Kruger as Head of Cybersecurity
News Cyber Security
NEC XON has announced the appointment of Armand Kruger as the Head of Cybersecurity. Kruger will oversee all cybersecurity offerings including cybersecurity strategy, programmes, and executive advisory.
Read more...
---