printer friendly version
Wireless transportable multi-gas detectors
July 2018 Industrial (Industry), Fire & Safety, Products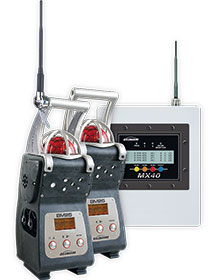 The BM 25 packs the benefits of a fixed system area monitor into a rugged, user-friendly and transportable instrument. It was designed to detect one to five gases for mobile or temporary work applications, team protection, area surveillance or places where fixed detection systems are not suitable.
Powered by a NiMH battery pack, the BM 25 multi-gas monitor offers up to 170 hours of continuous run-time. Other standard features include STEL and TWA values, as well as a data-logging capacity of more than four months. Multiple units can be grouped using optional alarm transfer kits. This protects larger areas by transferring alarms from one BM 25 to the next. An intrinsically safe trickle charger is available to maintain battery life for long-term area monitoring in classified zones.
The BM 25 is durable and versatile. It is suitable for a wide range of industries, including petrochemical, refineries and pharmaceutical production. Procedures such as plant maintenance shutdown sites, rig overhauls and perimeter-line surveillance can now be safely performed.
The MX 40 controller was designed to centralise the information transmitted by the BM 25 over a wireless network and can display up to 32 measurements in real time. When a BM 25 signals an alarm, the MX 40 also goes into alarm mode and can, for example, control internal relays and order other monitors to transmit the alarm.
Any five of the following gasses can be detected simultaneously: AsH3, CO, CO2, Flammable Gas (H2, CH4, Pentane, etc.) HCI, HCN, NH3, NO2, O2, PH3, SiH4, SO2.
Oldham gas detection products meet all major international certification standards and are used in numerous industries. Applications include oil and gas, offshore exploration and production, petrochemical, food and beverage, water treatment, automotive, steel production, liquid natural gas, liquefied petroleum gas, pharmaceutical, power stations and many others.
Sperosens is the sole distributor of the Oldham range of fixed and wireless gas monitoring solutions for South Africa.
For more information contact Marihette Hattingh, Sperosens, 086 177 3767, marihette.hattingh@spero.co.za, www.spero.co.za
Credit(s)
Further reading:
Olarm launches the Olarm LINK
Olarm Perimeter Security, Alarms & Intruder Detection News Products
Building on the success of smart-enabling, monitoring and controlling alarm panels and electric fences, Olarm has a new solution for customers to integrate gates, garage doors, pumps and other electrical products with the Olarm APP and Olarm PRO communicator.
Read more...
---
Ultimate smart monitoring and reliability
Olarm Perimeter Security, Alarms & Intruder Detection News Products
Olarm is gearing up to unveil its latest product, the Olarm MAX, set to be available in late 2023, which will redefine smart monitoring by offering unparalleled connectivity options and functionality.
Read more...
---
Cloud-based or on-premises access control
Salto Systems Africa Access Control & Identity Management Products
Choosing between cloud-based and on-premises access control solutions can be a difficult decision, however, the best solution for your organisation, property, or building type will depend on a range of factors.
Read more...
---
New distributed acoustic sensors in EMEA
Perimeter Security, Alarms & Intruder Detection Products
OPTEX introduces new EchoPoint Distributed Acoustic Sensors (DAS) for advanced point location intrusion detection, using intelligent detection algorithms to provide point detection of +/- 6 m in a range of up to 100 km.
Read more...
---
Supporting local manufacturing
Industrial (Industry) IT infrastructure
Smart Security asked Esenthren Govender, Solutions Executive at Technodyn for insight into how the company supports local manufacturing organisations to optimise their business.
Read more...
---
New algorithm for OT cybersecurity risk management
Industrial (Industry) Cyber Security News Commercial (Industry)
OTORIO's new risk management model and attack graph analysis algorithm technology, calculates OT cybersecurity threats and provides risk mitigation actions, prioritised according to actual exposure and potential impact on operations.
Read more...
---
The role of AI in industrial plants
Industrial (Industry)
The average modern industrial plant uses less than 27% of the data it generates, but industrial AI can play a major role in identifying patterns and making process predictions through new software platforms that simplify convergence and analysis of OT/IT/ET data.
Read more...
---
AI technology to empower vertical markets
Dahua Technology South Africa Mining (Industry) CCTV, Surveillance & Remote Monitoring Products
Dahua WizMind is a full portfolio of solutions comprising project-oriented products that use deep learning algorithms to provide more business value to its global customers and deliver reliable and comprehensive AI solutions for vertical markets.
Read more...
---
Improved security health check tool
Gallagher Access Control & Identity Management Products
Gallagher Security has streamlined its free Security Health Check tool, making it easier than ever to protect against potential system risks and improve business efficiencies.
Read more...
---
Maximum fire protection for the most dangerous places
Securiton Fire & Safety Mining (Industry) Products
Africa's heavy mining and resource processing industries are some of the continent's leading economic lights. They also present some of its toughest fire safety challenges on the planet.
Read more...
---