printer friendly version
Bosch's Mobile Experience Centre
July 2018 News, CCTV, Surveillance & Remote Monitoring, Access Control & Identity Management
Bosch Building Technologies officially launched its new Mobile Experience Centre at an event held at the Serengeti Golf Estate in Johannesburg's East Rand. The custom-built, transportable platform offers interactive experiences featuring hands-on, in-person demonstrations of the company's safety, security and communication technologies.
"Our Mobile Experience Centre provides the customer with a tangible experience of the high-quality safety and security solutions from Bosch for all industries and applications," explains Tharina van Wyk, sales country marketing representative. "With the large geographical expanse of South Africa and the sub-Saharan region, the mobility of this demonstration platform will expand our reach and bring us closer to our customers."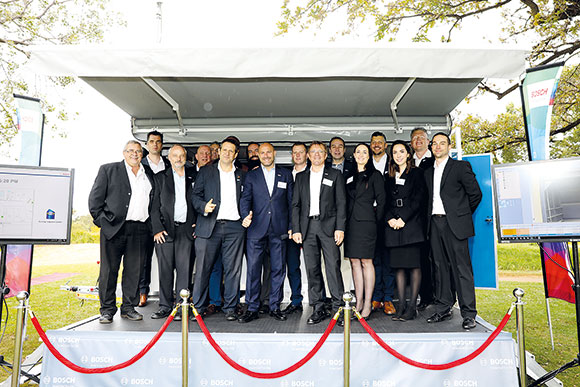 The centre is equipped with the latest products and systems, including video surveillance, intrusion detection, fire detection and voice evacuation systems as well as access control – all managed on one single platform, the Bosch Building Integration System (BIS). Professional audio and conference systems for communication of voice, sound and music complete the showcase. A live demonstration was given outdoors to illustrate the inter-operability features of the full platform.
The Mobile Experience Centre will soon set off on its journey across sub-Saharan Africa with roadshows planned for major regional city centres and neighbouring countries, together with proof of concept, shoot-outs and small-scale exhibitions. "The aim of the Mobile Experience Centre is to instil confidence and trust in the Bosch brand and to convince our customers of our solutions. Only once you have experienced our products first-hand can you truly appreciate the quality and reliability," says Daniel Fernandez, regional general manager, sub-Saharan Africa.
To demonstrate its commitment to society as part of the company's sustainability strategy – with an active focus on education – the Mobile Experience Centre educated and inspired young students with the latest developments and technologies in the field of safety, security and communications during the Science Week 2018, hosted by the Deutsche Internationale Schule in Pretoria and Johannesburg respectively, where over 800 students from disadvantaged backgrounds participated.
The launch event also featured presentations by local and international Bosch representatives. In his presentation, Fernandez underlined the company's strategy of competing with the influx of competing brands into Africa, which consists of an emphasis on investing strongly in R&D to push the technological boundaries, and offering integrated solutions across market verticals.
Its current R&D efforts are strongly focused on IoT (Internet of Things) and AI (Artificial Intelligence) and, all told, the company has invested heavily in the last five years and filed on average 20 patents every working day. Looking towards the near future, Dr. Markus Thill, president for the African region, stated that Bosch plans for 100% of its product classes to be 'connected' by the year 2020.
Ruud Toonders' (product marketing manager for the EMEA region) presentation highlighted a new intelligent streaming feature in Bosch's IP cameras which manages the bit rate to reduce network bandwidth usage by up to 80%, even with busy scenes. This new feature complements the existing iDNR (intelligent dynamic noise reduction) technology to reduce bandwidth and storage requirements, and is built into the cameras' latest firmware. Toonders also ran through the MIC IP camera product range for extreme conditions, and addressed Bosch's advanced methods of dealing with the problem of data security.
Also showcased were the Aviotec VFD (video-based fire detector) solution, which uses purely video-based analysis, rather than thermal, IR/UV or combustion gas sensing, to identify flames and smoke; and the new IP-based public address and voice alarm system, PRAESENSA, among others.
Integration was a strong theme throughout the event, and Quintin van den Berg provided attendees with insights into Bosch's Integrator Partner Programme. This was supported through presentations by Genetec's Brent Cary and Milestone Systems' Llewellyn Davies, who both highlighted the features and benefits of their platforms and how they integrate deeply with Bosch technology.
Credit(s)
Further reading:
Olarm launches the Olarm LINK
Olarm Perimeter Security, Alarms & Intruder Detection News Products
Building on the success of smart-enabling, monitoring and controlling alarm panels and electric fences, Olarm has a new solution for customers to integrate gates, garage doors, pumps and other electrical products with the Olarm APP and Olarm PRO communicator.
Read more...
---
Ultimate smart monitoring and reliability
Olarm Perimeter Security, Alarms & Intruder Detection News Products
Olarm is gearing up to unveil its latest product, the Olarm MAX, set to be available in late 2023, which will redefine smart monitoring by offering unparalleled connectivity options and functionality.
Read more...
---
Insights from the 2023 Cloud Security Report
News Cyber Security
Increased costs, compliance requirements, hybrid and multi-cloud complexities, reduced visibility, and a lack of skilled practitioners cause organisations to slow or adjust their cloud adoption strategies.
Read more...
---
New algorithm for OT cybersecurity risk management
Industrial (Industry) Cyber Security News Commercial (Industry)
OTORIO's new risk management model and attack graph analysis algorithm technology, calculates OT cybersecurity threats and provides risk mitigation actions, prioritised according to actual exposure and potential impact on operations.
Read more...
---
Robots: a security opportunity or a threat?
Editor's Choice News Conferences & Events
Professor Martin Gill, Director of Perpetuity Research & Consultancy International and the School of Criminal Justice at the University of South Africa (UNISA), will be holding a Global Thought Leadership Security webinar on 22 June 2023 to discuss the contentious issue of robots operating in the security industry.
Read more...
---
UNISA sponsors Securex seminars
Editor's Choice News Conferences & Events
As part of UNISA's 150-year birthday celebrations, UNISA has sponsored the Securex Theatre Seminar Programme, which will include a number of prominent industry specialists, academics and security practitioners focusing on a number of themes.
Read more...
---
Facilities Management Seminar Theatre
Securex South Africa News
The free-to-attend Facilities Management Seminar Theatre, powered by Broll, delivers information on the latest market trends, thereby keeping attendees up to date on solutions and technology centred on increasing facility system optimisation.
Read more...
---
AI technology to empower vertical markets
Dahua Technology South Africa Mining (Industry) CCTV, Surveillance & Remote Monitoring Products
Dahua WizMind is a full portfolio of solutions comprising project-oriented products that use deep learning algorithms to provide more business value to its global customers and deliver reliable and comprehensive AI solutions for vertical markets.
Read more...
---
The latest security trends at Securex South Africa 2023
Securex South Africa News Conferences & Events Training & Education
Security technology evolves at a blistering pace, so it's important to keep up to date with changing trends in order to ensure maximised safety of human and personal assets. The Securex Seminar Theatre, powered by UNISA, is the place to be.
Read more...
---
Sustainability School opens for enrolment
Education (Industry) News Security Services & Risk Management
Three-part programme, first developed for Schneider Electric employees, is now available for free for companies worldwide. Attendees learn how to future-proof their businesses and accelerate their decarbonisation journeys.
Read more...
---