Expanding machine vision
July 2018, Products, CCTV, Surveillance & Remote Monitoring
Dahua has unveiled a series of new industrial cameras to enhance its product offering for the logistics industry and general industry automation. Along with the new launches, Dahua has broadened its product selection including the following:
• Area scan cameras: The 7000, 5000 and 3000 systems with GigE and USB 3 interface respectively are now available for different applications. The 7000 series is targeted for users with highest performance requirements, the 5000 series strives for price performance balance, while the 3000 series is positioned as an entry-level solution targeting for users who are looking for value.
• Line scan cameras: 2K/4K line scan cameras are now available for applications that require both high resolution and high scan rate for moving objects.
• Smart camera: Movidus-based smart cameras with embedded code-reading algorithms have been released for application in logistics, especially in logistic automation.
• 3D cameras: 3D cameras have been recently added in the portfolio and are able to measure object size down to millimetre level.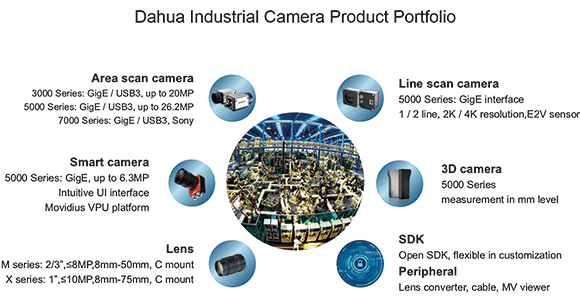 For more information, contact Zhejiang Dahua Technology Co., +86 571 8768 8883, dahua.sa@global.dahuatech.com, www.dahuasecurity.com