printer friendly version
Ring expands to South Africa
July 2018 Home Security, CCTV, Surveillance & Remote Monitoring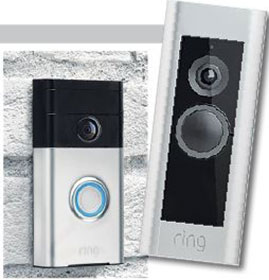 Ring provides complete preventive home security products and solutions which will make it easier for residents to monitor and secure their homes from anywhere.
Ring has entered the South African market. The Ring range of preventive home security products include connected doorbells, cameras and lights that are easily installed and configured, with an app that provides various control options.
"Security, especially home security, is a priority in South Africa. Almost all homes in the country have some kind of security already in place – alarm systems, electric fences even armed response companies protecting almost every home. Ring's mission is simple: to reduce crime in neighbourhoods and empower consumers by creating a 'Ring of Security' around homes and communities with our suite of preventive smart home security products," says Meraj Hoda, vice president – business development at Ring.
"Globally, Ring's products have been hailed as a dependable second set of eyes and ears to deter would-be thieves from entering their homes, and it has been proven that Ring doorbells reduced crime by up to 55% in neighbourhoods across the US. The goal is to bring the same convenience and security to South African neighbourhoods."
With 246 654 cases of home burglaries in South Africa between April 2016 and March 2017 – roughly 676 a day, keeping homes, families and communities safe in South Africa is of critical importance. The South African Police Service (SAPS) recorded 22 343 house robberies over the same period – or 61 every day. While both involve criminal trespassing and theft, burglaries take place when a victim is not at home, but the victim is present during robberies.
Furthermore, recent research found that less than 8% of house robbers and burglars get convicted for their crimes in South Africa with the local conviction rate being as low as 7.67%, compared to 53% in the USA. The research also showed that the criminals will monitor your home for as long as two weeks, and that most attacks occur between
7 p.m. and midnight as people are relaxed, cooking or watching TV, and their security systems and beams are not active.
"At Ring we believe that effective, preventive security should be cost effective and simple to use which is why Ring products are easy to install and set up – it is the ideal DIY security solution. All Ring products are integrated so homeowners can create a complete security system with custom zones, commands and settings to best deter thieves.
"The foundation of the Ring solution is the range of video doorbells, which provide advanced motion detection and enable homeowners to see outside their home. Together with Ring's smart cameras, this security solution allows users to rest easy in the knowledge that they are in complete control of their home security. As South Africans continue their fight against crime, Ring provides the ideal solution: security that is affordable, proactive, easy to install, and comprehensive," concludes Hoda.
The full range of Ring products will be available from Incredible Connection, Dion Wired, Makro, Builder's Warehouse and premium security installers.
Further reading:
Huawei includes Namola safety app
Issue 1 2020 , Home Security
Huawei has partnered with South Africa's personal safety app, Namola, to ensure that more South Africans have access to the service.
Read more...
---
What are the cybersecurity issues in video surveillance?
November 2019, Axis Communications SA , Editor's Choice, CCTV, Surveillance & Remote Monitoring, Cyber Security
he importance of the data captured by surveillance cameras – and what can be done with it – has led to a new breed of cybercriminals, looking for insights to steal and sell.
Read more...
---
The safe city and its need for interoperability
November 2019 , Integrated Solutions, CCTV, Surveillance & Remote Monitoring
Interoperability continues to present one of the greatest challenges, particularly with video management systems, video recording devices and cameras.
Read more...
---
TruVision licence plate cameras
November 2019, UTC Fire & Security SSA , Products, CCTV, Surveillance & Remote Monitoring
TruVision ANPR cameras offer functionality for applications where vehicle access management is required based on licence plate.
Read more...
---
Do you have the smarts?
November 2019 , Home Security
Melissa Davidson from lighting retailer The Lighting Warehouse offers an overview on their latest smart LED ceiling light, which also acts as a Bluetooth speaker.
Read more...
---
The top five holiday scams
November 2019 , Home Security
The holiday season is a sea of shopping, laughter, gifts and entertainment. It is also a swamp of security risks and hacks and fraudsters, lurking on the edges of the festive fun.
Read more...
---
Be awake to the deepfake
November 2019 , Home Security
SA's Wireless Application Service Providers' Association is advising smartphone users alarmed by the 'deepfake' phenomenon that the expected promulgation of South Africa's Cybercrimes and Cyberbullying Bill is imminent.
Read more...
---
Reasoning with crime is like reasoning with death
November 2019 , Home Security
Have you noticed how many excuses a person or a management team can lay on the table when it comes to security?
Read more...
---
Not-so-safe travels
November 2019, Kaspersky , Home Security
Kaspersky research of the RevengeHotels campaign aimed at the hospitality sector, has confirmed that in Latin America, Europe and Asia have fallen victim to targeted malware attacks.
Read more...
---
Digitise your access control
October 2019, dormakaba South Africa , Home Security
With Evolo, you can open your doors using anything from an access card, key fob, or even a smartphone without any extra hardware.
Read more...
---