printer friendly version
Ring expands to South Africa
July 2018 CCTV, Surveillance & Remote Monitoring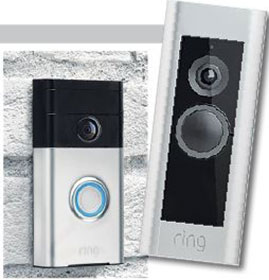 Ring provides complete preventive home security products and solutions which will make it easier for residents to monitor and secure their homes from anywhere.
Ring has entered the South African market. The Ring range of preventive home security products include connected doorbells, cameras and lights that are easily installed and configured, with an app that provides various control options.
"Security, especially home security, is a priority in South Africa. Almost all homes in the country have some kind of security already in place – alarm systems, electric fences even armed response companies protecting almost every home. Ring's mission is simple: to reduce crime in neighbourhoods and empower consumers by creating a 'Ring of Security' around homes and communities with our suite of preventive smart home security products," says Meraj Hoda, vice president – business development at Ring.
"Globally, Ring's products have been hailed as a dependable second set of eyes and ears to deter would-be thieves from entering their homes, and it has been proven that Ring doorbells reduced crime by up to 55% in neighbourhoods across the US. The goal is to bring the same convenience and security to South African neighbourhoods."
With 246 654 cases of home burglaries in South Africa between April 2016 and March 2017 – roughly 676 a day, keeping homes, families and communities safe in South Africa is of critical importance. The South African Police Service (SAPS) recorded 22 343 house robberies over the same period – or 61 every day. While both involve criminal trespassing and theft, burglaries take place when a victim is not at home, but the victim is present during robberies.
Furthermore, recent research found that less than 8% of house robbers and burglars get convicted for their crimes in South Africa with the local conviction rate being as low as 7.67%, compared to 53% in the USA. The research also showed that the criminals will monitor your home for as long as two weeks, and that most attacks occur between
7 p.m. and midnight as people are relaxed, cooking or watching TV, and their security systems and beams are not active.
"At Ring we believe that effective, preventive security should be cost effective and simple to use which is why Ring products are easy to install and set up – it is the ideal DIY security solution. All Ring products are integrated so homeowners can create a complete security system with custom zones, commands and settings to best deter thieves.
"The foundation of the Ring solution is the range of video doorbells, which provide advanced motion detection and enable homeowners to see outside their home. Together with Ring's smart cameras, this security solution allows users to rest easy in the knowledge that they are in complete control of their home security. As South Africans continue their fight against crime, Ring provides the ideal solution: security that is affordable, proactive, easy to install, and comprehensive," concludes Hoda.
The full range of Ring products will be available from Incredible Connection, Dion Wired, Makro, Builder's Warehouse and premium security installers.
Further reading:
Elvey partners with HALO
Elvey Security Technologies News CCTV, Surveillance & Remote Monitoring
Elvey Group has partnered with HALO Europe to provide Africa's first body-worn solution with zero upfront costs. This includes an IP68-certified body camera and a 4G-connected device.
Read more...
---
Invisible connection and tangible protection via cloud
Dahua Technology South Africa Perimeter Security, Alarms & Intruder Detection CCTV, Surveillance & Remote Monitoring Products
Dahua Technology has launched its AirShield security solution that uses advanced, stable and reliable RF communication technology and cloud services, integrating alarm hubs, various detectors and accessories, with several software apps.
Read more...
---
Relaxed home cybersecurity could render consumers accidental 'inside actors'
Editor's Choice Cyber Security Smart Home Automation
Cisco security experts warn of snowball impact of relaxed approach to cybersecurity on personal devices, noting 60% of users primarily use their personal phone for work tasks and 76% have used unsecured public networks for work tasks.
Read more...
---
The importance of the operator's frame of reference
Leaderware Editor's Choice CCTV, Surveillance & Remote Monitoring Security Services & Risk Management Mining (Industry)
The better the operator's frame of reference and situational awareness, and the more informed they are in dealing with CCTV surveillance in the mining industry, the more successful they are likely to be in surveillance.
Read more...
---
Enhancing surveillance on mines
Avigilon Technews Publishing Axis Communications SA Forbatt SA Hikvision South Africa Bosch Building Technologies Editor's Choice CCTV, Surveillance & Remote Monitoring Integrated Solutions Mining (Industry)
Smart Security approached a number of surveillance vendors to find out what the latest in surveillance technology is that can make a difference to security operations in mines, as well as general operations.
Read more...
---
Surveillance to improve worker safety
Axis Communications SA Mining (Industry) CCTV, Surveillance & Remote Monitoring Integrated Solutions
With substantial deposits of mineral resources, mining is critical for South Africa's economic growth and prosperity; however, mining can be dangerous, especially for the people working on the ground and in the shafts.
Read more...
---
Centralised VMS for multiple sites
Mining (Industry) CCTV, Surveillance & Remote Monitoring
Dispersed mining operation relies on AxxonSoft for centralised video management as well as device health monitoring and the reliable distribution of analytics to various camera brands.
Read more...
---
Transition to cloud for video surveillance accelerates
News CCTV, Surveillance & Remote Monitoring
Video surveillance systems are transitioning to greater use of cloud solutions according to a new report from Novaira Insights titled Cloud Trends in Video Surveillance – 2023 edition, which says the trend is accelerating.
Read more...
---
The importance of CCTV for internal perimeter protection
Leaderware Editor's Choice CCTV, Surveillance & Remote Monitoring Perimeter Security, Alarms & Intruder Detection
Constant violations of procedures governing access, unusual handling of goods, empty boxes or containers of product lying around or hidden behind other goods, unauthorised use of exit areas, and movement to unexpected perimeter areas can be a major issue.
Read more...
---
IoT users' cybersecurity outlook
Smart Home Automation
A new global survey conducted by Kaspersky 'The smart home of almost everything: From the fridge to TV, how we'll embrace the year of the virtual assistant in 2023', explores the key digital habits, obstacles and smart home device usage.
Read more...
---