How data leaks can be avoided
July 2018, This Week's Editor's Pick, Cyber Security, News, Security Services & Risk Management
The past few weeks have seen a number of high-profile data leaks and cybersecurity breaches. In addition to these, a collection of 2844 files containing passwords connected to 80 million email addresses has been discovered online. The latest cache of data was discovered on a hacking forum, where a poster was linked to an 8,8 GB zip file.
It contained almost 3000 files of usernames, email addresses, and plain text passwords. The files appeared to be named after the service the credentials were taken from. Amongst the data was a set of email addresses and plain text passwords that appeared to be from Dropbox. Information that Dropbox had been breached surfaced in 2016, with the company confirming the hack.
Websites listed in the reported data breach include Plex (plex.tv), Lord of the Rings Online (lotro.com), and MalwareBytes.org. The South African sites listed were:
• africanaffair.net
• bioafrica.net
• jozifm.co.za
• kgolagano-it.co.za
• khansmeat.co.za
• amarider.co.za
• beautysecrets.co.za
• crsolutions.co.za
• easterncapescubadiving.co.za
• engineeringnews.co.za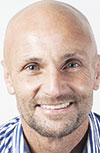 Simon Campbell-Young.
• saonline.co.za
• studentcommune.co.za
• videospot.co.za
• wickedimports.co.za
Simon Campbell-Young, CEO of MyCybercare, says that MyID (www.myidglobal.com) helps to remediate breaches of this nature. "MyID runs as a service, monitoring your ID number, email address, mobile number and credit card number for fraudulent usage or fraudulent input on the Web. The service sends users immediate real-time notifications, notifying the user where and when the data has been tracked. This service also advises on the required remediation action to be taken, in order to avoid or minimise damage," he explains.
For more information, go to www.myidglobal.com