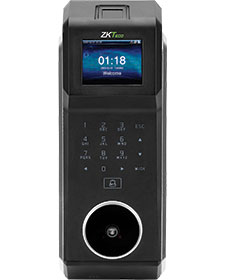 Hybrid biometrics T&A and access terminal
June 2018, Products, Access Control & Identity Management
The PA10 is a time and attendance and access control terminal with palm and fingerprint hybrid biometrics. The palm verification includes palm print and palm vein, so it not only is touchless, but also supports anti-spoof functionality. The BioID sensor possesses an outstandingly high identification rate towards dry, wet and rough fingers. TCP/IP, RS-485, PoE (optional) and Wi-Fi (optional) are also available which enable PA10 to be applied in different networks and various situations.
Features:
• Optional PoE and Wi-Fi functionality.
• Fingerprint and palm hybrid biometrics.
• Multiple verification modes: multi-verification methods (card is optional) providing user various choices.
• Full access control features: anti-pass back, access control interface for third-party electric lock, door sensor, exit button, alarm and doorbell.
For more information, contact ZKTeco (SA), +27 (0)12 259 1047, sales@zkteco.co.za, www.zkteco.co.za