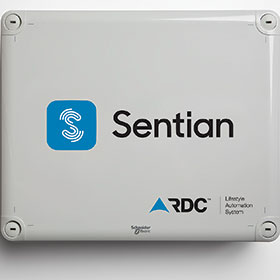 Sentian Lifestyle Automation System
June 2018, Products, Perimeter Security, Alarms & Intruder Detection
The Sentian 3i is an Internet-enabled smart security hub that connects existing alarm system, CCTV and automation, offering one simple place to control them all and allowing them to work together to solve problems they cannot solve individually.
Sentian will send the user a 12-second video clip showing exactly what triggered the alarm. It will even let users respond; they can push the panic button, open the gate for armed response and watch it live while they enter. They can turn on the outside security lights, disarm the alarm and bypass a sensor, all from a single app on their phone, from anywhere in the world.
Sentian is great for installers as it integrates with the products they already know and trust, like Paradox, DSC, Texecom, Hikvision, Dahua, TVT, Samsung, ONVIF, ET, Sherlotronics and more. It is a great upsell option for both existing and new clients, adding up to 20% to project profitability upfront and providing access to ongoing annuity income through the installer's share of the Sentian monthly service fee.
It is very easy to install, requires minimal training and adds very little extra time on site. Once installed, there will be fewer call backs as Sentian teaches users what triggers their sensors. Sentian is designed to enhance customer experience, reduce false alarm call-outs and support installation businesses.
For more information, contact Sentian, +27 (0)21 492 0777, www.sentian.co.za