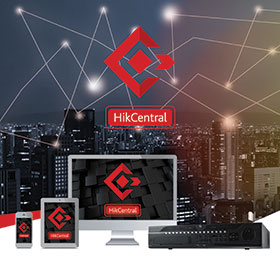 HikCentral software
June 2018, Products, CCTV, Surveillance & Remote Monitoring
When it comes to end-to-end CCTV surveillance solutions it's key to ensure that the software-to-hardware integration and inter-operability between the two is completely seamless. A successful surveillance solution is ultimately determined by its management platform and with the launch of Hikvision's new HikCentral Video Management Software (VMS) platform, this can easily be achieved.
The new VMS platform is compatible with the full range of Hikvision products and offers intelligent features such as facial recognition, face matching and searching, people counting and ANPR functions. In addition the HikCentral VMS platform supports the ONVIF open standard, making it compatible with all the mainstream brands and equipment that are ONVIF conformant. The HikCentral VMS platform offers a complete, open and intelligent video management solution for all applications, from large too small.
For more information, contact Regal, +27 (0)11 553 3300, hikvision@regalsecurity.co.za, www.regalsecurity.co.za