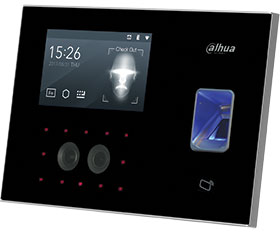 Dahua launches dual-biometric T&A terminals
June 2018, Access Control & Identity Management, Products
Dahua Technology has launched new time attendance terminals: the DHI-ASA4214F and DHI-ASA6214F. These intelligent devices will support both face and fingerprint identification for access control and time and attendance in office scenarios, enabling easy staff management and security control.
Fingerprint or face identification devices are commonly seen in today's workplace, but Dahua's attendance terminals offer dual-biometric identification integrated into a single device. Embedded with advanced infrared face recognition algorithms, these new time and attendance terminals further improve on poor lighting environment performance, making it smart enough to identify a face in a short time.
Access to live face detection significantly improves safety, preventing the use of 'picture camouflage' to deceive the system. If needed, you can add a card or password to the combination to make the whole system even safer.
Simple to operate
The new Dahua attendance terminals are easy to install. As the device supports both TCP/IP and Wi-Fi connection, users can choose wired or wireless connection according to their requirements. It also supports P2P added devices and third-party controller connection via Wiegand, allowing the property owner to build a comprehensive security system quickly and cost-effectively.
Moreover, the DHI-ASA4214F and DHI-ASA6214F can store up to 1000 faces and 3000 faces respectively, and both are able to hold 30 000 different card holders, 3000 fingerprint templates, and 150 000 transaction logs.
Powered by Dahua's Smart PSS system, the new Dahua attendance terminals support lock control, anti-pass back, interlock, first card, and six kinds of customisable attendance events, making it easy for users to personalise their security protocols under different circumstances. The devices also feature daylight saving time and NTP.