printer friendly version
Enhancing bus fleet operation
June 2018
CCTV, Surveillance & Remote Monitoring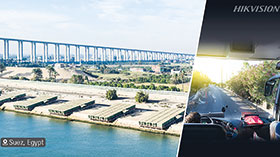 To secure effective security and management for its fleet of public service buses, the Suez Governorate in Egypt is now operating innovative mobile CCTV systems, supplied by Hikvision.
One of Egypt's 27 governates, the Suez Governorate in the northeast of Egypt has a population of over 600 000 residents, concentrated mainly in its urban areas. Supplying reliable low-cost travel across the region, the Suez Governate Public Transportation institution operates and manages its own bus service, with many public transit routes running mainly in and around its highly populated urban areas.
In a move designed to further increase the efficient operation of its bus service, Suez Governorate officials approached Caesar Security Services, a Hikvision Silver Value Added Solutions Partner (VASP), to advise on a suitable mobile CCTV solution that could provide reliable and effective surveillance coverage on-board its bus fleet.
Proven technology
Caesar Security Services was able to capitalise on direct access to Hikvision technical assistance to liaise on the best specification of surveillance products for the project. In addition, Hikvision provided technical personnel and evaluation products to enable a Power over Coax (PoC) demonstration of the proposed system to the Suez Governate Public Transportation institution's officials.
The PoC trial and direct manufacturer input from Hikvision ensured the technical suitability of the surveillance camera and recording technology specified was proven, and the client assured of its performance within the challenging bus environment. Additionally the trial allowed Caesar Security Services to test several different camera mounting positions and fields of view.
This gave Suez Governorate officials several camera scene options to choose from – ensuring the required scene coverage was exactly what they desired prior to the process of installation and commissioning. On approval and project go-ahead, Caesar Security Services installed the Hikvision based mobile CCTV solution on-board an initial 15 buses.
Mobile solution
Connected via coax cabling installed within the bus infrastructure, the specification for each bus included two Hikvision AE-VC211T-IRS mobile HD-TVI cameras, a Hikvision DS-MP7508 series mobile DVR, and a Hikvision DS-MP1301 LCD mobile monitor, allowing the bus driver to view live images from the system.
The Hikvision Mobile HD-TVI Cameras provide 1080p resolution via a 2-Megapixel progressive CMOS sensor and true Wide Dynamic Range (WDR). Additionally, the camera's tough construction ensures that the unit can handle exposure to the harsh vibration, temperature extremes and dust found in mobile vehicle environments.
Specifying the Hikvision DS-MP7508 Series Mobile DVR ensured simple installation and system set-up – minimising installation time and the time buses needed to be withdrawn from service for the installation to be completed. The DVR's tensile aluminium chassis construction with a no-fan design and aviation-grade connections all contribute to a long service life in the harsh mobile conditions.
Additionally, power-off protection and hard disk and SD card recording ensure the recorded images are secure – no matter what the situation. 4G pluggable wireless and built-in Wi-Fi modules provide flexible data transmission options, and ensure images can be viewed easily back at the Suez Governorate's central control room.
At the control room, system operators can view live and recorded images from each vehicle in the bus fleet 24/7. In the event of an incident, operators can review the live video footage, advise the driver directly or deploy an immediate managed response if necessary.
Should an incident be reported and require investigation, system operators can access footage wirelessly, directly from the bus's DVR, and view any recorded footage instantly in the control room. Additionally, driver behaviour is also being monitored – to improve their performance, help to protect them in the event of an incident and clarify their actions.
System success
Commenting on the success of the project, Mahmoud Abd El Rasol, general manager, Caesar Security Services said: "We specified Hikvision products because they meet our customer's requirements, providing HD imaging and reliability at a very competitive price."
Since the system has been in use, the Hikvision mobile technology has proved a great success for both staff and customers of the bus network. Gamal El Sherief, vice president, Suez Governance comments: "The system has brought our operation increased safety and security. It allows our operators to quickly detect security issues, monitor drivers and significantly reduce the number of problematic incidents. The system also allows us to control the service quality more accurately and ensure our buses do not become overcrowded at busy times by optimising bus allocation."
The initial deployment of Hikvision technology has been so successful that a second phase is now planned, expanding the same scalable Hikvision mobile CCTV solution system across a further 50 buses in the fleet, in addition to the installation of Hikvision LCD video wall technology at the busy Suez Governorate central control room.
For more information contact Janis Roux, Hikvision South Africa, +27 (0)10 035 1172, support.africa@hikvision.com, www.hikvision.com
Credit(s)
Further reading:
Efficient storage for security
Issue 7 2020, Dell EMC , CCTV, Surveillance & Remote Monitoring
There is a dramatic increase in the amount of storage and computing power required to support today's safety and security systems.
Read more...
---
Safe restaurant reopening technology
Issue 7 2020, Dahua Technology South Africa , CCTV, Surveillance & Remote Monitoring
Denmark's Arkaden Food Hall makes use of Dahua People Counting and Flow Control solution for safe reopening.
Read more...
---
Forbatt SA invests in South Africa's security industry
Issue 7 2020, Forbatt SA , CCTV, Surveillance & Remote Monitoring
Forbatt SA is set to offer an improved service to the industry by making sure it has the products and solutions the industry needs, as well as a new showroom.
Read more...
---
Professional device management for the installer/service provider
Issue 7 2020, Hikvision South Africa , Products
Hik-ProConnect is a convergent, cloud-based security solution that helps manage services for your customers and expand your business though subscription services.
Read more...
---
New Hikvision AcuSense solution
Issue 7 2020, Hikvision South Africa , Products
AcuSense series products are aimed to be the ideal choice for accessible and intelligent security systems.
Read more...
---
Cost-effective face recognition terminal
Issue 7 2020, Hikvision South Africa , Products
New face recognition terminal is an access control device integrated with a temperature screening function.
Read more...
---
Analytics with your existing cameras
Issue 7 2020, Secutel Technologies , CCTV, Surveillance & Remote Monitoring
With SecuVue from Secutel Technologies, it is possible for any business to monitor their offices, warehouses or stores remotely, from any part of the world.
Read more...
---
Consolidating control rooms and service delivery within a COVID-19 environment
Issue 6 2020, Leaderware , CCTV, Surveillance & Remote Monitoring
It is essential to have informed, coordinated and professional responses within control rooms at this time of increasing turmoil.
Read more...
---
Technology driving the healthcare industry
Issue 6 2020, Duxbury Networking , CCTV, Surveillance & Remote Monitoring
Seeing cameras as sensors opens up new possibilities, and each one of them responds to typical demands inside a hospital, clinic or nursing home.
Read more...
---
Turn cameras into traffic sensors
Issue 6 2020, Duxbury Networking , CCTV, Surveillance & Remote Monitoring
Safer communities and cities are achieved through a mixture of technology and human resources, working together in a holistic manner.
Read more...
---