printer friendly version
Optex: beyond Infinity
April 2013
News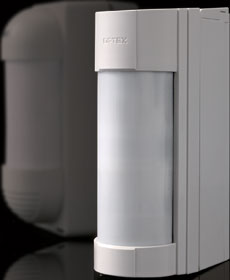 Few companies within the highly competitive global security industry can boast growth figures in the quadruple percentage range for their product sales in just four years. Optex can.
It can also lay claim to being one of the world's leading manufacturers of outdoor detectors on the back of the results of a recent Japanese study in which its new Infinity series outperformed all competition in the arenas of detection time and sensitivity.
Founded in 1979, Optex introduced the infrared-based automatic door sensor to the world – the first of its vast and impressive range of security product chart-toppers that today include entrance systems, factory automation, instrument measuring and transportation safety.
Says Zane Greeff, technical director of Elvey Security Technologies: "As one of Africa's foremost distributors of electronic security equipment, we only recommend and stock the world's best products. Reliability and quality are key attributes of any product in our stable, which is why we have no hesitation in recommending Optex to our clients. Optex products are the industry benchmark for technical excellence, dependability and innovativeness, and they represent an investment in performance and long-term satisfaction."
Benjamin Linklater, EMEA business development manager for Optex, summarises the company's vision. "Optex's purpose is to make a continued and meaningful contribution to society by creating a secure, safe and comfortable living environment. Accordingly, we are committed to providing solutions to the challenges and uncertainties that people face in the course of everyday life. Our success lies in our original approach to problems along with our technical capabilities that span more than 30 years."
While other companies might rest on their laurels at this point of success, this is not an option for Optex. "Optex continues to set itself apart from the competition by introducing new products and services focused on reducing installation times and labour costs, which we believe are critical to integrators and security consultants wanting to provide their customers with the best possible solutions to their security needs," says Linklater.
Accordingly, Optex is poised for additional growth through its use of advanced detection technology and problem-solving know-how, he continues. "The rapid progress of sensor and peripheral device technology allows for innovation well beyond the traditional field of crime prevention. This is the motivation behind our latest growth strategy, which incorporates further technological advancements as well as the expansion of our sales routes and the development of new business – all while simultaneously embracing change."
The Infinity arrives
Optex's VX Series took the world by storm in 1996. In no time, it became the international benchmark for outdoor intruder detection and early warning systems, according to Linklater, who says sales volumes soared by overwhelming and unheard of numbers within the first 48 months and continued on this path year on year.
After an impressive 16-year run, however, the day has dawned for the award-winning VX to undergo a technological facelift. According to Linklater, it will be replaced by the Optex Infinity, which has the same functionality of the VX40 as well as a range of new features. "The Infinity is a super detector," he says proudly, pointing out features such as vegetation sway analysis logic, close range proximity detection, flexible lens patterns and anti-masking options for the preventions of detector sabotage in high risk environments.
Hugely flexible, the Infinity offers 12m x 90 degree adjustable detection patterns, five ready-to-use masking seal options and a distance range of 12 m, 8,5 m, 6 m, 3,5 m and 2,5 m. "The Infinity series can be transformed to suit individual needs," explains Greeff. "Unwanted areas such as swimming pools and walkways can be easily blocked out using the masking seals, which also allow for 'V-shaped' protection. In this instance, the 'V' is covered up to 12 m while leaving the inside area unprotected, which is ideal for pools. Other masking seal options cater for 5 x 10 m protection, which is perfect for driveways, 1,5 x 10 m protection for narrower walkways and 12 x 2 m protection for balconies and corridors."
The Infinity employs Optex SMDA (Super Multi-Dimension Analysis) logic which, notes Greeff, significantly reduces false alarm rates and missed detections. This allows the detector to analyse environmental changes such as temperature or noise and then choose the most appropriate detection trigger from a table of several hundred options.
Another impressive feature is its double conductive shielding on the element window, which provides bright light disturbance immunity while allowing infrared energy to pass through it. It also boasts a size judging function, which virtually eliminates false alarms caused by small animals and other moving objects such as vehicles.
National road shows
Elvey Security Technologies is hosting a national road show to introduce the powerful, versatile new Infinity detector to South African installers. Please phone your nearest Elvey branch for more details.
For more information contact Elvey Security Technologies, +27 (0)11 401 6700, [email protected], www.elvey.co.za
Credit(s)
Further reading:
Johnny Aucamp joins iPulse exco
News
Johnny Aucamp has joined iPulse Systems as its chief sales officer (CSO), adding a massive boost to the executive team.
Read more...
---
From the editor's desk: Security and resilience
Technews Publishing News
It's often said that South Africans are a resilient bunch, and history has proven this correct. When it comes to security, both cyber and physical, resilience is key to an effective defensive plan. ...
Read more...
---
Hikvision aims for solutions
Technews Publishing Hikvision South Africa Editor's Choice CCTV, Surveillance & Remote Monitoring News Integrated Solutions Conferences & Events
Hikvision recently held a roadshow titled Industry X, where the company highlighted its latest products and solutions, supported by partners and distributors.
Read more...
---
Olarm launches PRO 4G communicator
Olarm News Perimeter Security, Alarms & Intruder Detection Products
Olarm has announced an additional 4G/LTE version of its Olarm PRO smart communicator. It is aimed at areas suffering from poor connectivity by providing support for 4G, 2G and Wi-Fi networks.
Read more...
---
ADI Expo returns to South Africa
Technews Publishing ADI Global Distribution News
September saw the return of the ADI Expo to South Africa. The Johannesburg event was held at the Focus Rooms and the Durban event, two days later, at the Southern Sun Elangeni & Maharani.
Read more...
---
Technoswitch Awards dinner for 2022
Technews Publishing News Fire & Safety
Technoswitch hosted its fifth awards dinner at Montecasino in September, where customers and suppliers celebrated a year of success.
Read more...
---
Suprema joins FiRa Consortium
Suprema News Access Control & Identity Management
Suprema recently became a member of the FiRa Consortium, a consultative body that establishes standards for ultra-wideband (UWB) technology, the next generation of wireless communication.
Read more...
---
Reliable, low-maintenance video appliances
Technews Publishing Editor's Choice CCTV, Surveillance & Remote Monitoring News IT infrastructure Products
Symetrix, part of the Agera Group, has added the AES range of video recording servers, storage appliances and workstations to its portfolio.
Read more...
---
ZYTEQ Fire Engineering Summit 2022
ZYTEQ Fire Fire & Safety News
Cape Town-based ZYTEQ Fire hosted its inaugural Engineering Summit at the Commodore Hotel in Cape Town and the Leonardo Hotel in Sandton, Johannesburg.
Read more...
---
Nomad launches early adopter programme
Editor's Choice News Integrated Solutions Smart Home Automation
Participants in Nomad's Early Adopter Programme will receive 10% of their volume order to facilitate testing before the commercial launch later this year.
Read more...
---