printer friendly version
Rugged device thwarts criminals
June 2018 Security Services & Risk Management, Integrated Solutions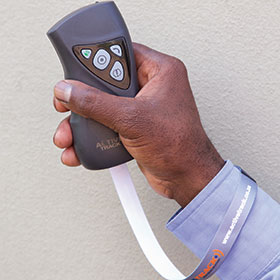 Founded in 2014, Active Track is a focused personnel management service provider to a variety of industries, with particular emphasis on the security, construction, cleaning, mining, healthcare, retail and entertainment sectors. A spike in crime prompted the need for a robust device that could withstand the arduous conditions found specifically in the construction and security environments and which would not only provide protection for customers, but also for the people using the devices.
The Active Track and FPX10 technology is made and manufactured by EBS Sp.z o.o in Poland and Active Track is the sole distributor for Africa, with a presence in 11 countries. The company's Casey de Villiers says that the company is actively extending its footprint throughout the continent.
Colleague Steve Boulton says that there have been a number of diverse instances where the technology has shown its mettle. In 2016 a warehouse was looted and the perpetrators, armed with AK47 rifles, physically restrained the guards. "One of the guards had an Active Track device in his possession. During the attack he dropped the device and the shock sensor was activated. This triggered an automatic alarm in the 24-hour call centre which then placed a silent call to the device, allowing the control room operator to listen in on the device and send a response team to the scene."
Not only can the device pinpoint exactly where the guard is and alert security response units to take appropriate action, but RFID distress tags placed on site at specific checkpoints play an active role in securing the guard and the assets he is protecting. During a patrol, the guard is required to scan neutral tags but to exclude the distress tag. However, if he is being held under duress and scans the distress tag, it will automatically send an alert to the control room, with the exact location pinpointed to enable the correct response.
Not only are the devices waterproof but they are also vandal-resistant and tamperproof. In fact, when tampering is attempted, an instant alert is sent to the client and the control room via SMS.
The Active Track is a simple device in terms of operability and requires the minimum amount of training before guards can use it effectively and from the client's perspective, it is simply a matter of plug and play, with minimal setup required. The device's battery provides up to 72 hours of operation. This is particularly important in security environments and especially where sites are often remote with little access to charging facilities.
"Apart from the obvious physical benefits of the devices, Active Track has an additional differentiator in the market. We have an all-inclusive rental fee. This means that clients are not charged for SMSs sent from the control room or back to the control room from the device and they also do not pay for callouts or training. Included in the fee are extensive reporting capabilities which have been developed specifically for the African market. Software upgrades and ongoing development are covered by the rental cost to ensure that clients have access to the latest technology. All consumables, for example batteries are also replaced at no cost," De Villiers points out.
Staying in communication
Boulton says that the Active Track device is proving extremely popular with the mining fraternity, providing communication even when connectivity underground is as little as 7%. GSM-enabled for calls strictly to preset numbers, the device provides two-way voice communication between the guard and the control room.
A 'Call me' button on the device will send an SMS to the client or designated manager, or to the control room. This function eliminates the need for the guard to carry a cellphone, which ensures that collusion is eliminated. When the device is called back, it will be automatically answered and the guard can take action.
The 'man down' function on the device kicks in when no guard movement has taken place for some time or a checkpoint has been missed. An alarm is triggered and the appropriate action can be taken.
The device is also RFID and GPS enabled, allowing the GPS receiver to compute a position within seconds, even under poor signal conditions. The real-time monitoring system allows management or the control room to quickly and accurately locate guards or staff members at any given time.
In control
All Active Track devices are supported by ActiveView, a web-based portal that is operable from either the control room or a smart device. All alarms are fed into this portal and it automatically receives all reports on events and the actions taken.
The Active Track 24-hour monitoring and support centre is manned by a team that has received extensive training on the ActiveTrack devices, on how to respond to alarms and panic alerts and how to correctly and efficiently deploy armed response units.
Clients who wish to have a dedicated control room are provided with the service at a minimal additional charge to their monthly rental fee. The control room is manned with trained controllers and adds an additional level of sophistication to their business operations.
"Active Track has a large variety of clients from eco lodges, to national keypoints and rural clinics for example. We can measure guard performance according to either the client's SLA or an SLA designed and drawn up by our team," De Villiers says.
For more information contact Active Track, +27 (0)11 551 1687, [email protected], www.activetrack.co.za
Credit(s)
Further reading:
Employee screening trends
iFacts Security Services & Risk Management
Criminal record checks still the most popular background check conducted around the world, but global employee screening trends are changing according to iFacts.
Read more...
---
South African business readies for a journey to the cloud
Security Services & Risk Management
There is an increasing demand for cloud services in the country, driven by the need to use advanced technologies such as AI while also providing hybrid workers access to data, regardless of their location.
Read more...
---
What to do in the face of growing ransomware attacks
Technews Publishing Cyber Security Security Services & Risk Management
Ransomware attacks are proliferating, with attackers becoming more sophisticated and aggressive, and often hitting the same victims more than once, in more than one way.
Read more...
---
Texecom launches the Midnight Black Collection
Technews Publishing Perimeter Security, Alarms & Intruder Detection Products
Working in harmony with darker environments, the Midnight Black Collection has been created for businesses and sites that require or prefer a security solution which offers discreet protection that compliments their surroundings.
Read more...
---
SAN market set for growth
Technews Publishing News IT infrastructure
Storage-area network (SAN) market to hit US$ 26,86 billion in revenue by the end of 2029 due to factors like widespread adoption of Hybrid SAN-NAS solutions.
Read more...
---
Optimising remote technical support
Technews Publishing Asset Management, EAS, RFID Products
Sanden Intercool Kenya improves efficiency, removes manual processes with FIELDForce from MACmobile, making its technical backup and support staff more productive, while also optimising record keeping.
Read more...
---
South Africa can accelerate its move to smart cities
Security Services & Risk Management
What global smart city leaders have in common is that they have built on, and developed existing infrastructure, transforming it iteratively; South Africa is well positioned to adopt this approach.
Read more...
---
Where does SA logistics stand as far as cybersecurity is concerned?
Logistics (Industry) Security Services & Risk Management
Lesiba Sebola, director of information technology at Bidvest International Logistics, says it is paramount to safeguard IT infrastructure given how central it has become to operations.
Read more...
---
Free-to-use solar score for South African homes
Technews Publishing Editor's Choice
The LookSee Solar Score is one of the first of its kind to provide insight into the potential of solar power for South Africa's residential properties.
Read more...
---
CA Southern Africa unmasks container security
Technews Publishing IT infrastructure Cyber Security
Adoption of software containers has risen dramatically as more organisations realise the benefits of this virtualised technology.
Read more...
---