printer friendly version
The story behind an SA-made home automation solution
June 2018 Perimeter Security, Alarms & Intruder Detection, Security Services & Risk Management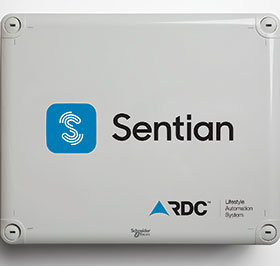 It is a familiar story to many South Africans: boy meets girl, boy and girl marry, buy a house in a leafy Johannesburg suburb, get broken into, spend a fortune on home security, then get woken up by a false alarm every second night. When Tigue Little found himself in this position, he had an idea for turning frustration into opportunity, and three years later he and business partner Trevor Lewis formed the company Sentian.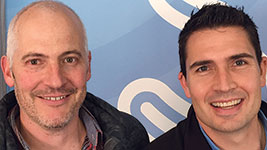 Trevor Lewis & Tigue Little.
"The persistent false alarms led to many sleepless nights and prolonged conflict with my security installer – in my mind the over-sensitivity of the system was a fault," Little explains. "In the end I decided there must be a better, high-tech solution that wouldn't have me stumbling out of bed at 2 am with a baseball bat and into possible danger."
Lewis and Little started Sentian five years ago, and two years later the first version of the Sentian i3 was built. The full solution is a 'brain' for home security, and comprises hardware, embedded software, a cloud service and user app. It plugs into the power and home network, and can connect to existing alarm systems and off-the-shelf CCTV cameras.
That last point is crucial in terms of differentiating Sentian from other solutions, says Little: "Alternatives coming from overseas are more focused on securing the interior of the property, and require that the homeowner rip out and replace their existing security equipment. Central to our system is giving the user the ability to use their existing infrastructure, and interface seamlessly with the Sentian i3."
The way the system combats false alarms is by means of visual verification: when an alarm is triggered, a 12 second video clip (6 seconds before and 6 seconds after the trigger) showing the relevant area is sent to the app on the user's smart device. When the device is connected directly to the home network, the clip is pushed directly to the device, but cloud capability means the user will receive it from anywhere in the world where they have Internet connectivity.
Once notified of an alarm, the user can view the video to ascertain whether it is genuine, and if so can elevate it to their security company via the app's panic button feature. The app allows for live-streaming from any camera connected to the home's network, as well as the ability to search through archive footage by event.
Over and above the security and alarming aspect, Sentian's system boasts home automation capability such as gate control and more. "This gives the homeowner another layer of functionality," explains Little, "so once the security officers arrive, you can open the gate for them, switch on outside lights to help illuminate the area, observe their movements, etc. After an event, the app can be used to bypass a triggered sensor and reactivate the alarm, from the safety of your own bedroom or indeed from anywhere else in the world."
Sentian's integration with CCTV cameras is achieved by accessing the RTSP stream and supports ONVIF capable cameras from all the major brands, as well as HD analogue cameras. On the home automation side, the Sentian i3 hardware has baked-in support for the same RF technology ubiquitously used for gate and garage door controls, in addition to support for Z-Wave devices; support for Yale smart locks is currently in the works.
To extend its market penetration, Sentian has entered into a distribution agreement with TPA Distributors and a technology partnership with Radio Data Communications (RDC). "Our solution is currently supported by installers in Cape Town and Johannesburg, and we are inviting alarm and CCTV installers to partner with us to roll it out across the rest of the country. Installers will find that our solution offers them financial benefits and up-selling opportunities, requires minimal installation time and training, and integrates with products they already know and love," Little concludes.
For more information contact Sentian, +27 (0)21 492 0777, info@sentian.co.za, www.sentian.co.za
Credit(s)
Further reading:
Three new portable power stations to ease load shedding
News Security Services & Risk Management Products
EcoFlow has launched three portable power stations that provide sufficient power for consumers wherever they are; the DELTA 2 and RIVER 2 Series are feature-filled power solutions to the volatile electricity supply.
Read more...
---
You cannot bribe a computer
Access Control & Identity Management Security Services & Risk Management
Corruption is a cancer that destroys the prospects and stability of countries and businesses. It widens wealth gaps and punishes the poor. It costs countries many billions in lost revenue.
Read more...
---
How much protection does cyber insurance really give businesses?
Cyber Security Security Services & Risk Management
If organisations don't meet even the minimum requirements of security and data protection, insurance will do them little good. Instead, it needs to be just one part of the digital resiliency toolbox.
Read more...
---
Off-grid power solution for residential estate
Editor's Choice Security Services & Risk Management Residential Estate (Industry) Products
Coral Beach Estate, an upmarket residential estate based in East London, has been struggling with load shedding and power outages due to South Africa's energy crisis, as well as the vandalism of its power infrastructure.
Read more...
---
SafeCity Guarding rolls out across 14 suburbs in Johannesburg
News Security Services & Risk Management
In a major drive to provide communities across Johannesburg with additional safety, Vumacam, in partnership with Fidelity ADT and other security providers across the region, rolled out the innovative SafeCity Guarding initiative in 14 suburbs.
Read more...
---
FleetDomain underpins Afrirent's value proposition
Logistics (Industry) Security Services & Risk Management
Afrirent, a 100% female black-owned fleet management company, has been relying on FleetDomain software for a number of years to help it deliver outstanding service to a growing number of clients.
Read more...
---
IoT users' cybersecurity outlook
Smart Home Automation
A new global survey conducted by Kaspersky 'The smart home of almost everything: From the fridge to TV, how we'll embrace the year of the virtual assistant in 2023', explores the key digital habits, obstacles and smart home device usage.
Read more...
---
Keeping students, staff and communities safe
Vumacam News CCTV, Surveillance & Remote Monitoring Security Services & Risk Management
South African schools are facing increasing security challenges, making effective surveillance systems more important than ever. To address this issue, Vumacam is offering advanced security solutions with security partners, aimed at keeping students, staff, and the community safe.
Read more...
---
Technology is key to securing physical and cybersecurity
Education (Industry) Security Services & Risk Management
The interpretation of security in educational institutions depends on whom you are talking to and whether their focus is on the physical security of the institution, its assets and its people, or its information and communication technology perspective.
Read more...
---
Recession? Do not skimp on cybersecurity
Cyber Security Security Services & Risk Management
While economists are studying their crystal balls, businesses have to prepare for the worst, and preparing for a recession means cutting costs and refocusing resources; however, they must ensure they do not end up creating an enormous risk.
Read more...
---