printer friendly version
Ready for 2030?
June 2018
Training & Education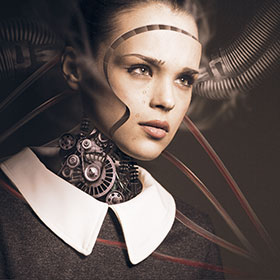 If your child is in Grade R this year, they will matriculate in 2030 and be thrust into a world so different to the one we are living in today that unless we prepare them for the future unseen, the current rapid developments in technology will cause economies to slip behind and inequality to widen. We are talking about the Fourth Industrial Revolution (4IR), and with the rise of universal broadband access, artificial intelligence and robotics, it's right on our doorstep. But is the African child being prepared for it?
We stand on the brink of a technological revolution that will fundamentally alter the way we live, work and relate to one another – across every industry in every country. It will be characterised by the blending of innovations across physical, digital and biological spheres affecting production, management and government.
Minister Rob Davies from the Department of Trade and Industry says: "We are entering an era, and probably are already in it, in which the premium for innovation has become significantly raised. While innovation had always been important, it is now even more important. We need to prepare ourselves as a country. Industry 4.0 will cause disruptive change in manufacturing, not just incremental change."
Afrika Tikkun's Early Childhood Development (ECD) expert, Vanessa Mentor, adds: "Afrika Tikkun's main objective is to develop and uplift young people in underprivileged communities, and we achieve this with education. We believe that every young person deserves the opportunity to be the best that they can be, and how would we achieve this if we, ourselves, are not moving with the times? Thus it is one of our early childhood development priorities to prepare our children for the fourth industrial revolution. It is absolutely essential that from the earliest age, young people learn ICT skills and are taught to navigate their way through basic coding and all things digital. More than this, however, is teaching innovation as a value, and a mindset – in that we learn continually to approach our unique and global needs with a perspective that asks, how can we innovate, adapt, invent (and ultimately monetise that invention)?"
Including more and more technology to children from the Early Development Stage is important, but Mentor also emphasises the strides the organisation is making through introducing Lego play into the learning and teacher training programme. Lego teaches creativity, problem solving, engineering and maths skills. The Lego Foundation is partnering with Afrika Tikkun to re-imagine learning for the fourth industrial revolution.
Afrika Tikkun spoke to head of content at Flux Trends, Tumelo Mojapelo, on how the company can ensure children in South African townships are prepared for this new brave world.
"Currently, South Africa is known as a middle-income economy – we are not in the same category as the most developed and wealthy nations of the world," Mojapelo explains, "but this also means that there is tremendous scope for growth and for innovation. Young people are future-ready, and companies should know that the young people of today already have the skills and social capital needed to embrace the tech revolution and help those who are older than them to do so."
Essential skills for 2030
According to a report by Accenture, the Industry 4.0 revolution will take over up to 35% of all jobs in South Africa. This change will be seen in the white-collar and blue-collar job tiers. Many routine physical and clerical jobs for humans will be replaced by software or robots. Ultimately, even the jobs of lawyers, surgeons and engineers will be replaced by technology. Accenture further indicated that 75% of activities required by these jobs would be taken over by machines between now and 2026/2030.
The top ten skills that will be required are: complex problem solving, critical thinking, creativity, people management, coordination (team work), emotional intelligence, cognitive flexibility, negotiation and resilience, service orientation, and any other IT skills.
Sought-after jobs in 2030
Artificial intelligence and robots will first replace jobs or functions in industries that require jobs with hard skills first (i.e. clerical work, bookkeeping, cashiers, bank tellers, construction, cooking, mining maintenance etc.); however, jobs that require more soft skills (i.e. etiquette, creativity, spontaneity, courtesy, respect, intuition etc.) might be more difficult to replace. This does not mean that the technology will not eventually get to that point. There is already artificial intelligence that can mimic soft skills and will shift from being narrow to general whereby devices will process and predict what you need by using data collected from biometric technology, apps and your previous activities across the Internet of Things (IoT).
The jobs that will be sought after will be determined by the current tech industry developments that are taking over (i.e. 3D printing, drones, virtual reality, augmented reality, the IoT, robotics and artificial intelligence etc.). This also means that there will be jobs that are much more sought after to help humans and robots work together, and help humans redefine their role in this new society (i.e. sustainability manager, climate change reversal specialist, body-part makers, nano-medics, GM farmer, elderly wellness consultant, memory augmentation surgeon, science ethicist etc.).
"It will be more valuable for you to be human – the empathetic kind person will be rewarded in a society where the population is ageing and where robots cannot fulfil the role of nurturer in society," says Mojapelo.
"These insights are really just the beginning and more will be revealed as time goes by, but we must always keep our finger on the pulse if we are to do what's right for our young people and cultivate a future world that works for us all," concludes Mentor.
For more information on Afrika Tikkun and their initiatives call +27 (0)11 325 5914, email info@afrikatikkun.org or visit www.afrikatikkun.org
Further reading:
Mastering security awareness in the digital era
Risk Management & Resilience Training & Education
Human error and lack of security awareness remain the first security threat. Companies must consider the importance of managing employee cyber risk and the significance of training and awareness programmes.
Read more...
---
Preparing young entrepreneurs
News & Events Training & Education
Liquid Intelligent Technologies SA recently announced that its Youth Empowerment Programme is successfully preparing young South Africans with the skills they need to succeed in a digital future.
Read more...
---
Free South Africa Market Report webinar from TAPA EMEA
Technews Publishing Editor's Choice News & Events Transport (Industry) Training & Education Logistics (Industry)
October 2023 offers TAPA EMEA members and non-members opportunities to increase their knowledge of cargo crime and supply chain security risks in three countries in Europe, the Middle East & Africa region, where supply chains are most targeted by both organised crime groups and other offenders.
Read more...
---
Empowering the new team of trailblazers in cybersecurity
News & Events Information Security Training & Education
Fortinet is committed to creating more opportunities for women in cybersecurity in South Africa as it actively fosters a culture of inclusion by expanding access to training and career advancement through its training institute.
Read more...
---
Digital transformation is dependent on engaged leaders
Training & Education Infrastructure
Having a digitisation strategy in place is the starting point, but to truly activate a digital transformation programme, organisations need a strong leadership team that has acute self- awareness, and can positively contribute and direct their influence toward the people affected by change.
Read more...
---
A golden opportunity for young South Africans
Training & Education
Doros Hadjizenonos, Regional Director for Southern Africa at Fortinet, believes that young South Africans can benefit from the current cybersecurity skills gap and turn it into a lucrative and satisfying profession.
Read more...
---
The latest security trends at Securex South Africa 2023
Securex South Africa News & Events Conferences & Events Training & Education
Security technology evolves at a blistering pace, so it's important to keep up to date with changing trends in order to ensure maximised safety of human and personal assets. The Securex Seminar Theatre, powered by UNISA, is the place to be.
Read more...
---
Security awareness training
Training & Education Security Services & Risk Management
It is critically important to have a security awareness solution that uses the limited time available to train effectively, and one that provides targeted education that is relevant to users.
Read more...
---
Plugging the South African skills drain
Training & Education News & Events
Investing in young South African talent has become critical as skills slip out of the country; there has to be talent to fill the gaps of tomorrow by investing in the people of today.
Read more...
---
Hundreds of installers join the Paxton Tech Tour
Paxton News & Events Training & Education
Paxton began the Paxton Tech Tour in February, with hundreds of installation companies and installers signing up to the half-day product experience event in order to develop knowledge and explore business opportunities with Paxton's products and services.
Read more...
---