printer friendly version
SA fraud statistics confirm higher levels of crime
June 2018 Editor's Choice, News, Security Services & Risk Management, Retail (Industry)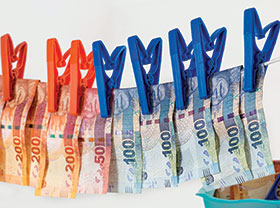 Once believed to be the domain of government, high level economic crime has become more common in the corporate arena with exposure of the wrongdoing of many reputable companies such as Bell Pottinger, McKinsey, KPMG and more recently, Steinhoff.
This level of economic crime has reached staggering heights and trust among the average citizens of the country has been eroded. According to the Global Economic Crime and Fraud Survey (2018) conducted by PWC, South Africa's rate of reported economic crime at 77% is higher than the global average at 49%.
Reputational risk associated with fraud and economic crimes, the survey said, has led to an increase in demand for accountability in both public and private sectors in addition to the normal compliance issues. The report claimed business misconduct and consumer fraud have also increased within the past two years. Of respondents, 28% indicated they had been the victim of business misconduct, while 29% of respondents had experienced fraud.
The report says fraud committed by consumers ranks as the second most reported crime in South Africa and that CEOs and boards are increasingly being held accountable for economic crime. Statistics supplied by the South African Fraud Prevention Service (SAFPS) show a similar trend, says Manie van Schalkwyk, head of SAFPS.
SAFPS is a not-for-profit organisation that facilitates a database for member organisations to list confirmed fraud information. The organisation also assists consumers who are victims of identity fraud or offer additional protection for consumers whose identity was compromised. (Protective Registration). These consumer services are free of charge.
New fraud listings on the SAFPS database increased by 56% in 2017 while victim listings were up by 52% in 2017.
According to SAFPS, males make up 70% of the fraudsters and fall in the 26 to 35 age group. Female victims of fraud calculate to 33% with most in the 36 to 45 years old age segment. In terms of Protective Registration, the gender split is more even, with females representing 46% and males 54% in 2017. The age group across gender is the 36- to 45-year-olds who mostly register for the service.
With regard to cases filed, SAFPS says, the highest category of fraud was in 'forged documents'. The second highest category of fraud is in Employment Application Fraud. The sector most affected by fraud is banking with micro finance, furniture retail, clothing retail, asset finance and telecoms also affected, says Van Schalkwyk.
SAFPS members reported savings of more than R2.3 billion in 2017, which is an increase of 17% compared to the previous year. These savings are directly attributed to using the SAFPS database, and members on average save R249 for every R1 spent with SAFPS.
Van Schalkwyk agrees, "There is a greater awareness around fraud which has helped to increase the rate of reporting and boosted stats in this area. There has also been training on compliance with the SAFPS Code of Practice which encouraged members to pay more attention to reporting.
In addition, "Victim awareness has increased substantially due to the proactive use of the media to make consumers more aware. Again, we stress the need for a collaborative effort from all stakeholders – banks. retailers, consumers, risk assessors – to ensure that fraudulent activities are identified and minimised."
SAFPS help line: 0860 101 248.
Further reading:
Security risk and the sum of small things
Leaderware Editor's Choice
Dr Craig Donald advises that the small things we often write off as unimportant can quickly scale to become serious threats to security and safety.
Read more...
---
Be aware of privacy and cybercrimes issues
Security Services & Risk Management Cyber Security Retail (Industry)
Artificial intelligence (AI) is being deployed to help shoppers make better choices, but retailers must be aware of their obligations under personal privacy and cybercrimes laws.
Read more...
---
IDEMIA and Ideco demonstrate their value stacks
Technews Publishing Ideco Biometrics IDEMIA Conferences & Events Access Control & Identity Management News
Ideco and IDEMIA recently hosted a travelling show where attendees were given an update on the companies, as well as the full value stack they offer.
Read more...
---
Sustainability, trust and predictability
Technews Publishing Bosch Building Technologies Conferences & Events CCTV, Surveillance & Remote Monitoring News Integrated Solutions
The future for Bosch Building Solutions is focused on predictive solutions based on sustainability and trust in an AIoT world of cloud services.
Read more...
---
Specialised surveillance and communications
Technews Publishing Editor's Choice News Integrated Solutions Residential Estate (Industry)
Hi-Tech Security Solutions spoke to Arcanum Africa's Peter Stolwerk and Aaron van Schaik to find out a bit more about the company and the unique products it is bringing to the local market.
Read more...
---
From Hill Street Blues, to Hillbrow, to managing risk for BMW
Technews Publishing Editor's Choice News Security Services & Risk Management
Jane-Eleanor Morrison's success story starts from growing up in the stressful pre-democracy times in KZN, moves through a successful career in SAPS. to BMW South Africa where she is now the risk control manager.
Read more...
---
Locally designed lock designed to stay locked
Editor's Choice
The new Blade Lock makes it close to impossible to break a lock by conventional means; combined with the Smart Gate, your security behind the door is certain.
Read more...
---
Water deluge fire suppression system
FS Systems Editor's Choice Fire & Safety Mining (Industry) Products
The FS Group custom-designed and installed an electronically actuated water deluge fire suppression system for an underground explosives magazine, ensuring both the safety of miners and operations, as well as regulatory compliance.
Read more...
---
Schneider Electric launches training course
Training & Education News
Schneider Electric launches training course through Trace Academia app with the aim of reaching millions of African youths.
Read more...
---
A cyber security mesh platform underpins an interconnected digital world
Editor's Choice
In a world of interconnected people, devices, networks and applications, a cybersecurity mesh platform is the answer to mitigating ever-present cyber risks.
Read more...
---