printer friendly version
SA fraud statistics confirm higher levels of crime
June 2018 Editor's Choice, News, Security Services & Risk Management, Retail (Industry)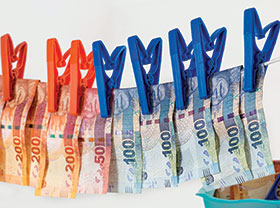 Once believed to be the domain of government, high level economic crime has become more common in the corporate arena with exposure of the wrongdoing of many reputable companies such as Bell Pottinger, McKinsey, KPMG and more recently, Steinhoff.
This level of economic crime has reached staggering heights and trust among the average citizens of the country has been eroded. According to the Global Economic Crime and Fraud Survey (2018) conducted by PWC, South Africa's rate of reported economic crime at 77% is higher than the global average at 49%.
Reputational risk associated with fraud and economic crimes, the survey said, has led to an increase in demand for accountability in both public and private sectors in addition to the normal compliance issues. The report claimed business misconduct and consumer fraud have also increased within the past two years. Of respondents, 28% indicated they had been the victim of business misconduct, while 29% of respondents had experienced fraud.
The report says fraud committed by consumers ranks as the second most reported crime in South Africa and that CEOs and boards are increasingly being held accountable for economic crime. Statistics supplied by the South African Fraud Prevention Service (SAFPS) show a similar trend, says Manie van Schalkwyk, head of SAFPS.
SAFPS is a not-for-profit organisation that facilitates a database for member organisations to list confirmed fraud information. The organisation also assists consumers who are victims of identity fraud or offer additional protection for consumers whose identity was compromised. (Protective Registration). These consumer services are free of charge.
New fraud listings on the SAFPS database increased by 56% in 2017 while victim listings were up by 52% in 2017.
According to SAFPS, males make up 70% of the fraudsters and fall in the 26 to 35 age group. Female victims of fraud calculate to 33% with most in the 36 to 45 years old age segment. In terms of Protective Registration, the gender split is more even, with females representing 46% and males 54% in 2017. The age group across gender is the 36- to 45-year-olds who mostly register for the service.
With regard to cases filed, SAFPS says, the highest category of fraud was in 'forged documents'. The second highest category of fraud is in Employment Application Fraud. The sector most affected by fraud is banking with micro finance, furniture retail, clothing retail, asset finance and telecoms also affected, says Van Schalkwyk.
SAFPS members reported savings of more than R2.3 billion in 2017, which is an increase of 17% compared to the previous year. These savings are directly attributed to using the SAFPS database, and members on average save R249 for every R1 spent with SAFPS.
Van Schalkwyk agrees, "There is a greater awareness around fraud which has helped to increase the rate of reporting and boosted stats in this area. There has also been training on compliance with the SAFPS Code of Practice which encouraged members to pay more attention to reporting.
In addition, "Victim awareness has increased substantially due to the proactive use of the media to make consumers more aware. Again, we stress the need for a collaborative effort from all stakeholders – banks. retailers, consumers, risk assessors – to ensure that fraudulent activities are identified and minimised."
SAFPS help line: 0860 101 248.
Further reading:
Platforms and community lead the future
May 2019, Milestone Systems , Editor's Choice, CCTV, Surveillance & Remote Monitoring, News, Integrated Solutions
Milestone Systems took a look into the future of open platforms and the power of community at MIPS EMEA in Copenhagen in March this year.
Read more...
---
30 years of business continuity
May 2019, ContinuitySA, Technews Publishing , Editor's Choice, Security Services & Risk Management
ContinuitySA is celebrating its 30th anniversary this year and Hi-Tech Security Solutions spoke to CEO Michael Davies about the changes he has seen in the business continuity and disaster recovery markets.
Read more...
---
The consequences of false alerts
May 2019, Leaderware , Editor's Choice, CCTV, Surveillance & Remote Monitoring, Integrated Solutions
Craig Donald discusses the impact of false alarm rates on the utility of intelligent security technology systems.
Read more...
---
The enemy within – insider ­security threats
May 2019, Wolfpack Information Risk , Editor's Choice, Cyber Security, Financial (Industry)
Insider threats in today's financial world are insidious and destructive and your defence against insiders should start long before the person assumes his/her position.
Read more...
---
Protecting people's money, and their data
May 2019, Cathexis Technologies, CA Southern Africa, IDEMIA , Editor's Choice, Integrated Solutions, Financial (Industry)
The temptations inherent to the banking sector, and financial institutions more generally, pit them in an eternal and increasingly high-tech battle to secure themselves against threats from within and without.
Read more...
---
Access authentication with a wave
May 2019, IDEMIA , Editor's Choice, Access Control & Identity Management, Integrated Solutions, Financial (Industry), Commercial (Industry)
Financial organisations are making the move to contactless fingerprint biometrics in order to meet the increasing burden of regulatory and compliance demands.
Read more...
---
The benefits of background screening
May 2019, iFacts, Managed Integrity Evaluation , Editor's Choice, Security Services & Risk Management
Companies need to be more vigilant about the people they employ by making sure comprehensive background screening checks are conducted.
Read more...
---
Does your control room add value?
May 2019, Fidelity Security Group, G4S South Africa, Progroup , Editor's Choice, CCTV, Surveillance & Remote Monitoring, Integrated Solutions, IT infrastructure, Commercial (Industry)
Whether on- or offsite, control rooms are a critical aspect of security today and care must be taken in the design and rollout of these nerve centres.
Read more...
---
Intruder detection is becoming smarter and more mobile
May 2019, Elvey Security Technologies , Regal Distributors SA , Editor's Choice, Perimeter Security, Alarms & Intruder Detection
Alongside the new technologies continually being developed, existing technologies are being co-opted into not only performing an intrusion detection role, but combatting that bane of the electronic security industry: false alarms.
Read more...
---
iLegal 2019: Augmented surveillance - realising the full potential of CCTV
May 2019, Technews Publishing , Editor's Choice, News, Conferences & Events, Training & Education
iLegal 2019 will look at what is becoming known as Augmented Surveillance – using technologies and people interactively to maximise results from operators and control rooms in order to make intelligent security and business decisions.
Read more...
---