printer friendly version
RDC and TPA collaboration with Sentian
June 2018 News, Perimeter Security, Alarms & Intruder Detection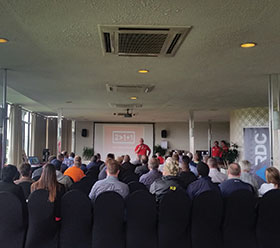 Radio Data Communications (RDC) and TPA Distributors held a launch event at the Randpark Golf Club on 12 April 2018, to announce their partnership and their collaboration with Sentian Lifestyle Automation.
The industry has grown significantly over the years, and Radio Data Communications and TPA Security Distributors saw the benefits of working together to distribute their products, and to get new customers on board by introducing them to the Sentian Lifestyle Automation System, which can be used in conjunction with RDC's and TPA's equipment.
The event consisted of product overviews and new product demonstrations from each company, and insights from stalwarts in the industry like John Rogers, Eamon Nel, Terry van Zyl and Brent Andreka, who have many years of experience in the security industry.
Terry van Zyl from RDC highlighted how the industry has changed over the years as demand for security has increased and technology has improved communication. Innovative technology and improved systems has given more power to the people to be able to control their environment and to be able to verify each event/activation and guide their armed response so that the amount of false alarms is decreased.
According to Van Zyl, "the future is here" with information and connectivity via products like Sentian Home Automation. Joint partnerships like this helps bring the future to the customer and helps put the customer in the driving seat. As the famous Aristotle saying goes: "The whole is greater than the sum of its parts".
RDC showcased its new SMX weatherproof pack, designed for outdoor applications like farm irrigation and generator control, and the SMX Din Rail Pack designed to expand functionality for outdoor electrical connection applications.
Sentian introduced its Lifestyle Automation System, the Sentian 3i with exciting features and benefits. The Sentian 3i is a 'brain' for your home security, allowing you to control your alarm, on-site CCTV recording and home automation with a single, intuitive interface, available on multiple platforms.
Eamon Nel from TPA presented some exciting products from its line, like the Premier Elite 64W with I-connect, which is a hybrid control panel with up to 64 ricochet wireless zones or any combination of hard-wired and wireless zones to a maximum of 76 zones. The Texecom Intrusion App from TPA can be used on all Premier control panels where the Texecom IP module or correct Texecom GPRS module has been installed, thereby offering full control from any smartphone or tablet, Android or Apple device.
Credit(s)
Further reading:
Spend on cloud to accelerate across Africa in 2023
News
More than two-thirds of companies using cloud computing across major African markets plan to increase their spending on cloud services in 2023.
Read more...
---
ChatGPT's impacts will be social, not technical
News
ChatGPT is truly a remarkable achievement, an artificial intelligence (AI) that you can have a conversation with and ask to do everything from writing essays to coding computer programs.
Read more...
---
Artificial intelligence in Africa: levelling the narrative
News
While AI can benefit multiple industries, in Africa the key sectors that stand to gain are financial services (specifically fintech) and agriculture.
Read more...
---
Improving data security for a hybrid society
News
Researchers from Tokyo University of Science develop a method that can perform computations with encrypted data faster and at a lower cost than conventional methods, while also improving security.
Read more...
---
Cybersecurity in 2023: The latest trends and developments
News
In 2023, experts predict that several trends will shape the cybersecurity landscape, including the growing use of artificial intelligence (AI), the increasing focus on the Internet of Things (IoT), and the rise of quantum computing.
Read more...
---
SAN market set for growth
Technews Publishing News IT infrastructure
Storage-area network (SAN) market to hit US$ 26,86 billion in revenue by the end of 2029 due to factors like widespread adoption of Hybrid SAN-NAS solutions.
Read more...
---
Enterprise threats in 2023
News Cyber Security
Large businesses and government structures should prepare for cybercriminals using media to blackmail organisations, reporting alleged data leaks, and purchasing initial access to previously compromised companies on the darknet.
Read more...
---
Trends in the proptech industry for 2023
News
By mixing real estate with technology to optimise industries, create new ones, and generate efficiencies or capabilities that improve revenue generation, something as fundamental as the concept of parking has been turned on its head.
Read more...
---
31 percent of all IoT SIMs managed with third-party IoT CMPs
News Integrated Solutions
Berg Insight recently released new findings about the market for IoT connectivity management platforms (CMPs), a standard component in the value proposition from mobile operators and IoT MVNOs around the world.
Read more...
---
Off-highway vehicle telematics systems
News
The installed base of off-highway vehicle telematics systems to reach 12.2 million units worldwide by 2026, says Berg Insight.
Read more...
---