printer friendly version
Afribiz Invest partners with RSS Security Services
June 2018 News, Security Services & Risk Management, Retail (Industry)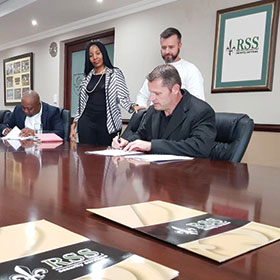 South African investment company Afribiz Invest has announced a joint venture partnership with RSS Security Services. The partnership will see the launch of a new specialist security company, RSS Commercial, which will service private and public-sector organisations.
RSS Security Services has a 16-year track record in the South African security sector and has excelled in combining its technological and operational expertise to offer a service to residential clients. The formation of RSS Commercial will allow the company, in partnership with Afribiz Invest, to establish a presence in the key commercial and government spaces.
"It's an exciting partnership with significant growth potential," says Cecil Mashawana, director of Afribiz Security, a division of Afribiz Invest. "Together, Afribiz and RSS have established a highly experienced executive team able to exploit opportunities across the South African economy. We see a significant gap in the commercial market and we're confident we can make a positive impact on our clients' operations, including on their ability to maximise the value of their security investments."
RSS Security Services' sustained success in the residential security segment saw increasing market demand for the company to deliver its services to commercial and government organisations. As an investor on the lookout for high quality assets, Afribiz Invest saw a natural fit – capable of securing national market share – between the two entities.
Central to RSS Commercial's push into private and public sectors will be its ability to introduce new tools that allow organisations to improve their security performance while decreasing annual costs.
"It's the combination of manpower and technology that is really important," says Brett Fisher, CEO of RSS Security Services. "The RSS Commercial partnership is unique in its ability to offer new, productive ways of approaching security. The company will educate organisations on new technology developments and will help them to grow a security approach that allows their business to concentrate on its key functions in a secure, controlled environment featuring leading technology, supported by high level intellectual capital."
RSS Commercial will offer a wide range of services to South African organisations, including guarding, access control systems, IP camera solutions, forensic investigations and armed response teams. Crucially, the company's tactical services are supported by a strategic capacity that includes off-site control room monitoring and state of the art analytics.
"Security in the South African context is as much about sharp thinking and effective data use as it is feet on the ground," concludes Afribiz Invest's Mashawana. "Yes, you need strong physical presence and ability, but you also need the capacity to access and analyse the data. If you get both aspects right, you can dramatically improve performance and cost efficiency. RSS Commercial will allow clients to approach this challenge positively, while also keeping up with all the new opportunities constantly evolving technologies offer."
Further reading:
TAPA: The role of an effective treasury function in business risk management
June 2019, Technews Publishing , News
Neil Le Roux, the Founder of Diligent Advisors will speak at the TAPA SA (Transported Asset Protection Association) annual conference on 26 July 2019.
Read more...
---
From the editor's desk: Of sore feet and new websites
June 2019, Technews Publishing , News
I hope everyone has recovered from the hustle and bustle of Securex. This year was once again an exhausting event and now we're left with following up. For Hi-Tech Security Solutions it was a good show ...
Read more...
---
Where are your crown jewels?
June 2019, Wolfpack Information Risk , Commercial (Industry), Cyber Security, Security Services & Risk Management
Understanding what data they store and analyse is gaining increasing urgency for organisations that are now accountable to new(ish) privacy regulations such as the GDPR and our PoPIA.
Read more...
---
Changing of the guard, AI style
June 2019, Active Track, Technews Publishing , Integrated Solutions, Security Services & Risk Management
Active Track is launching a raft of new AI-based products and services with which it intends to turn the security world as we know it on its head.
Read more...
---
Does green cost more?
June 2019 , News, Commercial (Industry)
GBCA, ASAQS and UP launch the 2019 edition of Green Building in South Africa: Guide to Costs & Trends.
Read more...
---
Partnership to reduce farm violence and agricultural crime
June 2019, Fidelity ADT Security , News, Security Services & Risk Management, Agriculture (Industry)
Agri SA has partnered with Fidelity ADT, a subsidiary of the Fidelity Services Group, to offer a range of services and products to its members and the rural community.
Read more...
---
Centurion announces new board of directors
June 2019, Centurion Systems , News, Access Control & Identity Management
After more than 30 years at the helm of access automation manufacturer, Centurion, co-founder Pat Dickens stepped down as the company's MD at the end of March, with current sales and marketing director Richard Rohman being named as his successor.
Read more...
---
Password awareness critical
June 2019, Kaspersky Lab , Cyber Security, Security Services & Risk Management
A recent study revealed that digital identity data and information holds significant value to cybercriminals – who craft ways of gaining this data and exploit it on the dark Web for as little as $50.
Read more...
---
Kaspersky Lab to open office in Kigali, Rwanda
June 2019, Kaspersky Lab , News, Cyber Security
Kaspersky Lab has announced plans to open a new office in Kigali, Rwanda, to support the rapid growth of its business in East Africa.
Read more...
---
Fully automated cash logistics
June 2019 , News, Security Services & Risk Management
Cash management company, Izicash, announced its adoption of Transtrack, a software solution, supported by a South African company, AllCash, which streamlines the cash logistics process.
Read more...
---