printer friendly version
Afribiz Invest partners with RSS Security Services
June 2018 News, Security Services & Risk Management, Retail (Industry)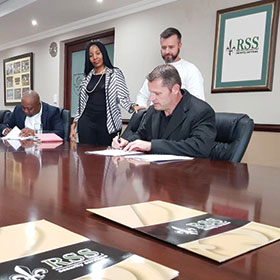 South African investment company Afribiz Invest has announced a joint venture partnership with RSS Security Services. The partnership will see the launch of a new specialist security company, RSS Commercial, which will service private and public-sector organisations.
RSS Security Services has a 16-year track record in the South African security sector and has excelled in combining its technological and operational expertise to offer a service to residential clients. The formation of RSS Commercial will allow the company, in partnership with Afribiz Invest, to establish a presence in the key commercial and government spaces.
"It's an exciting partnership with significant growth potential," says Cecil Mashawana, director of Afribiz Security, a division of Afribiz Invest. "Together, Afribiz and RSS have established a highly experienced executive team able to exploit opportunities across the South African economy. We see a significant gap in the commercial market and we're confident we can make a positive impact on our clients' operations, including on their ability to maximise the value of their security investments."
RSS Security Services' sustained success in the residential security segment saw increasing market demand for the company to deliver its services to commercial and government organisations. As an investor on the lookout for high quality assets, Afribiz Invest saw a natural fit – capable of securing national market share – between the two entities.
Central to RSS Commercial's push into private and public sectors will be its ability to introduce new tools that allow organisations to improve their security performance while decreasing annual costs.
"It's the combination of manpower and technology that is really important," says Brett Fisher, CEO of RSS Security Services. "The RSS Commercial partnership is unique in its ability to offer new, productive ways of approaching security. The company will educate organisations on new technology developments and will help them to grow a security approach that allows their business to concentrate on its key functions in a secure, controlled environment featuring leading technology, supported by high level intellectual capital."
RSS Commercial will offer a wide range of services to South African organisations, including guarding, access control systems, IP camera solutions, forensic investigations and armed response teams. Crucially, the company's tactical services are supported by a strategic capacity that includes off-site control room monitoring and state of the art analytics.
"Security in the South African context is as much about sharp thinking and effective data use as it is feet on the ground," concludes Afribiz Invest's Mashawana. "Yes, you need strong physical presence and ability, but you also need the capacity to access and analyse the data. If you get both aspects right, you can dramatically improve performance and cost efficiency. RSS Commercial will allow clients to approach this challenge positively, while also keeping up with all the new opportunities constantly evolving technologies offer."
Further reading:
New hires at iPulse
Issue 7 2020, iPulse Systems , News
iPulse has welcomed two new employees into its ranks. Shai Weil has been appointed as operations director, while Corneli Botha is the new customer sales liaison.
Read more...
---
HID Global acquires Access-IS
Issue 7 2020, HID Global , News
HID Global acquires provider of miniaturised reader devices that combine key technologies for mission-critical markets.
Read more...
---
Securing digital transformation
Issue 7 2020 , News
Schneider Electric partners with Fortinet to strengthen ability to secure operations across the business lifecycle and unlock the advantages of a secure IIoT.
Read more...
---
Suprema integrates with Paxton's Net2 access control
Issue 7 2020, Suprema , News
Suprema has announced it has integrated its devices with Paxton's access control system, Net2.
Read more...
---
Free cybersecurity courses
Issue 7 2020 , News
Check Point Software partners with Harvard and MIT-founded edX to deliver free online courses to help close the cybersecurity skills gap.
Read more...
---
Fidelity partners with Auto & General Insurance
Issue 7 2020, Fidelity Security Group , News
Fidelity Services Group in partnership with Auto & General Insurance has launched Fidelity InSure, a comprehensive vehicle, home, and building insurance offering.
Read more...
---
More apps for open camera OS
Issue 7 2020 , News
The App Challenge will result in 21 new apps running on the Security & Safety Things' camera OS, based on the Android Open Source Project.
Read more...
---
Milestone Systems announces Thomas Jensen as new CEO
Issue 7 2020, Milestone Systems , News
Milestone Systems announced that its board of directors has appointed Thomas Jensen as chief executive officer. Jensen will assume the role on October 1, 2020.
Read more...
---
Suprema announces its first virtual event
Issue 7 2020, Suprema , News
Suprema will be hosting its first virtual event, Suprema Connect 2020, which is scheduled to take place over one month from September 15.
Read more...
---
From the editor's desk: Waiting for PoPI
Issue 7 2020, Technews Publishing , News
A while ago we heard of yet another cyber breach, this time from Experian.
Read more...
---