printer friendly version
Afribiz Invest partners with RSS Security Services
June 2018 News, Security Services & Risk Management, Retail (Industry)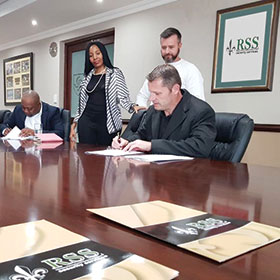 South African investment company Afribiz Invest has announced a joint venture partnership with RSS Security Services. The partnership will see the launch of a new specialist security company, RSS Commercial, which will service private and public-sector organisations.
RSS Security Services has a 16-year track record in the South African security sector and has excelled in combining its technological and operational expertise to offer a service to residential clients. The formation of RSS Commercial will allow the company, in partnership with Afribiz Invest, to establish a presence in the key commercial and government spaces.
"It's an exciting partnership with significant growth potential," says Cecil Mashawana, director of Afribiz Security, a division of Afribiz Invest. "Together, Afribiz and RSS have established a highly experienced executive team able to exploit opportunities across the South African economy. We see a significant gap in the commercial market and we're confident we can make a positive impact on our clients' operations, including on their ability to maximise the value of their security investments."
RSS Security Services' sustained success in the residential security segment saw increasing market demand for the company to deliver its services to commercial and government organisations. As an investor on the lookout for high quality assets, Afribiz Invest saw a natural fit – capable of securing national market share – between the two entities.
Central to RSS Commercial's push into private and public sectors will be its ability to introduce new tools that allow organisations to improve their security performance while decreasing annual costs.
"It's the combination of manpower and technology that is really important," says Brett Fisher, CEO of RSS Security Services. "The RSS Commercial partnership is unique in its ability to offer new, productive ways of approaching security. The company will educate organisations on new technology developments and will help them to grow a security approach that allows their business to concentrate on its key functions in a secure, controlled environment featuring leading technology, supported by high level intellectual capital."
RSS Commercial will offer a wide range of services to South African organisations, including guarding, access control systems, IP camera solutions, forensic investigations and armed response teams. Crucially, the company's tactical services are supported by a strategic capacity that includes off-site control room monitoring and state of the art analytics.
"Security in the South African context is as much about sharp thinking and effective data use as it is feet on the ground," concludes Afribiz Invest's Mashawana. "Yes, you need strong physical presence and ability, but you also need the capacity to access and analyse the data. If you get both aspects right, you can dramatically improve performance and cost efficiency. RSS Commercial will allow clients to approach this challenge positively, while also keeping up with all the new opportunities constantly evolving technologies offer."
Further reading:
Paxton opens first experience centre in South Africa
Paxton News Access Control & Identity Management
The new Paxton Experience Centre in Johannesburg is now open and welcoming security installers and end users who want to see Paxton's products in action.
Read more...
---
Paratus signs re-seller agreement with Starlink for Africa
News IT infrastructure
Pan-African telco and network services provider Paratus Group announced it has entered an agreement as a distributor for Starlink's high-speed services across the African continent, available immediately in Mozambique, Kenya, Rwanda and Nigeria.
Read more...
---
4IR is opportunity
News
In South Africa, digitalisation remains 'at a nascent stage' which means significant work still has to be done when it comes to addressing skills development around 4IR in the country.
Read more...
---
Is AI the game-changer for streamlining anti-money laundering compliance?
Financial (Industry) Security Services & Risk Management
In the aftermath of South Africa's recent grey listing, companies are now confronted with the imperative to address eight identified strategic deficiencies, while simultaneously reducing their financial crime risk through anti-money laundering compliance processes.
Read more...
---
Five ways to reduce your cyber insurance premiums
Security Services & Risk Management News
With the global costs of cybercrime expected to soar to $13 trillion within the next five years, cyber insurance is booming as organisations try to mitigate the risk of financial losses.
Read more...
---
Client satisfaction boosted by 85% at Thungela Mine
Thorburn Security Solutions News Security Services & Risk Management Mining (Industry)
Thorburn Security, a division of Tsebo Solutions Group, has announced its recent collaboration with Kwa-Zulu Natal security company, Ithuba Protection Services, as part of its Enterprise Supplier Development (ESD) initiatives across Africa.
Read more...
---
The right security solution removes the opportunity
Asset Management, EAS, RFID Retail (Industry)
South African retailers are facing a multitude of challenges, including economic fluctuations, changing consumer behaviour, increased competition, supply chain disruptions, regulatory changes and the need to adapt to digital transformation, not to mention theft.
Read more...
---
Fidelity SecureFire steps into critical fire response space
News Fire & Safety
With the majority of fire stations around the country being crippled by a lack of resources to offer effective responses, Fidelity Fire Solutions has launched its own 'first responder' model, Fidelity SecureFire.
Read more...
---
The state of edge security report
News IT infrastructure
Edge computing has grown from being a niche use case in a handful of industries to offering a major opportunity for enterprises across industries to spread computing power around the world.
Read more...
---
CHI selects NEC XON as trusted cybersecurity partner
News Cyber Security Industrial (Industry)
CHI Limited, Nigeria's leading market player in fruit juices and dairy products, has engaged in a strategic cybersecurity partnership with NEC XON, a pan-African ICT systems integrator.
Read more...
---