printer friendly version
Phangela set to upgrade security industry
June 2018 News, Security Services & Risk Management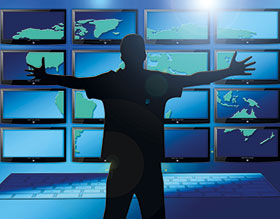 Phangela Security is a South African-owned BEE security company with 18 years of guarding experience, the last three of which it also offered armed response services. The company is now on an expansion drive, taking a new data-driven approach to the security market countrywide.
Charl Jacobs, Phangela's CEO says the company is investing R250 million in its expansion as it believes it can make a difference to the country's high crime statistics. The company will do this by taking advantage of the latest technology and cooperation with customers and empowering them to better manage their own security.
Phangela is set to release an app that helps people manage the crime in their neighbourhoods and homes, as well as improve their communications with each other and their service providers. One of the functions in the new app is a forecasting option that will indicate the likelihood of a criminal event taking place in a certain area. With this knowledge, users and service providers can act proactively to avoid any unpleasant events.
The forecasting application is enabled by Phangela collecting data from various sources, including from information provided by users of the app. The company has 64 analysts permanently employed to capture information and assist in analysing data and the fore-casting function.
The platform also supports heatmaps of which crimes are happening where and at what time, as well as the modus operandi of the criminals to not only assist security and police officers in reacting to crime, but in proactively acting to prevent it.
An example of the app's everyday use would be if an individual's house alarm goes off. The location of the house is immediately sent to the security provider and the user is notified on their smartphone. From the app the user can monitor the response unit as it moves to their house and deals with the situation. If the user is at home, they will know how long it will take for help to arrive.
The amount of information Phangela's safety management platform collects is enormous. The company has therefore developed levels of interest that users can subscribe to. When something happens that is pertinent to a specific user, for example such as data on schedule 1 offences in a specific area, a push notification will be sent to the user. The app is free to Phangela's clients, but the company is talking to other security service providers as well as corporations about making the service available more broadly.
The company is also in the process of researching and developing cybersecurity solutions that will assist clients in improving their defences against cyber criminals as well.
As noted, the Western Cape is the launch pad for the new app as well as the new services Phangela is introducing. Jacobs foresees Phangela's expansion creating over 2000 new jobs in the security industry per annum going forward.
These are not entry-level minimum wage jobs, however. Jacobs says that just as successful security providers of the future will need to embrace technology and data analysis if they want to make an impact on crime, they will also have to invest in their people. He sees the traditional guard becoming a security professional that is better educated and better able to handle conflicts and all the demands the job requires. Phangela is ensuring that its security personnel don't simply have a job, but can embark on a rewarding career.
With 1000% growth over the past six years, including adding 1000 jobs per year over the past four years, the company seems to be on track to make an impact in the security industry and change the way things have been done for many years.
For more information, contact Phangela Security, 080 949 9802, www.phangelagroup.co.za
Further reading:
Spend on cloud to accelerate across Africa in 2023
News
More than two-thirds of companies using cloud computing across major African markets plan to increase their spending on cloud services in 2023.
Read more...
---
ChatGPT's impacts will be social, not technical
News
ChatGPT is truly a remarkable achievement, an artificial intelligence (AI) that you can have a conversation with and ask to do everything from writing essays to coding computer programs.
Read more...
---
Artificial intelligence in Africa: levelling the narrative
News
While AI can benefit multiple industries, in Africa the key sectors that stand to gain are financial services (specifically fintech) and agriculture.
Read more...
---
Improving data security for a hybrid society
News
Researchers from Tokyo University of Science develop a method that can perform computations with encrypted data faster and at a lower cost than conventional methods, while also improving security.
Read more...
---
Cybersecurity in 2023: The latest trends and developments
News
In 2023, experts predict that several trends will shape the cybersecurity landscape, including the growing use of artificial intelligence (AI), the increasing focus on the Internet of Things (IoT), and the rise of quantum computing.
Read more...
---
What to do in the face of growing ransomware attacks
Technews Publishing Cyber Security Security Services & Risk Management
Ransomware attacks are proliferating, with attackers becoming more sophisticated and aggressive, and often hitting the same victims more than once, in more than one way.
Read more...
---
SAN market set for growth
Technews Publishing News IT infrastructure
Storage-area network (SAN) market to hit US$ 26,86 billion in revenue by the end of 2029 due to factors like widespread adoption of Hybrid SAN-NAS solutions.
Read more...
---
Where does SA logistics stand as far as cybersecurity is concerned?
Logistics (Industry) Security Services & Risk Management
Lesiba Sebola, director of information technology at Bidvest International Logistics, says it is paramount to safeguard IT infrastructure given how central it has become to operations.
Read more...
---
Enterprise threats in 2023
News Cyber Security
Large businesses and government structures should prepare for cybercriminals using media to blackmail organisations, reporting alleged data leaks, and purchasing initial access to previously compromised companies on the darknet.
Read more...
---
Trends in the proptech industry for 2023
News
By mixing real estate with technology to optimise industries, create new ones, and generate efficiencies or capabilities that improve revenue generation, something as fundamental as the concept of parking has been turned on its head.
Read more...
---