printer friendly version
Investing in Africa? Is there a choice?
April 2013
News
It is strange to hear the different opinions people have on the security industry. The most common one I hear is that business must be booming if you have anything to do with security in South Africa considering the high crime rate and poor service from official security services. Then you talk to the people in the business and sometimes hear a different story.
It seems we are in a tough economic cycle, especially in South Africa where some companies are so busy they cannot even breathe, while others are feeling the pinch and struggling to make ends meet. And it does not seem to be limited to specific businesses or particular sizes of business.
One integrator told me that it is worrying to see business so flat in South Africa, but this company is not too concerned as there are plenty of projects going on up in Africa. Another told me business is slowing in South Africa because some clients are dragging out their decision-making processes and others are squeezing their service providers' margins to the bone. Some are even putting a hold on new projects for no other reason than taking a 'wait and see' approach. I am not too sure what exactly they are waiting to see, but the bottom line is spending is cut and upgrades or new projects are being cancelled or at least postponed.
Of course I have also talked to others who are very happy. One distributor told me the first quarter of his company's year was the best it has been in four years. Another service provider is thinking of downsizing and pursuing new business in markets the smaller niches the company has never been involved in before, including business on the other side of the border.
It seems the South African economy will be a nemesis to some companies this year, but the African economy is the place to be working – assuming one picks the right country and gets to know the right partners. Nothing like a civil war to put the lid on new business ventures.
I would like to hear more on what our local companies are doing to keep the wheels turning, feel free to e-mail me on [email protected] if you want to spill the beans. In the next issue we will be focusing on local manufacturing and seeing just how much of a role Africa is playing in these companies' forward strategies.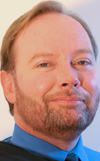 On to a completely different topic. You should have received your CCTV Handbook 2013 by now. If you have any comments on the publication please let me know on the same address.
Until next time, enjoy the April issue and the holidays.
Correction
In the last issue we provided the incorrect contact details for Sukema Integrated Solutions. If you want to get hold of the company, please call +27 (0)21 914 5507 or e-mail [email protected]
Andrew Seldon, Editor
Credit(s)
Further reading:
Cyber resilience is more than cybersecurity
Technews Publishing Cyber Security Integrated Solutions IT infrastructure
Hi-Tech Security Solutions held a round-table discussion focusing on cyber resilience and found that while the resilience discipline includes cybersecurity, it also goes much further.
Read more...
---
Johnny Aucamp joins iPulse exco
News
Johnny Aucamp has joined iPulse Systems as its chief sales officer (CSO), adding a massive boost to the executive team.
Read more...
---
From the editor's desk: Security and resilience
Technews Publishing News
It's often said that South Africans are a resilient bunch, and history has proven this correct. When it comes to security, both cyber and physical, resilience is key to an effective defensive plan. ...
Read more...
---
Hikvision aims for solutions
Technews Publishing Hikvision South Africa Editor's Choice CCTV, Surveillance & Remote Monitoring News Integrated Solutions Conferences & Events
Hikvision recently held a roadshow titled Industry X, where the company highlighted its latest products and solutions, supported by partners and distributors.
Read more...
---
Olarm launches PRO 4G communicator
Olarm News Perimeter Security, Alarms & Intruder Detection Products
Olarm has announced an additional 4G/LTE version of its Olarm PRO smart communicator. It is aimed at areas suffering from poor connectivity by providing support for 4G, 2G and Wi-Fi networks.
Read more...
---
ADI Expo returns to South Africa
Technews Publishing ADI Global Distribution News
September saw the return of the ADI Expo to South Africa. The Johannesburg event was held at the Focus Rooms and the Durban event, two days later, at the Southern Sun Elangeni & Maharani.
Read more...
---
Technoswitch Awards dinner for 2022
Technews Publishing News Fire & Safety
Technoswitch hosted its fifth awards dinner at Montecasino in September, where customers and suppliers celebrated a year of success.
Read more...
---
Suprema joins FiRa Consortium
Suprema News Access Control & Identity Management
Suprema recently became a member of the FiRa Consortium, a consultative body that establishes standards for ultra-wideband (UWB) technology, the next generation of wireless communication.
Read more...
---
Reliable, low-maintenance video appliances
Technews Publishing Editor's Choice CCTV, Surveillance & Remote Monitoring News IT infrastructure Products
Symetrix, part of the Agera Group, has added the AES range of video recording servers, storage appliances and workstations to its portfolio.
Read more...
---
ZYTEQ Fire Engineering Summit 2022
ZYTEQ Fire Fire & Safety News
Cape Town-based ZYTEQ Fire hosted its inaugural Engineering Summit at the Commodore Hotel in Cape Town and the Leonardo Hotel in Sandton, Johannesburg.
Read more...
---